Michael Soze, writing for Boner Magazine, has delivered some fascinating research into the male orgasm.
Apparently, the average male orgasm lasts for 12.2 seconds. If you extrapolate that across the average male life-span, that means that we're probably going to have spent about nine hours in the ecstatic throes of orgasm. Another fun fact, we'll each produce about fifty litres of sperm. That's a lot of cum.
According to the Kinsey Institute, most men think about sex several times a day.
Micha Schulze has written Sex Is A Head Thing! — a guide to orgasms for gay men. According to Schulze — "The biggest orgasm killers are comparing yourself to other men, a lack of communication, and stress."
In a survey conducted by American website Queendom, 90 percent of gay men reported that they almost always reach orgasm when masturbating or having sex.
Orgasm is different from ejaculation. Ejaculation refers to the physical release of semen from your penis and urethra. Orgasm refers to that feeling of satisfaction and pleasure. Both the orgasm and ejaculation can be caused by the same physical stimulation, but they are technically separate from each other. Massaging your prostate can intensify the pleasure of your orgasm.
Experts describe the male orgasm as consisting of four distinct phases — excitement, plateau, orgasm, and resolution. Depending on your age and stamina, the length of these phases can vary between men.
Some doctors suggest that your orgasms can be intensified or strengthened if you exercise the pubococcygeus muscle — commonly referred to as the PC muscle. This is a hammock-like muscle that stretches from the pubic bone to the coccyx, forming the floor of the pelvic cavity and supporting the pelvic organs.
A basic exercise for your PC muscle — sometimes referred to as a kegel exercise — is to contract and hold your PC muscle for 5-20 seconds, then release them. Repeat this 10 to 20 times in a row, three to four times a day. Gradually build the number of contractions you complete and the amount of time you hold each contraction for.
Another exercise you can try is when you are urinating, use your pelvic muscles to control the urine stream — stopping and starting the flow.
You can also train yourself to have better orgasms by varying the way that you masturbate or have sex. When you're jacking off or having sex, remember to change positions, take short breaks, and explore all of your erogenous zones. Edging, or deliberately delaying your orgasm can intensify the pleasure that your body will experience.
Trying new things when you're masturbating or having sex can also enhance your pleasure. Try using gloves when you're masturbating, have sex in front of a mirror or a camera, use different sensations to stimulate the body — cold ice, hot candle wax, the sting of a riding crop.
When it comes to sex, when it comes to pleasure, when it comes to having the best orgasm possible, every day is a school day.
Originally published by Boner Magazine
We want to hear your opinion
Meet the vegan body-builder
Alexander Kosztowny is building mass without harm.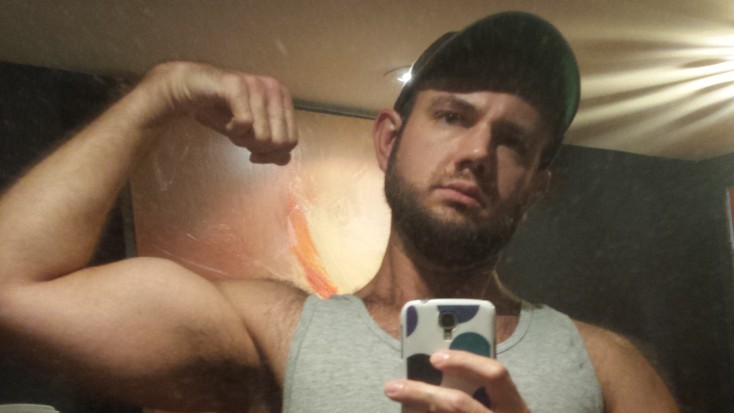 I caught up with aspiring bodybuilder Alexander Kosztowny to talk fitness, food, and life as a vegan body-builder.
Were you into sports at school?
No. Growing up, I was a heavy-set kid, and not very active at all. In school, I was very academic, and focused mainly on my studies rather than athletics. I didn't dread gym class, and always worked hard and enjoyed certain sports like tennis and volleyball, but the lack of variety of activities in gym class limited my view on the variety of types of activities out there. If I'd tried a weight lifting class, or yoga, or karate, my attitude may have changed earlier in life. My sister was always active, but I come from a family who are not very big on physical activity or sports. Of course, like most, I wish I'd started earlier, but better late than never.
Can you remember what your first experience of a gym was?
I lost a lot of weight in high school with the onset of puberty, and with the gaining knowledge of nutrition, portion control, and cardiovascular activity. When I went to college, I found myself putting a lot of the weight back on, and knew I had to prevent that. I joined a gym, and hired a personal trainer for the first time to help me get back on track.
I absolutely fell in love with pumping iron. I was able to coordinate working out into being a part of my schedule, as opposed to limiting it only to 'when I have time' and having a trainer not only motivated me and taught me technique, but also kept me accountable for my actions. He helped me with adding strength while paying attention to form, and meal planning, The excess weight fell off, and I became addicted.
Now I'm in the gym every day, pushing my body and transforming both my health, my appearance, and my outlook.
When did you decide to get serious about your fitness and bodybuilding?
About four years ago. But I've only been super-serious for about a year, and I've only been extremely strict in terms of diet for about six months. I'm still a beginner.
What's your aspiration as a bodybuilder?
To get huge. That's it.
As someone who's plant-based, I'd also like to show others what's possible on a non-traditional diet. That there are other forms of nutrition and protein, and you can build muscle, look great, and have tons of energy without harm.
What's the difference between your body as it is now and the way that you want your body to look?
I'd still call my self thick or chubby-muscular. The interesting thing about bodybuilding is that there never really is an end goal. You just lift and grow bigger and you're never quite big or strong enough. I'm just trying to push myself as far as I possibly can. It's exciting to see the changes you can make that way.
What's your work-out regime like?
I'm in the gym six or seven times a week. This seems excessive to some people, and I know others who only go three or four times a week, and that works for them. For me, the gym is therapeutic and a stress reliever, as well as a hobby.
I usually spend about one hour doing weight lifting — machines and free weights — and then I wrap up with about 35 minutes of cardio. I focus on one body part per day. It's a traditional bodybuilding split, so muscles have a chance to rest. This routine works for me — I know some people have luck doing high-intensity, full body workouts, but I like the focus of working each muscle group in isolation.
Do you have a work-out buddy?
Not currently, but I've always enjoyed it when I do. It really is vital for really heavy spotting, and the dependability is nice if they're as motivated as you. If anyone is in Los Angeles and wants to train with me, hit me up!
How important is controlling your diet?
Controlling diet is extremely important. It makes or breaks your progress in the gym. if you lift but don't eat right, you won't get anywhere. I've seen this happen both for myself and others. When I finally got on the right meal plan, the results happened in no time at all — abs are made in the kitchen, not the gym.
I eat about five times a day, and I'm plant-based, just like Tom Brady. My diet consists of lots of legumes, lentils, tofu, peas, broccoli, peanut butter, protein shakes, and other natural, nutrient-rich foods that contain protein without resorting to animal products.
Besides the ethical and environmental sides of going vegan, I find I have more energy, need less time to recover, and am less sore, as well as having clearer skin. I count my macros — calories, carbs, proteins, and fats — and eat the same foods every day to stay on track. I've pretty much eliminated bread, gluten, alcohol, refined sugars, and beverages besides water from my diet, except for special occasions. I'm super-strict, but do let myself enjoy food.
Are your friends and family supportive of your bodybuilding aspirations?
For the most part. They're always impressed at my progress and dedication, but I need a lot of willpower when I have a family who loves to cook, bake, and tempt me with treats. That's why having a partner or workout buddy who is on a similar plan is helpful, if you're lucky enough to find one. It keeps you on track.
Are you competing?
Nope, and no plans to either. But that may change as I grow bigger.
What are some of your priorities for the months ahead?
I'm currently in the best shape I've ever been in, so I want to just keep on progressing. It's a slow process, and takes a lot of time, so you have to be patient.
Follow Alexander Kosztowny on Twitter
Follow Alexander Kosztowny on Instagram