I caught up with Matt and Steve from Oz Gym Boys and asked them a few personal questions.
Can you remember the first time you jacked-off?
Matt: I was 11. I was at home in my bedroom — I jacked-off to a Kmart catalogue, looking at the men's underwear section.
Steve: I was 13 years old. I was at my sister's house — it was in the shower. There were family over, and I was just waking up to go for a shower. I'd read a book that I'd found about jacking-off, and I thought that I'd give it a go. I sat in the corner of the shower, with the water running, and got started.
How did you feel when you first jacked off?
Matt: It felt good, but I had no idea what I was doing.
Steve: I felt guilty. Also, it hurt — I'd never had my foreskin pulled over my knob.
Did you talk about it with anyone?
Matt: No.
Steve: Nope, I was too embarrassed.
Did you try any different techniques in those early years?
Matt: Back in those days, I only had one technique and I only ever used one hand.
Steve: I tried sticking my dick in random things, but it never felt good. I had no idea what lube was at that point — I was a very innocent and shy kid.
Can you remember the first time you talked to someone else about jacking off?
Matt: I was in year six — I spoke to my best friend about it. I don't remember exactly what was said, I guess we just swapped stories.
Steve: Right now is the first time — it's never been brought up before.
How has your jack-off style evolved over the years?
Matt: I now use both hands to jack-off, and I use lube. I switch the direction of my hands, or hold my balls down and jack-off.
Steve: Matt generally does it for me. There's also now a lot more toys involved, it's forever evolving.
What's your preferred way to jack-off currently?
Matt: I like to mix it up, but pulling my balls down is my current go-to.
Steve: Whatever Matt feels like doing to me is what happens.
What jack-off hints or tips would you give a young guy just starting to explore his sexuality?
Matt: Try different hands or techniques, with or without lube, and work out what feels best.
Steve: Never feel guilty — it's a natural and normal act. Don't use shampoo or soap as lube. If you don't want to get caught jacking-off, be careful — it can get very awkward.
We want to hear your opinion
Word of the Day: Chacal
Travelling to Mexico City? Add this to your vocabulary.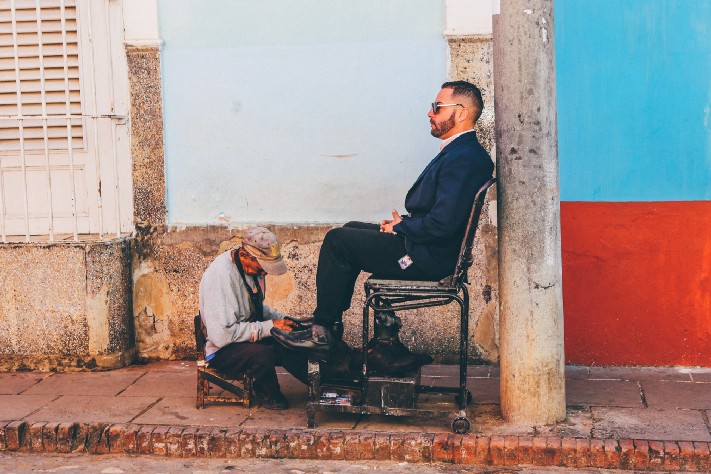 Chacal is a term used in Mexico City — it describes a masculine guy who fucks other guys. A rough top.
The Urban Dictionary helpfully shows how to use the term Chacal in a sentence: "Total bottoms love chacales…"
Let's put to one side for the moment the ridiculous labelling as anyone as a 'total bottom' — just because a guy enjoys a bit of anal play doesn't define his identity — but you get the idea.
In some ways, Chacal is the Mexican version of Masc4Masc — but Latino culture has a complicated obsession with all things macho. In places like Mexico City, your identity as a man, your masculinity, is defined by how you project a macho image to the world. Being gay isn't easily reconciled with being macho. The chacales are trying to have it both ways — projecting an uber-macho image to the world, and totally getting off on having sex with guys.
In the interests of cross-cultural investigative research, here's some examples of guys who seem to me to be channelling a bit of the Chacal vibe.
Chacal. It's our word of the day.