Chi Chi LaRue has teamed up with Mile High Media to launch Noir Male — a new porn studio.
I caught up with Chi Chi LaRue for a behind-the-scenes look at what we can expect from Noir Male.
What was your inspiration for creating Noir Male as a dedicated series of content?
I've always been into diversity in my movies. When Mile High Media came to me to be the director of this new studio, I was thrilled with how much they wanted to put into it — the high-class locations, superior production value, and top-notch performers.
Is it a form of race fetishism to have a dedicated studio for content that features men of colour?
Everything nowadays is a fetish. I believe it's how consumers are seeking out specific content online — it encourages producers to create an emphasised niche. I think Noir Male lessens that by making this studio about the appreciation of all men, of every colour, while focusing on relatable scenarios not stereotyped set-ups.
Why do you think we don't see a lot of diversity of models and actors who are cast in mainstream gay porn?
I've always included men of every race, shape, and size. I think we're seeing a lot more of it now, and I really think that's a great thing. All models are being treated as equals as far as roles and scene rates go at Noir Male. It's about time!
The first release from Noir Male is Black On White — what was the casting process for this production?
It wasn't rocket science — it was selecting hot men that have tons of chemistry, and putting them together in amazing locations with hot scenarios.
How will Black On White challenge preconceptions about black men?
I don't know if it will — it will be interesting to see what the consumer thinks. I've been talking to some fans on Twitter, and they're going crazy for the product. I think it's a hit!
What other productions are in the pipeline for Noir Male?
I've just got done shooting some amazing content with some pretty terrific talent — newcomer Zario Travezz, Aaron Reece, Cade Maddox, Jacen Zhu, Beaux Banks, and Noah Donovan, just to name a few. I was so excited to work with DeAngelo Jackson from FlavaWorks too!
Dive into the world of Noir Male
Follow Chi Chi LaRue on Twitter
We want to hear your opinion
Word of the Day: Chacal
Travelling to Mexico City? Add this to your vocabulary.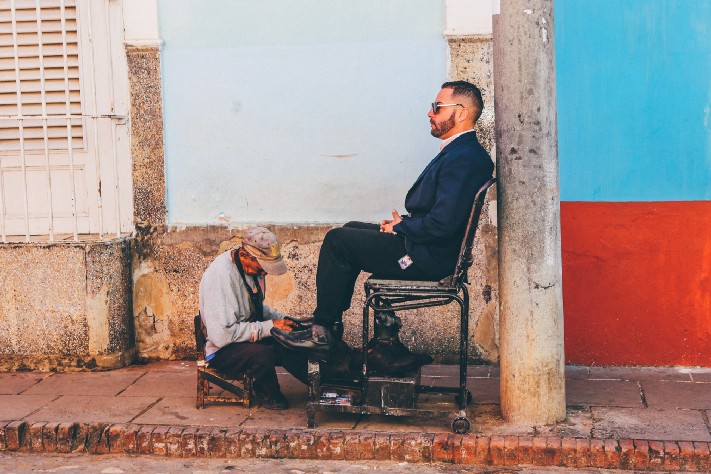 Chacal is a term used in Mexico City — it describes a masculine guy who fucks other guys. A rough top.
The Urban Dictionary helpfully shows how to use the term Chacal in a sentence: "Total bottoms love chacales…"
Let's put to one side for the moment the ridiculous labelling as anyone as a 'total bottom' — just because a guy enjoys a bit of anal play doesn't define his identity — but you get the idea.
In some ways, Chacal is the Mexican version of Masc4Masc — but Latino culture has a complicated obsession with all things macho. In places like Mexico City, your identity as a man, your masculinity, is defined by how you project a macho image to the world. Being gay isn't easily reconciled with being macho. The chacales are trying to have it both ways — projecting an uber-macho image to the world, and totally getting off on having sex with guys.
In the interests of cross-cultural investigative research, here's some examples of guys who seem to me to be channelling a bit of the Chacal vibe.
Chacal. It's our word of the day.