I got to sit down and talk with Hayden about life, his business and where he is headed next.
Tell us a little about yourself, Hayden.
I'm a Los Angeles native, raised in San Diego and I love my family. I'm the son of a German immigrant and have my dual citizenship because of this. I'm in my mid 20's and work as Chief Operating Officer for a small tech startup called Hiero 2, Inc. We create emoji, coupons, and engagement apps for athletes, brands, celebrities, and cities. You can check out our most recent app at Algarvemoji.com! I come from a family of entrepreneurs. My grandfather, dad and myself are all business owners.
I love video games, I was a top-tier player in World of Warcraft and have been playing video games all my life. I used to live-stream when I was younger at Twitch TV, but don't have time to do so anymore. I'm also active, I love to hike, I'm a certified SCUBA diver (I got my certification at 13), and especially love to swim whenever possible. Cooking is also a passion of mine.
You have your own business…are you attending college also?
When I was 18 I went to college at Cal State Northridge, but dropped out 2 months into it to start a comic book convention with some friends, which has turned into Los Angeles Comic Con! When I was young, college felt boring to me and didn't seem to challenge me enough and that is why I started my own business.
I'm currently at Santa Monica College though, taking mostly night and online classes. My focuses are split between Business and Engineering. I'm thinking about pursuing business and minoring in software engineering. I've always been a technophile and I love business so in combining them it seems like a no-brainer.
How did you get started modeling?
I started as a child model; I did a few commercials for Sprint and Marshalls. It's actually what gave me my nest-egg for Los Angeles Comic Con and my other ventures. I stopped modeling for about a decade but recently got back into it. I focus primarily on Instagram modeling right now. I applied to a few agencies but got turned down by all of them. Comments I received were, "Your skin is not perfect" and "When you smile, your gums show." I love the person I am today despite the moles and the flaws. Focusing on my own personal accounts, such as Instagram, lets me be in control of who I work with and what jobs I want to do. It's tougher for sure, but I'm happy. The people I work with and the people who follow me like the flaws and I think that's super important. Nowadays, people don't want a sanitized, fake version of someone. They want the actual person.
What are some of your hobbies?
Rambling is one of them if you couldn't tell! I adore video games, my best friend (who is getting married and made me his best man) is someone I met on World of Warcraft. I especially love strategy games. Europa Universalis IV, a history simulator is currently one of my favorite games with nearly 2,500 hours put into it in the past 6 years. I love to SCUBA Dive. There's a serene magic to being underwater because you really are in another world. You can't take off your suit or you can't survive like you were on an alien planet, and you need to remain calm. It's absolutely beautiful. I also love the outdoors. There is something about hiking in the sun that makes me happy.
I'm also super interested in politics. I'm probably the only person in my family or friend group who doesn't get mad when we talk about politics. I know politics are touchy to most people but I love the different aspects of it and how things relate to each other on an individual, societal, and international perspective. Finally, I just like to learn. I don't care what it is, it can be about making birdhouses or how many uses there are for corn (fun fact, corn is in every aspect of society and without corn, society would probably fall apart). It keeps the mind awake and makes you either an interesting or annoying conversationalist.
What is next on the horizon for Hayden?
My plans are to currently get my degree and try to build Hiero 2, Inc. If this company does well, I will be able to be happy for the rest of my life, but that doesn't mean I'll stop working! I've saved up enough money to put a down payment on my first small house or condo so I'm going to purchase that soon. Getting my degree will mostly just be a personal accomplishment but who knows where that will lead. I will apply to a lot of high-prestige schools to see if I can get in after getting my AA from Santa Monica Community College. I'm also working hard on my modeling career and expanding that into more personal branding. I regularly use Instagram Live and am considering doing Instagram TV as well. I plan to create my own channel and I may grow into other social media such as Twitter, YouTube, etc. There are so many options in the world and so many routes to choose from and I'm at a nexus of opportunity.
You can keep up with Hayden on Instagram @thisishaydenmichael to see his latest projects and modeling adventures.
We want to hear your opinion
Underwear trends? Guys are into briefs.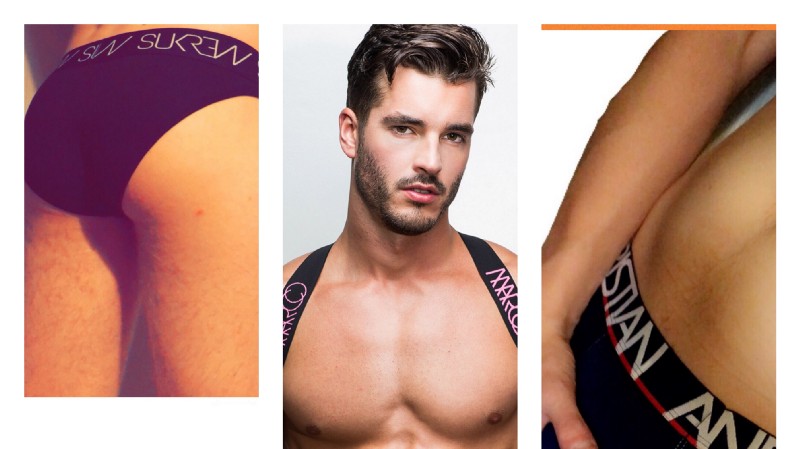 I caught up with Rob Heitzman, founder of RB Underwear, to talk about turning your passion into your career.
What makes underwear such a big deal for gay men?
We believe that underwear is no longer a daily necessity. Guys are increasingly choosing bolder designs to really make a statement. It's not only about comfort or expressing yourself, but also you've got to feel fabulous!
What were some of the brands that first got you excited about underwear?
My first purchase into underwear other than your day-to-day boxer was an Andrew Christian jockstrap. As soon as I put it on I felt great. My bulge lifted and supported, my bum looking peachy, and my confidence increasing. That's why the first brand we approached was Andrew Christian, as we want other guys to feel that way too.
What style of underwear do you prefer to wear on a day-to-day basis?
Day-to-day I prefer a tight boxer style underwear. However, my partner tends to wear briefs. Occasionally we do have a day when we feel particularly naughty and wear a jock strap.
What style of underwear do you wear to the gym?
Boxers. When you're running on a treadmill or going all out on a rowing machine, you need everything contained and don't want any escapees.
What style of underwear do you prefer on other guys?
Depends on my mood. My partner looks great in anything! But if I had to choose, then it would have to be briefs — perfectly showing off in all the right places.
What led you to establish an online underwear store?
Both myself and my partner work full-time with large companies. I'd been thinking about starting some sort of business for a while, and on one quiet day RB Underwear was born. I'd always been interested in doing something I was passionate about and had a real interest in. I love underwear, so why not make it into a business? Now, every day I get to look at good-looking men in good-looking pants.
Which are the brands that you're featuring in your online store?
At present, we're featuring Sukrew, Andrew Christian, Marco Marco, and Fetish Gear. We're always on the look-out for other brands we love, and are currently in talks with some new suppliers.
Who is your target market?
Our target market is gay men. Somewhat selfishly, we've been buying lines we like and would buy ourselves, but we realise that that's not necessarily to everyone's taste so we're broadening our range. The trend is leaning towards briefs more and more, so keep your eyes peeled for more great briefs.
RB Underwear is based in Northamptonshire and offers men a range of underwear including boxers, briefs, and jockstraps.
Follow RB Underwear on Twitter
Follow RB Underwear on Instagram