I caught up with Antoin, Brand Events Producer for Fetish Week London, to make sure I was going to meet the dress code.
What are some of the highlights of Fetish Week London 2018 that we should be looking out for?
There are a lot of changes. Our event now spans from the Pride Walk on Saturday 7 July, to the closing party on the Sunday 15 July. So we're now technically nine days.
We've got a few new venues on the list — Bondage party at Rich Mix, Sports at Bloc South, Full Fetish at GSSW, Screening at Prince Charles Cinema — and we're very excited about the changes. It's time to shake things up a bit.
We've also got a fantastic list of DJs for this year's event. A few new faces and new beats should be great also.
How many guys do you expect to take part in the event?
Overall, it's a bit difficult to tell how many individual guys attend because many of them go to several parties — but the main party on Saturday night will very easily surpass last year's 1500 attendees mark. Ticket sales are going well, and it's going to be a very busy event this year.
Will it just be London guys at Fetish Week London, or do guys travel to London to be part of the event?
It's a truly international event. Guys travelling to Fetish Week London come from as far as New Zealand, Australia, Japan, Tel Aviv, Dubai, Scandinavia, San Francisco and LA, New York, Montreal, Vancouver, and from all over Europe. The international fetish community is well represented here.
What sort of guys are into fetish?
It's hard to say exactly what kind of guy is into fetish, but we know it's usually the more sexually adventurous. Fetish is different to many people. For some guys it's all about the gear, and for others it's all about the sex and they can do without the gear. But you also have the guys who enjoy sex in gear, and if you add a bit of bondage to it, they're in kink heaven.
Is Fetish Week London only for experienced, hard-core fetish lovers?
Everyone is welcome. There are lots of first-timers or newbies that come to the event. If they email in, I'm happy to arrange to meet them at events and say hi. Sometimes I even do a walk around the party with them. Fetish guys are usually very friendly and welcoming, so the newcomers will find that it's very easy to chat to other guys.
If I was interested in starting to explore the world of fetish, what's a good fetish or kink to start off with?
I'd have to ask what you're into sexually, or if you have any kind of outfit that you feel sexy in. Many guys find something like the Sports party more inviting and less threatening. Wearing sports gear means that just about everyone has something in the wardrobe they can wear — without having to spend a fortune shopping for gear. Guys come out in gym kit, trackies and trainers, lycra, cycling suits, wrestling singlets, jocks and harnesses — loads of easy options here. The Sports crowd is a really fun crowd. I really think this is my favourite party of the whole week — and I'm a rubber guy!
Fetish Week London runs from 8–15 July 2018
Follow Fetish Week London on Twitter
We want to hear your opinion
How to navigate a gay sex club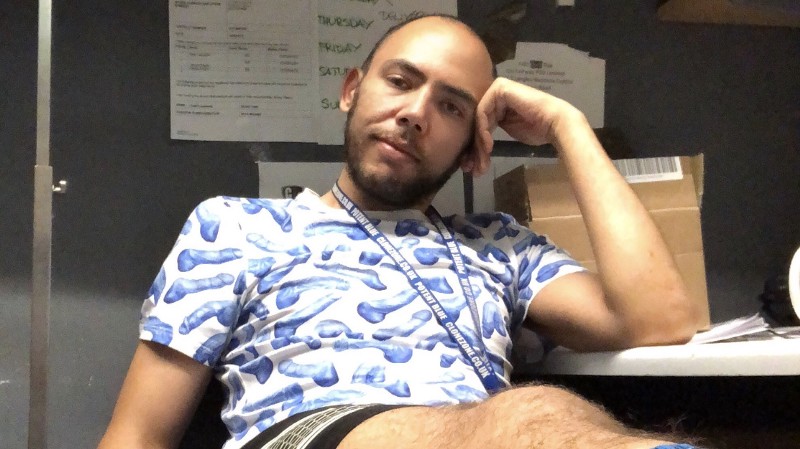 Ever wondered how a gay sex club or a sex party works? I caught up for a coffee with my Twitter buddy Dick Baker to swap tips on how to navigate a club full of horned-up guys.
What led you to try out a sex club for the first time?
Hard On in London was the first sex club party that I went to. I'd never been to anything like that before, but I'd heard a lot about it on social media. I wanted to experience it, to try it out, experiment. I wanted to see if it was any good.
How does a club like Hard On work?
You walk in, and then you get changed.
The dress code for Hard On isn't as strict as some other places. Hard On caters to a wide range of fetishes — rubber, leather, sports wear, or full-on naked
They have a basic locker-room changing area, so you don't have to ride the tube in your gear.
But you are getting changed in front of everyone — this isn't the place to come to if you're modest or shy.
What did you wear on your first visit to Hard On?
A jock-strap, sports socks, and a harness.
These days I always start off wearing a jock-strap, but I end up taking that off pretty quickly and just stuff it in one of my socks so I don't lose it. I get more attention when I'm naked.
Who do you go with?
I generally go by myself. There's hundreds of guys there, but it can sometimes feel a bit lonely by yourself. I generally know a few people there, people to chat with when you're grabbing a drink or having a smoke. It would be nice to go with a group of guys, that way you can go off and have some fun and then come back together to drink and chat and dance.
What's the layout of a club like Hard On?
Downstairs there's the main dance floor, the main bar, and two play areas. Upstairs is the main dark room, sofas, and a corridor with slings, benches, and private cabins.
It gets so busy that sometimes you feel like you can't move.
What's your general strategy?
It depends a bit on how I'm feeling, but generally I walk in, get changed, have a bit of a dance, walk around and scope out the place, then go upstairs and see what happens.
Generally, it doesn't take more than eye contact. You lock eyes with a guy and you know — okay, here we go. If it's busy, sometimes a guy will just wrap his hand around my cock to get my attention.
What happens if someone is making eye contact with you or trying to get your attention and you're not up for it?
You can just ignore their attempts at eye contact. If someone touches me and I'm not interested, my facial expressions are very expressive and can send a clear message. If someone doesn't get the message then I'm just very direct and tell them that I'm not interested. That rarely ever happens though, as long as you're clear with your signals you won't have a problem.
You shouldn't feel pressured to do anything you don't want to do, or behave in a certain way. The venue is just providing the environment and the opportunity, it's up to you to find your own pace. You can just have a bit of fun with a couple of guys, or you can get comfortable in a sling in the dark room and make it clear that you're not bothered by who is taking a turn on you.
How many times would you have sex at a party like Hard On?
I usually have some fun upstairs, cum, go downstairs to get some water and have a cigarette, have a dance, then head back upstairs for some more fun. Generally I'll cum at least twice, possibly three or four times.
I take Viagra when I got to a party like Hard On. It means I'm always ready for action and can last for longer. I also wear a cock-ring — I wear a necklace with some of my favourite cock-rings.
What sort of guys go to a party like Hard On?
All sorts of guys. I'm 31, but there's a varied mix of guys of all ages. I've noticed recently that the crowd seems to be getting younger — maybe PrEP has something to do with that.
There's lots of condoms available at Hard On, but generally guys don't use them. It's a personal choice — they're readily available if you want them.
What hints or tips would you give to someone who was thinking about going to their first sex club party?
Try and go with a friend, at least for the first few times. Know what you want — set yourself some boundaries.
Fetish gear can be really expensive, but you can just go with something simple. A jockstrap and a pair of sports socks is a classic look — you're covered but not covered. If you want a harness of some kind, you don't have to splash out on a leather harness, there are fabric harness options available that are more affordable.
You don't have to look like the guy on the poster. There's lots of ordinary, everyday guys at these parties. Everyone is just out for a good time.