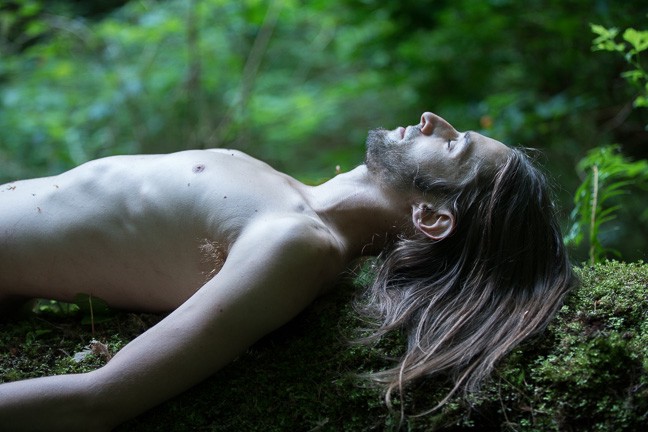 Explore an erotic connection with nature with Saul of Hearts
A stunning photography series from an eco-sexual.
I caught up with erotic photographer and model Saul of Hearts to talk about his stunning photo shoot in the forests of Oregon.
When did you start exploring your love of being naked outdoors?
My first nude photo shoot outdoors was for a friend's photography class in college, and I went to my first nude beach around the same time too. Over the years, I've been to clothing-optional events — from Burning Man, to the World Naked Bike Ride, and they've all been really positive experiences. I especially enjoyed going to the Ecosex Convergence near Portland, Oregon — a camping festival for people who enjoy sensual and erotic experiences in nature.
Would you describe yourself as an exhibitionist?
Not at all! I'm actually pretty shy about taking my clothes off in front of people. Consent is really important to me, so the last thing I want to do is be seen by someone who isn't expecting it. Since my photos are mostly about connecting with nature, rather than showing off for people, I'm careful about doing shoots in remote locations, the more secluded the better.
What do you enjoy about taking photos of yourself when you're naked outdoors?
I really enjoy the creativity. From picking the right location, to coming up with new poses and camera angles, to finding the best lighting, and time of day to shoot. Every experience is different, and I feel lucky that I get to share them with my fans and followers online.
The rainforest shoot from Oregon is really spectacular, how did that come about?
I'd gone for a few hikes in the Oregon forest, and had been talking with a photographer I met through ModelMayhem. I suggested we return to the location I'd been hiking in do to a shoot, and it turned out to be the perfect spot.
We started around sunrise, and spent several hours walking through the forest, stopping every time we found a new spot. We started out with simple nude shots, building to more explicit sexual content by the end of the day.
I've done plenty of solo shoots, but those tend to be more selfie-style photos for my OnlyFans page. Working with photographers gives me the opportunity to be a little more creative and artistic — I can focus on being the model for a while and let them bring their own unique vision to the project. I enjoy being on either side of the camera.
What do you hope that people feel when looking at these photos of you in the rainforest in Oregon?
I hope people feel inspired to spend time in nature. I love getting messages from people who also enjoy being naked outdoors, or who've tried outdoor sex for the first time after seeing my photos. I think seeing photos like these can help people lose their inhibitions, and think about their time in nature differently.
What's next for Saul of Hearts?
My next projects will definitely involve more people. I've been working on a few photo and video projects with other models, and it's been great to see them explore their own connection to nature on camera, and to get to shoot more explicit content. My goal is to have a few dozen projects completed by the end of the year, including duo shoots for my OnlyFans page and outdoor sex scenes for ManyVids. Of course, I'll be blogging about my travel experiences and sexual encounters along the way.
We want to hear your opinion
I caught up with artist Marc DeBauch to look at his series of work titled Beach Boys.
When did you discover and start to explore your passion for art?
I started drawing and painting when I was three years old. Before I was five, I remember creating a crayon drawing of the Sinking of the Titanic on the rough plaster of the living-room wall of my parents' house. It was impossible to remove — my parents weren't happy with me, but after that they provided me with enough art materials to pursue my creative interests without destroying their home.
When did you start specialising in painting naked men and creating erotic art?
It was 36 years ago when I started painting male nudes and selling them in a local gay book store. Then, in 1995, I entered two paintings in the Tom of Finland Foundation's Emerging Erotic Artists Contest. I was won first place, which opened the door for my art career, as I was immediately approached by galleries and magazines that wanted to feature my art.
This gave me the confidence and notoriety to exhibit and sell my work at erotic art fairs and gay events. At that time, the internet was just emerging, so my friend Andrew created a website for me, which was a fantastic tool to get my art out to people around the world.
You've written that Tom of Finland is one of the major influences on your work — when did you first encounter the work of Tom of Finland?
I remember seeing Tom of Finland's art in a porno magazine my friend had in high school. I was just amazed at the sexual tension, outrageous anatomy, and attention to detail in Tom's art.
This was back in the early 1970s, so gay porn was just emerging legally in magazines and films. At the time, I wasn't talented enough to draw the human figure accurately. But, I was fascinated enough to want to try. My sister's boyfriend was a photographer, and he gave me his dark room equipment — back then you actually had to develop film, as there were no digital cameras.
I talked a friend into posing naked for me while jacking off, and I developed the film and made some prints. I was 14 years old, photographing another 14-year-old boy. It was very exciting creating my own porn! Unfortunately, my dad — being supportive of my art — wanted to see the photos, and of course I couldn't show him. Not only did he not approve of gays, he didn't want his son to be gay. He would have probably hit me if he knew I was a homosexual creating gay porn! So, I destroyed the photos almost in front of him, while saying — "The photos didn't turn out and I would show him better work at another time."
I was scared and freaked out. I knew I was self-censoring. But I also realised that if I was going to create erotic art that I would have to do it in secret. When Tom of Finland began drawing naked men, he also had to make his art in secret. I think most erotic artists learn to be very careful about choosing the right audience to exhibit their work to.
Where do you draw your inspiration from?
My inspiration comes from people I know. I've been fortunate to see and meet many beautiful men in my life. Capturing their beauty and illustrating them in a unique way, is my goal.
What's your creative process?
My creative process is different every time I paint. Sometimes an idea for a painting just pops in my head and I try to find model to pose for a photo to match my vision — that's often the easiest route.
I rarely work from a live model. My paintings take so long to create — I often work all night on a painting — so, finding a model to sit for that long of a period and whenever I want them, is impossible. I use the photos of my models as reference.
Often, I look through hundreds of images and piece things together in a collage. It's more like a jigsaw puzzle — lots of pieces missing, and my mind fills in those missing pieces with an arm from this model, the chest from another, the dick from another, the face from another, and so on, until I have the entire figure. But then I have to decide how the light and setting will pull all of those puzzle pieces together.
I have dozens of photos that are my references for every detail of plants, animals, rocks, furnishings. I sort through a constant mess of photos — gradually eliminating those references as my brain digests the information and my brush puts it on the canvas or paper.
The paintings that form the Beach Boys series are beautiful — what are some of the challenges in creating beach scenes like this?
Trying to find a balance between the setting and the model is always a challenge. I don't want the model to overpower the beach, or the beach to feel more important than the model. I want my paintings to have a natural feeling, like you could be at the beach with my models.
Who are the men featured in the paintings of the Beach Boys series?
The men in my Beach Boy series are mostly friends that have modelled for me. Sometimes I find a photograph of a model that someone else has taken, that inspires me to use it as a reference pose to work from, then I find one of the photos of a beach that I've visited and I try to recreate a similar pose in a drawing that will eventually become a painting.
What do you hope that people feel when they look at your work?
I don't want to just give the viewer of my art an erection, I want them to feel like they're part of the painting, that they want to invite the men in my paintings into their homes, their beds, their dungeon, their car, their locker room, or the bushes for a hot fuck, butt licking, cock sucking, ass spanking good time.
I hope to excite the viewer visually, emotionally as well as spiritually. It's my goal as an artist and sexually active gay man to paint erotica that continually challenges the views of people who oppose sexual freedom. If my paintings assist the viewer in discovering where they are in the spectrum of human sexuality, then my aim is reaching its target.
Dive into the world of Marc DeBauch