I do love Japan. It's one of those countries that definitely takes you out of your comfort zone — the language, the signage, the culture — it's one of the few places in the world where, as a visitor, it's hard not to feel very 'foreign'.
It's undeniable that at first Japan can feel a bit overwhelming — I've spent time in Tokyo, Yokohama, Osaka, and Kyoto, and there's been moments in each of those cities where I just felt that all of my senses were being simultaneously assaulted.
But there's also been times of incredible quietness, reflection and some amazing food.
For what it's worth, here's a few things that I've learnt along the way:
Magazines are really big in Japan
While the magazine industry in other markets is generally contracting as people switch to online channels to source their content, in Japan there is still huge demand for magazines — often on quite niche subjects. There's obviously a huge wealth of manga, and I love the sub-culture of bara (gay muscle bears), but there's magazines that specialise in all sorts of weird and wonderful subjects which is kind of inspiring to see.
They ride their bikes on the footpaths
That's where they're supposed to ride, and the footpaths are generally wide enough to accommodate both pedestrians and cyclists. Japanese cyclists tend not to be moving that fast, but they wobble along a little uncertainly and as they come towards you it's not always clear what line of direction they're taking, so they always seem to be about to fall off or slam into you.
The Japanese don't like to linger over food
You go in, you eat, you leave. That's how you eat in a Japanese restaurant, especially somewhere as functional as a ramen joint. Sitting around with friends and catching up while you eat isn't really what you're there for. You might do that in a cafe, but even that is a bit of a stretch.
Wifi isn't as readily available as you would imagine
Most locals have a portable wifi device that they use wherever they go — as a result it's unusual for cafes or restaurants to provide wifi to customers.
Don't drink with Russians
In London they say 'Cheers!'; in Japan they say 'Kampai!'; the Russians say 'To the next one!' as they slam down each shot of booze. This resulted in a messy night in Tokyo's Shinjuku neighbourhood when my Russian colleagues decided that we should put the all-you-can-drink menu to the test. They won.
The Japanese eat more bread than I had imagined
There's quite a lot of bakeries, and local people will often snack on all sorts of bread-related stuff. There's one chain of restaurants called Honey Toast Cafe that serves loaves of white bread, hollowed out and filled with chunks of bread smothered in cream and honey. A very popular date option. Surprising.
There's a lot more to Japanese food than sushi and ramen
I kind of knew that, so it's not really news, but with each visit to Japan I've been impressed by the variety and distinct regional and seasonal specialities that you find everywhere across the country. They take their food seriously and it shows. Pot noodles in your hotel room is also a legitimate meal choice.
Coffee in Japan is generally pretty terrible
The coffee in cafes generally tastes better iced, but you can also buy cans of hot coffee from street vending machines — these are better than you expect them to be. If you like Starbucks, then that kind of stuff is everywhere, but if you're serious about your coffee then you might struggle a bit.
There's lots of ceremonies
My favourite ceremony is the 7–5–3 ceremony. Historically, child-mortality rates in Japan were very high, so parents would give thanks when a child reached the crucial ages of three years, five years, and seven years. Today you will still see children at these ages being dressed in elaborate traditional clothing, their proud parents taking them to the temple to give thanks for having reached an auspicious birthday. Very sweet.
Buy something on your credit card at the airport before you fly
I mainly use cash to pay for everything while I'm travelling, but about halfway through a recent visit to Japan I had a text from my bank's fraud department asking me to give them a call. There had been some transactions on my card and, as they were in Japan, they wanted to check them with me: 'We saw that you'd bought some items at Heathrow, so we didn't block the card — we just wanted to make sure everything was okay.' It's not often you get to say nice things about your bank.
Japanese toilets are a joy to use
Thanks to the innovation of Japanese company Toto, most toilets in Japan (including many public toilets) are fitted with a system that warms the toilet seat and delivers a bidet service. The really good ones also dry you off with an oscillating fan. Now that is one smooth-talking toilet. Ah, Toto toilets, I will miss you most of all!
We want to hear your opinion
An airstream adventure across California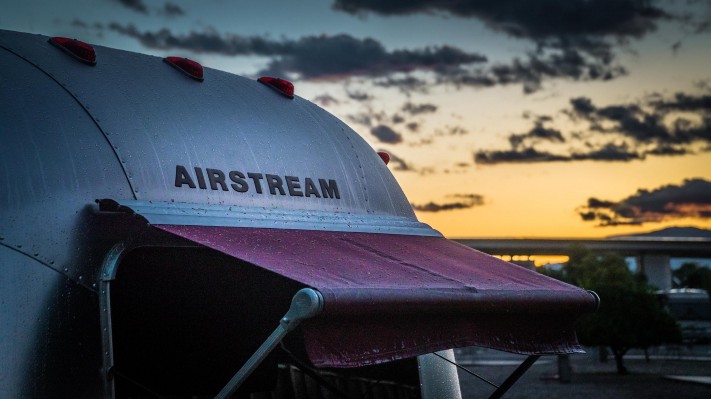 Some people may think of a caravan vacation as being a bit of a safe option, an ideal family-friendly expedition if you're not going too far from home and are just looking for somewhere with a bit of space that the kids can run around in. But, like any sort of travel experience, a caravan vacation can be whatever you choose to make it.
One of my dream vacations is to tow an Airstream caravan across the United States — visiting some of the iconic destinations, the ultimate road-trip.
Why an Airstream caravan?
The company behind the Airstream began building caravans in the late 1920s, but it was in 1936 that the classic Airstream model was first introduced to the world. Made from silver aluminium and constructed in a streamlined shape to cut down wind-resistance.
The Airstream has found a place within the world's popular culture consciousness — primarily because company founder Wally Byam began leading groups of Airstream owners on group vacations around the United States. The convoying caravans were known as Airstreamers — there is nothing quite as striking as witnesses a convoy of Airstream caravans on the move.
How to do it
Airstreams are still being manufactured at the company's factory in Ohio, but for the casual Airstreamer there are also options to hire a caravan for your expedition. California was the original home of the Airstream, and there does seem to be some sort of spiritual connection between an Airstream adventure and the wide open spaces and rugged landscapes of California and the South West of the United States.
The best time to visit this part of the world is between June and September, when you can enjoy the beaches and the great outdoor living that California offers. But the desert climate of the south-west region means that there is year-round sunshine, so you really can enjoy your Airstream caravan travels without too many restrictions.
Where to go
My dream Airstream caravan vacation is to begin from Los Angeles, driving up the coast road to Carmel and Monterey, and then cut across to Yosemite National Park.
Carmel is a small coastal artists' colony perched on a beautiful white-sand beach. Once you've parked the Airstream, everything is within walking distance as you wander around this village with its laid-back beach-side vibe.
The Monterey Bay National Marine Sanctuary features tide pools and kelp forests, which create a home for a huge range of aquatic life — you'll find sea lions, sea otters, dolphins, and humpback whales. You can go sea-kayaking to get a closer look.
Yosemite National Park covers a huge area of spectacular wilderness. The best place to start is with some hiking in Mariposa Grove, and then aim for the top of Sentinel Dome. There are climbing schools and guides available if you fancy some serious climbing.