Exploring the dynamics of inter-generational dating and relationships, web-series Daddyhunt is back with a new series.
I caught up with Casey Crawford — General Manager of Daddyhunt and an Executive Producer of the series — for a behind-the-scenes look at Season 3.
Are you surprised by the success of the Daddyhunt series?
Daddyhunt was wonderfully surprised by the positive reaction to Season 1 of Daddyhunt: The Serial, especially the incredible amount of requests for more episodes. We credit that success with the fact that the show deals with real-world issues and challenges. We continually try to portray the dynamics of inter-generational relationships and other topics in authentic ways, and I think that resonates with our viewers.
The BHOC — Building Healthy Online Communities — partnership began with the second series of Daddyhunt, what was the audience response like to the incorporation of health messages in the series?
The BHOC partnership grew out of conversations that our CEO, Carl Sandler, had with Dan Wohlfeiler of BHOC. Carl and Dan both realised that a public-private partnership could reach the people that Dan's organisation was targeting with their public health messages.
The audience response has been overwhelming positive. On YouTube alone, the Season 2 episodes and public services announcements have been viewed more than 8.8 million times. We've also received countless messages on our social media channels thanking us for incorporating health messages into the show and educating people about these important topics.
Season 3 of the series includes a more diverse cast. What was the casting process?
Dan and I started talking about what a Season 3 might look like right after releasing Episode 1 of Season 2. We knew that we wanted to reach a more diverse audience, and that meant including greater diversity in the cast. Once we figured out the story-line, the casting fell into place.
For example, viewers that watched Seasons 1 and Season 2 will remember AJ's relationship with the two Antonios. We knew for Season 3 that we wanted to show Antonio and Antonio on the screen, and so crafted a way for that to happen with the story-line.
You're tackling slightly more complicated health messages in season 3 — is that difficult from a creative perspective?
Any time you're tackling complicated topics, it creates challenges in the creative process. We wanted to keep the series light and authentic and not come across as preachy, but we also wanted to educate people about important health issues facing our community. I'd like to think that we got the balance right.
Is the series an effective way to attract more users to the Daddyhunt app?
The series does attract more brand awareness for Daddyhunt, and we do experience an uptick in downloads of the app or joins via the website. Inter-generational relationships are becoming more common, and when you do a good job of portraying those relationships in an authentic way, people take notice.
Daddyhunt is a community where we want everyone to feel welcome regardless of age, race, ethnicity, or HIV status — we make that clear with the issues that we tackle in the series. It's an effective tool for introducing people to Daddyhunt and encouraging them want to join the Daddyhunt community.
What do you hope that people feel when watching the Daddyhunt series?
Our goal is for people to come away from the show with a sense of hope. We're living in challenging times. In the series, we see that all relationships go through ups and downs, but it's how you learn and grow from the low moments that will make the relationship stronger in the end. So, ultimately, if people see that inter-generational relationships can work, and that HIV-positive and HIV-negative people can be in a relationship, we've accomplished some of our goals.
We want to hear your opinion
Celebrate the New Year with some erotic gay fiction
Start 2019 with a bang!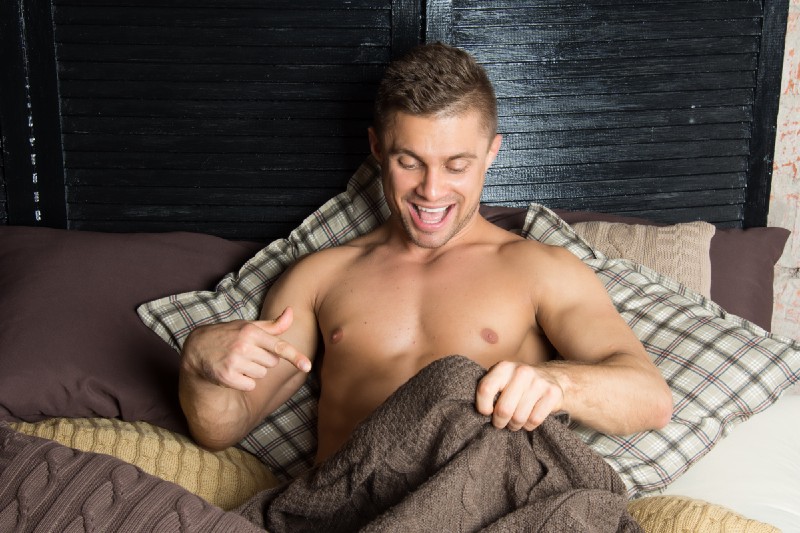 If you're looking for some fap fiction to help fuel your fantasies, you might want to take a look at the Bad Boys' Book Club series.
Volume 5 in the series kicks off with a New Year's Eve celebration which definitely gets corks popping.
Here's some samples.
"I hate New Year's Eve…" grumbled Hamish.
"Don't be so miserable!" laughed Kevin. "You're Scottish! I thought Scottish people loved New Year's Eve?"
"You're right…" acknowledged Hamish. "I hate New Year's Eve in London."
"Maybe you're just homesick?" suggested Kevin.
"It's cold but there's no snow…" explained Hamish. "Wherever you want to go is too busy. You can never find your friends. It's impossible to get home."
"Okay, I get it…" smiled Kevin. "You hate New Year's Eve in London. But, it's New Year's Eve, and we're in London. How about we make the best of it?"
"That's enough talking…" said Tegan, putting his glass down and wrapping his arms around Kevin, bringing their lips together.
There was an awkward moment as Hamish and Jerome looked at each other expectantly. Hamish decided to take charge and moved across to Jerome on the sofa, their bodies crunching as their mouths connected. Hamish immediately felt Jerome's hands on his ass, grabbing him, exploring him. The small shorts that Hamish was wearing were soon being pushed down as Jerome's strong hands kneaded Hamish's muscular butt-cheeks.
Hamish locked eyes with Kevin, confirming the connection between them. Hamish knew that it turned Kevin on to watch him with other guys. In that moment, Hamish realised that Kevin had invited Tegan and Jerome over so that he could watch Hamish being worked over by them both.
Here's the geo-specific links on how to get your hands on a copy of Volume 5 of Bad Boys' Book Club: