The latest release from Tony Moran and Jason Walker is I'm In Love With You.
I caught up with Tony Moran to talk about music, Pride and plans for the future.
What was your inspiration for "I'm In Love With You"?
When Mike Greenly, Ryan Shaw, and I went into write a new song together, we had all kinds of ideas bouncing around and off each other. Then — all of a sudden — it clicked! Especially because this song and vibe felt so right for Jason's talent. The song's meaning and the new melodic style we created for him seemed, to us, to fit like a glove.
How would you describe the track?
Electronic Soul. It gives me the same feeling as when I heard The Middle by Zedd, Maren Morris, Grey.
What sort of clubs is this track going to get the best response in?
I think it'll start racing out the gates in all the markets that have been helping Jason to achieve such great success. I'm sure it will then keep growing as new remixes and videos continue to express the song's versatility and happy message.
Who are some of the current recording artists who are creating music that excites you?
U2, and Coldplay, for sure. The Chainsmokers, and of course, Ariana Grande.
Which tracks are currently your go-to floor-fillers as a DJ?
Netta's "Toy" — the Sagi Kariv Remix is my favourite right now. I'm really proud of this Eurovision Song Contest winner.
What does LGBTQ Pride mean to you?
It's a time every year when we're reminded that we all exist and should stand together in mutual respect as one people in a world filled with diversity. It's exciting to know that none of us are alone.
Where will you be celebrating LGBTQ Pride this year?
I'm visiting almost every city that has a Pride Festival. Next stop, Toronto.
What are some of your goals and ambitions for the remainder of 2018?
To release new albums for myself, Jason Walker, and Kimberly Davis. My lyrics guru and I have been working around the clock on new song ideas. We have so many songs in play to get out there.
I've also started working with studios for the creation of music for film and television — it's an amazing experience. I'm also connecting with English pop star, Sam Stevens, who's coming to the US for Pride this summer. Lots of exciting stuff happening.
We want to hear your opinion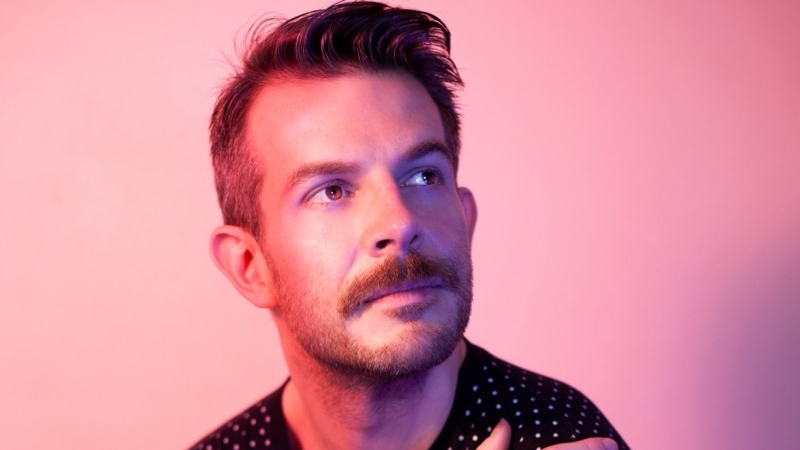 Rod Thomas aka Bright Light Bright Light is a singer song writer who has recorded and performed with Sir Elton John and Del Marquis (Scissor Sisters). His song writing is brilliant and will leave you wanting more. His influences come from the 80's and 90's, his upbeat pop style will have you dancing in your seat.
I had a chance to sit down with Rod and chat before he heads out on tour again.
Tell us a little about your childhood.
I grew up in a sleepy old coal mining valley in South Wales. My grandparents were farmers, so I grew up helping on the farm on the weekends, and spending lots of time there my family. Where I'm from isn't very diverse, or very exciting, while beautiful, so I looked to TV, film and the radio to learn about the world outside. I loved music so much since I can first remember anything. I was obsessed with Tori Amos, Björk, 90s dance music and my NES console.
Where do you get your inspiration for your music?
A lot of inspiration comes from what I see in other people, or what I overhear. I walk everywhere when I can so that I can see all the different lives around me. I'm a keen people watcher, and my favourite bit of travelling with tours is seeing how life changes from place to place. Not too much of my writing is as autobiographical as people think. So inspiration comes from a car alarm pattern I overhear in NYC, a snippet of conversation in the street, or as per my last album 'Choreography', from movie scenes and characters.
How was it to be the only unsigned artist to perform on the Graham Norton show with Sir Elton John? Can you share a little about the experience?
It was wild. Graham is one of my heroes of the UK comedy / TV world, and I never in a million years thought I'd get to perform on the show. Everyone made us feel like royalty, and the whole day was a blur and a total dream. Of course, performing with Elton was crazy too as even though we've been friends for years, it was the first time we'd performed together. It was so special, I'll forever be grateful to them all for letting that happen.
How did the collaboration and friendship manifest between Sir Elton John and yourself?
We met a long time ago through his management company, and I was obviously overwhelmed as it's HIM, but when I put out my first album, he called and said he really liked it, so we met for lunch and became friends over the next year or so. He's so generous with his time and his advice, he's just so brilliant. We make each other laugh, and he's always so excited to hear and work on new music, so I wrote some songs I thought he'd like, and he did, so he recorded vocals for them. I mean, I never ever EVER thought that would happen, but it was so fun, for both of us!
You're about to head out on the Tough Love Tour to support your forthcoming EP "Tough Love". What do you enjoy most about touring?
I love the people that you meet on the road. The people you see at shows, being able to share the songs with a room of people vs alone in your studio! Haha. Honestly the PROCESS of touring is quite hard as you don't get much time to rest, or even to see friends in each place, and it's very easy to get sick, but doing the shows is such a pleasure. I'll always love getting on stage and performing.
What can you tell us about the new EP "Tough Love" that will be released in September.
There are two songs I worked on with Rob Davis (Can't Get You Out Of My Head / Toca's Miracle / Groovejet), who is such a great guy. One of those is 'How I Feel', the lead track. Another song with Ian Masterson who I worked on 'Choreography' with. It's a little darker thematically than 'Choreography', prompted by the issues of mental health in the LGBTQIA+ community. The title track is about keeping yourself in balance, and in check. It's so easy to forget to look after yourself. And sometimes you keep toxic people, or situations, going when really you need to know when something isn't good for you and let it go. So it's a self-empowerment and self-worth track.
Are you still collaborating with the Slow Knights? Tell us a little bit about that collaboration.
Slow Knights is Del Marquis' (Scissor Sister's) project, I was a co-writer, singer and the label for it. He's put it on hold for a while, as he's focusing on other things, but it was so much fun. All the vocalists for that project are such powerhouses, I'm so thrilled I got to be part of that. I think the two albums he put together are fantastic, and really quite unique, so I'm honoured to be part of them.
What is one of your favorite songs that you wrote and why?
'In Your Care' from the 'Life Is Easy' album, as it's one of my most personal, 'Symmetry Of Two Hearts' because I remember when I finished that, I felt so full of joy that I'd get to sing that every night, and as a complete side note I wrote the theme tune for Mark Gatiss' 'Queers' monologue series for BBC4. It's an instrumental but I love it and I'm so proud of it.
You also do DJing. What do you love most, performing concerts or DJing?
That's a tough call. Both are SO rewarding in so many different ways. I love being able to do both in tandem, as there's SUCH a rush when you're Djing (especially at my Romy & Michele Tea Dances) where you play a song and you see people LIVING when it's one of their favourites, but then playing a song that I WROTE and seeing a similar reaction is so incredible. Both ways of sharing music make me very happy.
After the tour, what is next for you?
Write, record, release, tour, repeat. Always! And re-watch 'Death Becomes Her'.
Rod, thank you, it has been a pleasure. The new EP Tough Love will be out September 21st. You can pre-order it now through the link below. Also the Tough Love tour starts September 20th in Leeds at the Chapel. Check out Rod's website for more details and other tour dates.
Links:
Romy & Michele's Saturday Afternoon Tea Dance Spotify Playlist