I caught up with Cody Winter to talk awards, underwear, and gardening.
What led you to start exploring a career in porn?
There's a lot we can learn about ourselves through our sexuality — we often use it to validate aspects of our own identities, as well as to explore psychology that makes us uncomfortable to dissect verbally. I'd reached a point in my life where I was proud to have a healthy relationship with those demons, and that was something I enjoyed sharing. Comodifying that just seemed like the practical next step.
Would you describe yourself as an exhibitionist?
Most definitely, of course! There's this inherent camaraderie in that non-verbal exchange of a red-light bar that really gets me going — all the more-so when it's you and your partner getting a group worked up.
At the recent Grabby Awards you picked up best 3-way for No Holes Spared — how did that feel?
Recognition is always stellar — before the cameras started rolling for that scene, I was asking Damon things like — What gets you off? What are your hard lines? — those kinds of questions. He simply told me with a smirk — 'None of that soft shit. It makes me sleepy…' I knew then that we were about to shoot a great scene. So it's nice to get an award, but I was really just sitting on the right dick at the right time.
Would you describe yourself as a kink specialist?
Hardly! I don't even think I'm kinky. I think lots of people are just having a really boring time.
What's your ultimate porn fantasy?
Eccentric billionaire with feeder fetish writes his family out of the will to watch me eat pizza on camera. I retire at 29, bigger than my bank account.
Perhaps more realistically, group scene where the director takes partner suggestions and doesn't set any particular parameters. Everyone brings their favourite toys and gear, the camera comes on and we just get to do what comes natural.
Who are some of your porn heroes or inspirations?
Jon Shield — there's a performer who's got a grip on what people want to feel and want to see, and just looks so damn good delivering it. He's taught me a lot about sex and about myself, and those experiences had a lot to do with creating Cody.
I've crushed on Conner Habib since the days of dial-up internet, and somehow he's still got the exact same face. I was unbelievably nervous to shoot with him, but once we met I got to just enjoy a fantasy fulfilled. He's not afraid to share his own thoughts and opinions on social media, even though it challenges audiences to see him as a full person, and not just an object.
Damien Crosse is just the ultimate fucker. Whether he's on top or bottom, he performs with this unabashed, animalistic passion that always feels so real and so potent. He released a couple scenes where he wore these gold high-top sneakers the whole time, and a few where he was cruising by the urinals — I'm not really sure which is my biggest fetish, or if it's just that everything he does is so hot.
What took you from New York to Seattle?
I moved to New York at 19 to pursue photography, thinking that I'd be there for three years. I ended up shooting in-house for an incredible brand, but when I passed my 26th birthday I decided I'd rather run off into the woods and go feral. I'd highly recommend it — my pits have never smelled better.
As well as working in porn, you're also a gardener? How did you get into gardening?
I've always looked at sex work as a side-hustle. I grew up working outside. I realised, after a few years shooting full-time, that I didn't love my occupation quite so much as my medium. Landscaping is a process where each step is fulfilling — when you're done, the thing you've worked to build is only just starting to become what it will be.
Can we talk underwear? What sort of underwear are you into?
Always jockstraps! A nice, classic mesh pouch with a little musk on it and a thin waistband is my all-time favourite. If I absolutely have to cover my ass, I love a button-fly, pleat-fronted boxer. I love to swap skivvies with other boys, so I'm not picky about what I pick up off the bedroom floor.
What are some of your goals and ambitions for the remainder of 2018?
I'm hoping to continue working with even more studios, venues, and performers who are doing what they do to represent their personal, genuine sexuality. I like being able to show up to set with my piercings in, my hair whatever shade of sherbet it is that week. I like fucking guys who have something going on for them that some director found hot enough to want to film. I want even more of that!
We want to hear your opinion
To Straight Guys Who Don't Get 'Gay'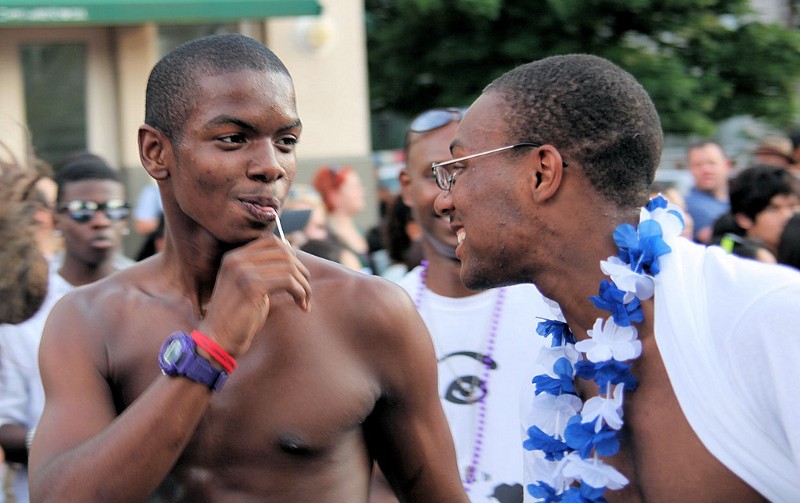 "But you don't act gay."
If I've heard that once, I've heard it too many times, usually from hyper-masculine straight men who probably equate black and muscular with heterosexual masculinity, even though I've always considered myself to be a 5 to 7 on a feminine-to-masculine 1-to-10 scale.
Sometimes they substitute "seem" for "act." Sometimes they don't have to say either. It's been implied every time door bouncers from Buenos Aires to Berlin have looked me up and down and asked, "Do you know this is a gay bar?"
I know gay men are supposed to wear "straight-acting" like a badge of honor, but I regard it with the same side-eye I've given "But you don't act black" since childhood. That badge hasn't gone with anything in my closet since I came out of the one I was trapped in for 22 years.
There's no blueprint for being gay, no matter what the stereotypes insist. It's not a lifestyle or even a specific culture. Variety is as much the spice of gay life as straight life. That's being human, all too human. Everyone belongs to the same club, many clubs, and no club at all.
Gays and grooming
The last time a straight guy implied that I don't act/seem gay (Alexandru, a friend of my Airbnb host in Iași, Romania, who offered to show me where I can meet the hottest local girls), I thought about something Russell Brand said years ago.
"It would have been convenient to be gay. Just because of the grooming, the narcissism, stuff like that, where it's generally more accepted. But I have this kind of roaring heterosexuality. Traditional, uncomplicated, almost clichéd heterosexuality. I just really like women a lot."
A straight friend and colleague posted that Brand quote from a 2006 profile in The Guardian on Facebook a little more than a year ago, thinking it was evidence that Brand is the sort of open-minded straight man that he is. Once I was done groaning, I set my mate, er… straight.
Grooming and narcissism are not gay things. Anyone who has stepped foot into a room full of gay men knows that we can work scruff and body odor just as proudly as straight men. Meanwhile, two of the world's biggest narcissists (hello, President Donald Trump and Kanye West) are heterosexual men.
I hope the past 12 years — and the influence of his ex-wife Katy Perry, whom he was three years away from meeting when he made the comments above — have taught Brand to drop his crusty preconceptions about gay men. Too bad a lot of straight men still subscribe to them.
Defining "gay"
Just when my stomach was starting to settle over Brand's brand of clichéd homosexuality, along came Andrew Garfield. In July of last year, during a Q&A discussion about his role as a gay man with AIDS in the Broadway reboot of Angels in America, he talked about being "a gay man… just without the physical act."
Two years earlier, James Franco made a similar declaration in FourTwoNine magazine: "I like to think that I'm gay in my art and straight in my life. Although, I'm also gay in my life up to the point of intercourse, and then you could say I'm straight. So I guess it depends on how you define gay."
That's the problem right there. Why does "gay" need to be defined — and why do both actors think being gay in life is contingent upon "the physical act" or "intercourse"? Not all gay men engage in the latter, and virginal gays and celibate gays are still gay, even without the "physical act."
Franco didn't offer any specifics on what defines "gay," but Garfield did. The Oscar-nominated actor doesn't seem to have learned much about gay men from pretending to be one.
Apparently, to Garfield, the gayest thing a straight man can do is binge watch episodes of RuPaul's Drag Race. Newsflash: I'm a gay man with the physical act, but I've never seen an episode of RuPaul's Drag Race, and I sometimes prefer the company of straight people. I sort of love female strip shows, but I've never felt like a straight man, just without the physical act, while enjoying a pole dance.
I'm not so into musicals and Broadway show tunes. I've never really gotten Judy Garland. I don't worship at the altar of Beyoncé, and I've got a rock & roll heart. On the other hand, I loathe sports and love The Golden Girls, daytime soaps, and Cher singing ABBA. None of that makes me "straight-acting" or "so gay." It makes me a man who likes what he likes.
Being gay isn't tantamount to belonging to a club where everyone has the same interests, likes and dislikes. The only thing all gay men have in common is their sexual orientation.
I identify as "gay" because of that, not because of my sexual behavior or my behavior in general. I am able to bond with men physically and emotionally in a way that I don't with women. That's why I'm proudly gay. It has nothing to do with my taste in TV or music, or the way I walk, talk, and groom myself.
It may seem pretty obvious, but someone reminded me that it's not so clear to everyone the day after Beyoncé surprise-released her Lemonade album. When I arrived at work the next morning, one of my favorite colleagues, a 23-year-old straight guy, looked at me expectantly.
"How excited are you?" he asked.
"About what?"
"Seriously? About what? About Beyoncé, of course. I know you're loving it," he said in a tone that betrayed the rhetorical question that was clearly running through his mind: How could anything else possibly matter to you today?
"Well… actually… I'm not a fan, so I kind of don't care."
"What? You don't like Beyoncé?" He looked crushed. Which me had disappointed him: the entertainment editor me, the black me, or the gay me? Whoever it was, he was clearly not expecting me not to fit inside the box he'd prepared for me based on traits that don't dictate my taste. I'm convinced he wouldn't have been quite so shocked by a straight white entertainment editor's lack of gaga for the gay icon.
We'd go on to bond months later over our shared love of the dance music I used to live for every Friday night at Sound Factory Bar in New York City in the '90s. That ended up being our "gay" connection that Beyoncé never could be.
Monogamy vs. Non-monogamy
Straight men aren't the only ones who stuff us into boxes. I recently revisited a Gawker article my brother sent me in 2012 titled "The Secrets Gay Men Don't Want Straight People to Know," which was presumably written by a gay man who'd presumably spent way too much time ticking "gay" boxes.
I couldn't figure out whether the title was supposed to be ironic. Take this "secret": "Not All Gay Couples Are Monogamous." Um, duh! Don't the holy rollers always trot out our alleged slutty ways when sharing their dirty-laundry list against gay marriage?
If anything, straight people are more likely to assume all gay couples are non-monogamous, which is just as wrong. It's probably related to the other straight assumption that gay men are all obsessed with sex and would do it or pursue it with pretty much anyone (especially straight men — which the Gawker author co-signed).
As #MeToo and Time's Up have proven, sex obsession is hardly gay-specific, which Russell Brand, to his credit, acknowledged in 2006. Not all of us are into sex clubs, dark rooms, and "NSA," but even when our homosexuality is "roaring" it doesn't automatically translate to "Let's have an open relationship."
Meanwhile, non-monogamy isn't the gay inclination many people, both gay and straight, think it is. It's a human one. Whether we choose it or not (and I do believe it's up to individual couples to decide if it's right for them), human beings are not intrinsically monogamous. Gay men in open relationships are just more honest about it.
I won't delve too deeply (pun intended) into what the article claimed about "bottoming" and amyl nitrate, or the link between the two, except to say that you really can't believe everything you read on Gawker. Overall, though, the list was a bit too focused on sex, as if that's the crux of being gay.
But the Gawker piece did save the best for last. The one revelation that made me sit up and cheer on the inside was the final one: "We Don't Love Drag Queens As Much As You Do." It was framed as a sweeping "gay" generalization, but I appreciated the acknowledgment that something perceived as a gay ritual kind of isn't. (Surprised, Andrew Garfield?)
Drag has never been my thing, and it wasn't until 2011 when I saw several first-rate drag shows in Phuket, Thailand, that I started to warm up to it.
Alas, it was a short-lived thaw. After a couple of weeks back in Bangkok, I was once again avoiding drag shows like the plague, showing up at DJ Station no earlier than midnight, just to be sure that the drag queens were safely tucked away offstage.
Sexlessness and the "other" box
In general, I find drag humor to be tiresome and lip-syncing boring, and many of my gay friends agree. (Andrew Garfield and I must run in different gay crowds.) But I suspect some straight people feel more comfortable with that over-the-top sexless gay persona because it's safe.
Like the stereotypically feminine gay man or the acerbic wise-cracking one (from Uncle Arthur on Bewitched to Jack on Will and Grace), drag queens represent a homosexuality they might feel comfortable embracing because there's no sexuality involved. They don't have to think about what we do when we're naked.
Maybe that's why some straight men see us so narrowly, in terms of grooming, narcissism, and RuPaul's Drag Race, rather than in 3D. Simplifying us down to specific stereotypes puts us firmly in the "other" box, where they can ignore all of the non-"gay" things we may have in common with them as well as the emotional and physical oppression that's a daily reality for many men whose gayness includes the physical act.
It's a twisted kind of embrace, but I suppose it's better than a punch, which, by the way, some gay men are able to throw masterfully.