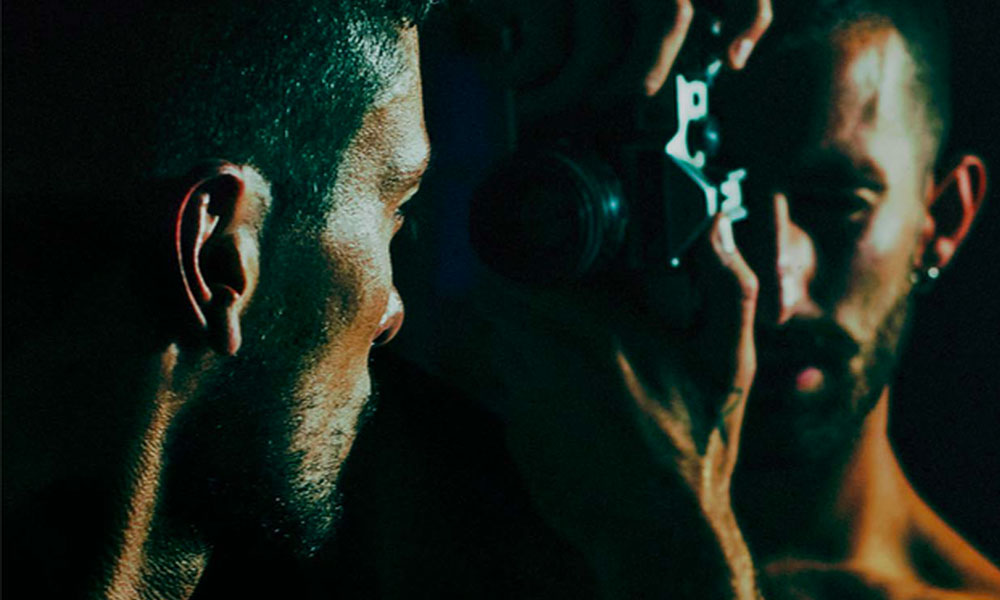 Celebrating male photography and erotic art
Meet Ben Sabo and indulge in his celebration of naked men in Pineapple Blog
One of my favourite Instagram treats is queer photography showcase Pineapple Blog, and I'm obsessed with their digital magazine.
I spoke with Ben Sabo, the guy behind Pineapple Blog, for a behind-the-scenes look at all things erotic:
Why did you decide to create Male Pipedream?
It just came up. I did a 'best of' selection of my favourite works from the blog, and I named that Issue 0. I got to thinking that there should be an Issue 01 too, so I published that a few months later with interviews and exclusive photo sessions.
Did you consider printing it as a magazine, or was the concept always to create it as a digital magazine?
The concept is for it to be a printed magazine, but the reality right now is to produce it as a digital version.
I'm still looking for the best method to be able to print the magazine with the quality that I want.
This is the second issue of Male Pipedream, how often will the digital magazine be published?
It should be one each season, so four times in a year. In between the issues I'm planning to make a shorter, Special Edition, and that should be released at least twice a year.
How do you select the artists featured in the magazine?
I always have a few favourites from the site whom I ask to contribute. I always try to ensure a wide variation of artists to keep the magazine interesting and not to feature only one type of photography or art. So far I've had good feedback from the contributors.
Who's the target audience of Male Pipedream?
Everybody who loves art and photography.
Who are some of your heroes, in terms of male photography and gay art?
It's hard to name individuals. From photography, I love the pictures by Bruce Weber, Hadar Pitchon, Mapplethorpe, and many more. I like the art of Tom of Finland, and Keith Haring — artists who have a vision.
Why did you decide to establish Pineapple Blog?
Back in August of 2016, I was feeling tired of fashion photography and I wanted to do something else.
As a person who loves art and photography, I always browsed lots of Tumblr sites to find inspiration, but I thought it would be so much better to find all those images in one place. That's how I got the idea to make a site for it.
At that time I was struggling in my private life, so it was a great opportunity to concentrate on something new.
What's your objective with Pineapple Blog?
My goal is to make the blog the best place for artists who make kinky art or photography but haven't yet had the opportunity to be published by regular sites.
What's your view of the perception of male erotica in today's cultural landscape?
Male erotica's new home is Instagram, Onlyfans, and all the social sites. There's now so much erotica on the internet, everybody can find something to suit their taste.
For me, natural photographs work better, I don't like the perfectly retouched world. Even though there is a beauty in it, I find it unreal.
We want to hear your opinion
Outdoors Cruising: the art behind the bushes
On a quest for anonymous and casual sex? 'Cruising' is not dead!
Outdoors cruising is not dead!
We have all heard stories of the 'old days', before mobile apps and even gay bars, when homosexuality was a taboo – and in many countries illegal – outdoors cruising was the only way for gay men to be able to find a sexual encounter.
Nowadays, homosexuality is no longer criminal in most of the western world and technology is here to stay. Socialising with our friends or acquaintances behind a screen and finding a sexual partner has never been easier. But some still prefer the rush and the forbidden pleasure of a casual outdoors hook up with a random stranger.
If you think that the rise of new technologies and that the closure of gay adult entertainment venues is killing cruising – think again.
From underground culture to art
Outdoors cruising has been source of inspiration for many artists, Touko Laaksonen (a.k.a. Tom of Finland) being one of the most recognisable names exploring the artistic potential of cruising.
Many young artists have proved that this element of the sexuality of gay men is alive, well and more popular than ever and their artwork exhibited in screens and galleries all over the world.
A brilliant example of that new generation of artists is Antonio da Silva – a young award-winning Portuguese experimental filmmaker that explores the hidden side of homoerotic culture in a voyeuristic and indie way.
On his official site he explains:
"I have always been fascinated by male sex and sexuality. I became increasingly frustrated with how moving image explored this and have begun to make it the subject of my films over the last three years. I do not consider myself a pornographer but a filmmaker who use my background to choreograph short films with explicit sex themes."
Since 2011, when he launched his first short film "Mates" – an intimate view into the world of online hook ups – Antonio has been exploring many current themes of the gay culture such as fetish, voyeurism and, of course, outdoors cruising.
Each film is a mystic combination of sound, image and movement that captivates the viewer from the first second and has granted him a space in some of the most wanted film festivals all over the world.
From the 'hidden camera' documentary style of Bankers, the dance-based choreographic scenes of Dancers, to the futuristic – and almost stroboscopic – view into the world of online gay sex of Spunk, Antonio keeps experimenting and delighting his viewers with the most captivating homoerotic short films.
"Cruising in the Park" – a sensorial immersion into the cruising scene
On his most recent work – "Cruising in the Park" – Antonio teamed up with Fabio Lopes to take us on a journey into the world of outdoors cruising. Moving away from the mainstream staged pornographic cinematography, it combines low angle and close up shots with a real audio experience and narrative giving us a sensation of first-person experience.
And, if just like me, you are a massive fan of movie/series adaptation of dark themed comic books like Jessica Jones and Watchmen, you will fall in love with Rodrigo Penalosa's deep voiced narrator's commentary throughout the film.
Don't believe me, then watch the trailer (NSFW) below: