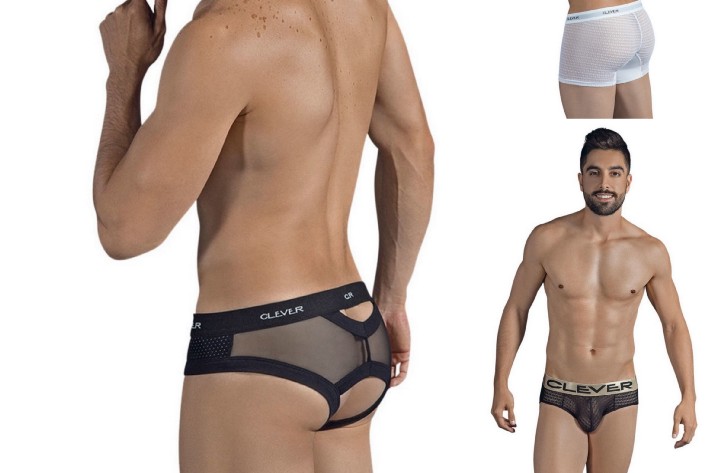 Casual comfort to extreme enhancement
How your choice of underwear can help boost your natural assets.
Not everyone gets to see what underwear you've got on, but it can play a crucial role in how you feel and how you project yourself to the rest of the world — your confidence, your attitude, and your state-of-mind.
I caught up Leo Corado of Dude Undies to compare underwear and get to grips with the latest trends in what guys are wearing.
Colourful Choices
'Colour is a big trend in underwear at the moment…' explains Corado. 'Colour isn't just about being eye-catching, but it can be a subtle way to make the most of what you've got — for example, the addition of neon-coloured seams can enhance the contour and shape of the crotch.'
'Wearing colourful underwear can also help you to project your personality — bright and bold colour choices indicate that you're fun and outgoing. Fun graphic prints are another way to convey your personality.'
Brands to look for if you're opting for color in your underwear include JOR, Pikante, Clever, and Candyman.
Bulge Enhancement
'Some guys feel a bit hesitant about bulge enhancing options in underwear…' explains Corado. 'While it's admirable to be happy with what you've got, there's nothing wrong with presenting your best-self, bringing your A-game to stand out from the crowd and attract a bit of attention.'
'The old-school strategy was to stick a sock down your pants, but thankfully things have got a lot more sophisticated in recent years. There's now a lot of options out there — everything from c-rings, slings, pouch pads, or clever construction and design that adds extra bulk to your crotch.'
'Bulge enhancing underwear isn't just for guys who feel a bit on the small size, everyone is different and it can just help you feel a bit more comfortable and help to hold everything in the right position. Some of the best brands for bulge enhancement include Pikante, or ErgoWear.
Sexy and Sporty
'In contrast to some of the softer, lacier underwear trends, the uber-macho sports underwear still remain very popular…' explains Corado. 'Sportswear is a really classic style, and that locker-room aesthetic taps into all of our football-jock fantasies.'
'Sportswear isn't just for guys who go to the gym — really any shape or body-type can be enhanced with the right sporty underwear. I really like the range from Xtremen — they're really practical to wear in the gym or when you're doing something active, but they also look really good and have a very modern and contemporary design.'
'Jock-straps will always be a favourite, the Ergowear Gym Jockstrap takes a very classic design and delivers everything you could ask for.'
We want to hear your opinion
Lads in lace for L'Homme Invisible
The Anapos Line of underwear and club-wear takes masculinity in an exciting direction.
French fashion brand L'Homme Invisible has released a new campaign for its Anapos Line. This underwear and club-wear collection is made from striking blue fabric featuring organic shapes that evoke the waves of the ocean.
This collection includes three underwear styles and a t-shirt. The Anapos underwear comes in String Striptease, Slip Sexy Back, and V Shorty Push-up.
All styles are lined with a lightweight, semi-transparent, super-soft fabric in beige colour. This protective fabric lets your skin shine through the transparent lace while the contoured pouch draws attention to where you want it.
The T-shirt is made from the same fabric to match the underwear, and features a V-neck in black trim. This tee can be worn as a set with the underwear, but also for a night out if you want to add some colour to your ensemble.
The campaign was photographed in New York. The model is Philip Fusco.
The Anapos collection of L'Homme Invisible is available online and from specialist retailers.