I caught up with Twitter buddy Kim Mainz to talk underwear.
When did you first become interested in men's underwear?
I've always been interested in men's underwear, men in underwear, and naked men.
My first big crush was on my school teacher in primary school. I loved to touch and smell his underwear and gym shorts after gym class.
I still have the the sticky underwear magazines and catalogues that I used to masturbate to under my duvet.
When did you first realise that you had a sexual connection with men's underwear?
I used to love to wear my dad's underwear as a child and as a teenager. I'd read his porn magazines. My first magazine with naked men was Playgirl.
How have you explored that sexual connection or fetish over the years?
Underwear is a big part of my life — sexy guys and men in underwear — it's a big turn-on for me. Underwear — the scent, the touch, the feel — is sometimes better than sex.
I want to make more straight guys interested in underwear, and also to explore their underwear.
How do you connect with other guys with a sexual interest in men's underwear?
I connect with guys on Twitter — we share underwear experiences and links to on-line shopping sites. Some of my friends bring back underwear souvenirs from their holidays, and we sometimes swap and share our underwear between each other. Connecting with other guys who also love underwear is one of the best parts of my underwear fetish.
Do your friends or family know about your passion for underwear?
Everyone knows. It's hard to hide when you always want to show them off.
How many pairs of underwear do you own?
At last count it was around 600 pairs.
Which are your favourite brands of underwear?
Some of my favourite brands include CockSox, Andrew Christian, Aussiebum, Diesel, C-IN2, 2xistconfidence, 2Eros, and Box Menswear — but the list is endless. I'd love to explore more underwear from Rufskin and Vizeau.
Which styles of underwear do you prefer?
I prefer to wear briefs and jockstraps. I'm not much of a thong guy, or a boxer-briefs guy — the shape of boxer-briefs doesn't work for me.
What are some of the next steps in exploring your fetish?
I'd love to connect with more guys who have an underwear passion or fetish. One day I'd like to invest in my own brand of underwear.
We want to hear your opinion
The exhibitionist appeal of a kilt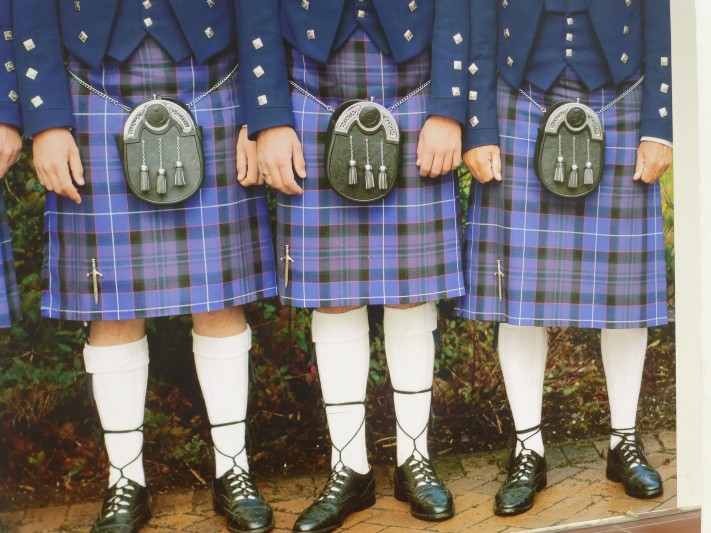 I caught up with my Twitter-buddy Sean to talk about his passion for kilts.
Due to the nature of his work, Sean has to remain anonymous for this interview.
What was your first experience of wearing a kilt?
I started wearing them several years ago, more out of interest than anything else. I'm not Scottish, I have Irish heritage.
The kilt really appeals to me as an item of clothing on many levels — it's far more comfortable to wear than trousers, and also looks a hell of a lot smarter too. I always wear the sporran, kilt hose, and flashes with it — it's the complete look.
Is there a sexual element to wearing a kilt for you?
The freedom of it is wonderful, and there's a real buzz about wearing a kilt — it gives me a lot of confidence, it's a bit like power-dressing.
I get a lot of positive comments and compliments, from both men and women.
I'm guessing that you're a bit of a purist when it comes to wearing a kilt — obviously there's no underwear?
It depends where I am, to be honest. If I'm at home, or out socialising or doing general stuff, then no, never. At work I'm a bit more respectable.
As well as being a kilt-lover, you're also a naturist. Are those two passions related in any way?
I'd be lying if I said no — its very liberating, and its also the one item of clothing you can wear where it's almost expected that you're going to 'free' underneath — what's not to like about that?
How do you explore your love of naturism?
That's easy — taking my clothes off as often as possible. It's a fantastic way to be more comfortable and confident about yourself. There are far too many hangups in the world as it is — why add to them?
Would you describe yourself as an exhibitionist?
Without a doubt!
What's your ultimate kilt-wearing fantasy?
It used to be to be able to wear them all the time — so, in some ways I'm living out that fantasy now.