I caught up with Chris Davis from TAKE TWO to discuss how a dietary supplement can play an important role in anal sex.
What led you to create the TAKE TWO dietary supplement?
We saw an opportunity to deliver the absolute highest quality of dietary fibre blends to a demanding market, while offering a premium alternative with high-end, discreet packaging that really sets us apart from other brands.
My understanding is that there are similar types of fibre supplement products on the market, but I haven't seen anyone else market them specifically to men as an aid to anal sex. Why did you decide to focus on that market?
Pure for Men is the clear market leader and actually does speak to clean anal sex, however, we've found what is considered to be a more effective formula that delivers even better results.
We decided to make a splash in the market after early customer reviews raved about just how much of a difference TAKE TWO made to their digestive health and confidence in the bedroom. We also found that a lot of customers prefer discreet packaging and bottle labels, which matches the high-end look and feel of TAKE TWO.
Is TAKE TWO an alternative to douching or just an additional option to help guys be clean and confident?
We like the idea of have additional tools in the shed for every occasion! TAKE TWO is not meant to completely eliminate the need for general maintenance and hygiene, but we have found that many of our customers spend 70 percent less time 'getting ready' while some users have forgone traditional preparation steps, altogether. We're such strong believers in the above claims that we stand by these promised results with a money-back guarantee.
The edition that you've created in partnership with the Tom of Finland Foundation looks great — why was the imagery of Tom of Finland a good fit for TAKE TWO?
It's no secret that here in the office, we love the rich, leather-bound imagery rooted in Tom of Finland's unique catalogue of art. It was an obvious match to the leather-like look and feel of our standard TAKE TWO bottle design, and not at all hard to imagine how amazing the Tom of Finland art would look if properly featured on the TAKE TWO product.
We worked closely with the Tom of Finland Foundation to identify some of the most iconic pieces, and coupled them with the jaw-dropping metallic backing on each panel to give that one-of-a-kind finish. After the first bottle was completed, we knew it was a winning bet.
Customers have fallen in love with the result, and we're already getting daily requests for new favourite pieces of Tom of Finland artwork to be featured next.
How do you market your product?
We rely heavily on word-of-mouth, but have run a few very successful campaigns on social networks and dating apps like Scruff and Hornet. We've also partnered with doctors serving the LGBTQ community around the US who see the immense value in supporting fibre-rich diets via TAKE TWO's premium blend of soluble and insoluble fibres. You'll likely see TAKE TWO popping up in various radio, television and social media campaigns featuring respected online personalities that have made the switch to better fibre.
I was interested to see in your Q&As that you specifically talk about the product's capability with PrEP — was that a question that you were receiving from customers or did you just want to proactively address any potential concerns that might be out there?
Although risks are determined to be relatively low when it comes to dietary fibre supplements and medications like PrEP, we wanted to be 100 percent certain that best-practices are being followed to eliminate any doubts.
If I was a young guy, just starting to explore my sexuality, what hints or tips would you give to make anal sex as enjoyable as possible?
Get to know yourself and your body inside and out. This includes everything from exploring tools like lubricant and practising with safe objects and toys to get a feel for what works for you.
Be sure you are comfortable with and trust your sexual partners before diving in.
Remain sex-positive and remember that sex is a long journey — an experience that is meant to be enjoyable.
Take your time and communicate freely before, during, and after playtime.
Play safe!
Dive into the world of TAKE TWO
Image supplied

Image supplied

Image supplied

Image supplied

Image supplied

Image supplied

Image supplied

Image supplied

Image supplied

Image supplied

Image supplied

Image supplied

Image supplied

Image supplied
We want to hear your opinion
A cautionary tale about Chemsex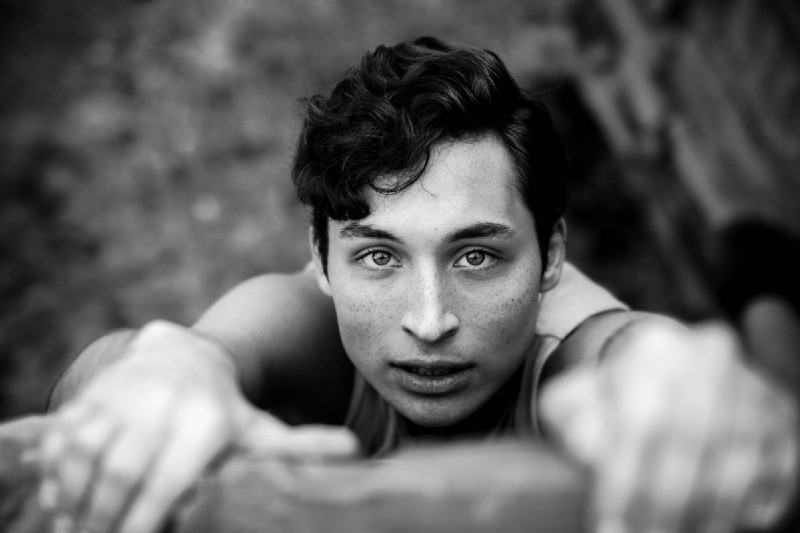 I caught up with author Cameron Yorke to talk about his triptych of books The Chemsex Trilogy.
The Chemsex Trilogy of books documents a fairly turbulent period of your life. When did you decide to chronicle your experiences?
The initial idea came to me one night while I was high. We were sitting around a friend's kitchen table, discussing my financial situation, and he suggested selling a few drugs for the next few weeks to supplement my short term income discrepancy, and I jokingly quipped — 'Yeah, sure! I could write a Secret Diary of a Drug Dealer book about the whole experience!' — not dreaming at that stage for one minute that I would either deal drugs or write the book.
Later, once in prison, and with plenty of time on my hands to reflect, I decided that it might be a good idea to write about my entire experience in the hope that it might help others in similar circumstances. I originally intended on writing the one book, but now I'm on my fourth volume in this series.
In recent years there's been a number of books, plays, and documentaries exploring the appeal and the impact of the Chemsex scene. What does your trilogy of books add to that narrative?
There have been a few attempts at explaining Chemsex through various art forms, but I don't think any of them have offered a balanced perspective, looking at it from all angles.
When I first started writing the books, I wanted them to be entertaining as well as factual. I certainly didn't want to write a 'poor, poor me' missive, but instead a humorous yet factual and informative series which highlighted the process of addiction from introduction right through to recovery. I also want the books to serve as a reference to friends, family and loved ones of victims, who, having never been exposed to this culture, might also be searching for answers and understanding.
How hard was it for you, sitting down to write the books, looking back at that period of your life with sober eyes?
Surprisingly, not difficult at all. This is a period in my life of which I'm not proud, but the biggest battle was in wrestling with how much of the story should be told, and in how much detail, and how much should I omit in order to protect my 'reputation' and keep my friends.
Once I'd started writing, I actually found the entire process cathartic. It forced me to examine actions and reactions, why I'd made some of the decisions which led me down this path, and what I could have done to stop it. It shocked me — looking back, how emotionally and physically drained, and how vulnerable I'd been at the point where I was introduced to Chemsex. Many of the others around me at that time were in the same boat. At the time, I had no idea my state of mind was so fragile.
Later, after my release, I realised ironically that had I not written the books, no-one would have known about my prison term and deportation in the 'real world' as I'd been fortunate in having no press coverage during my trial at all.
It's taken me nine months to gather the confidence to be able to discuss the full extent of my punishment. People who have read the trilogy have presumed that I was writing about others and not myself, initially it was convenient for me to hide behind this.
I finally came to the conclusion that if my friends were going to reject me because I'd been caught and punished for the drugs — when at the height of my indulgence they were all participating — then I didn't need them as friends. These battles have been more difficult than the actual writing of the books.
How would you describe the different periods covered by each of the books in the trilogy?
Chasing the Dragon is all about pressure, experimentation, and indulgence. It tells the story of how various factors led me to experiment, and then to become more deeply involved. The biggest problem with this drug is that it makes you feel so good, sex become a euphoric experience, and for a few hours you lose all inhibition, all pain, you feel attractive, desirable, and wanted again. When those factors are missing in your life, the temptation to do it more and more becomes extremely difficult to resist.
Candy Flipping covers indulgence, addiction, and arrest. It demonstrates the failings of the legal system in general, the ambivalence and laziness of the Metropolitan Police, and the incredible impact austerity measures have had on the Crown Prosecution Service and the legal profession. I also discuss addiction — the psychological addiction to Chemsex. The assumption that Crystal Methamphetamine is physically addictive is an absolute myth, propagated by the government, and adopted by users as an excuse for bad behaviour.
Double Bubble covers arrest, sentencing, and incarceration, and is an exposé of the short-comings of the British penal system, and also explains why I'm convinced that the drugs themselves are not addictive.
My new book The Deported deals with incarceration, deportation, and new beginnings, discussing re-entry to society, coming to terms with life in a country in which one hasn't lived for decades, self examination, lessons learnt, and the best way to rebuild one's life. This is the one of which I'm most proud. It will be available for purchase on 1 August 2018.
There will be a lot of gay men reading your books who will be familiar with some elements of the Chemsex and PnP scene. Would you describe your books as a cautionary tale?
I would hope so — if they stop people from going through what I did then I'll be happy. I'd also like to think that they're a reference point for partners, friends, and family of victims in gaining an understanding of the culture so that that they can better offer support and assistance in breaking the cycle.
My most ardent wish is that the books will raise awareness of the factors involved, so that the government will become better informed in formulating policies, instead of just sticking band-aids without any understanding of a problem which has deep and wide-ranging ramifications.
Not everyone who explores Chemsex and PnP follows the trajectory that you've followed. Were there any specific factors that shaped your story, or is Chemsex a slippery slope that could lead anyone down a similar path?
When I really started to examine my 'path to destruction' I realised that the only reason I became involved at all was because of issues with confidence, low self-esteem, work stress, depression, and anxiety. Like any drug — whether it be alcohol or something stronger — when you have a healthy, sane, balanced state of mind, you can handle any stimulant in moderation and walk away from it. I was using drugs, and Chemsex as a support mechanism to stop myself from sinking into depression — self-medicating, if you like — and it was then that I started to become more and more embroiled in the whole process. Like many people I met during this process, I was convinced I didn't have a problem, right up until the end when I found myself in 'forced detox.'
What do you hope that people feel when reading The Chemsex Trilogy?
I hope that they will identify with the issues discussed, and feel empathy for the people and stories within the narrative. I hope that I will have frightened them enough to discourage them from becoming involved in this epidemic. If they're victims of it already, I hope they feel inspiration, and gain support in knowing that they're not alone in this battle, as well as encouraged to use the support channels to find out where to get help. Most of all, I hope that people see the humour, and enjoy reading the books.
Double Bubble
We are serialising Double Bubble on Mainly Male.
Banged Up
"What on earth are you doing in here?"
"I hadn't had access to a shower in 5 days…"
Cockroaches. Rats. Prison.
It's not what you know but who you know
10 days drug free
Prison boot-camp
"Finally, things were starting to move…"
"Pentonville was inhumane…"
"I showed her the track marks on my arm."
"One step above a special needs facility."
"It looked like I was pleading guilty…"
"A plan was hatched…"
"Another example of monumental waste."
"I very quickly imagined the worst…"
"I was starting to feel vaguely human…"
"An ignorant, aggressive arsehole!"
"It really was a 'them and us' culture…"
"Quite honestly, I was scared for my life!"
"I hadn't asked for a transfer!"
"Perhaps things weren't too bad after all…"
"I just wanted to die!"
"I had a strategy to put in place!"
"I felt like I had turned a corner…"
"I wasn't about to crawl back into the closet…"
"I was now earning £12 per day…"
"I was walking straight into a trap…"