Sex Ed tips for gay men
Depending on where and when you went to school, your sex education classes may not have been that comprehensive. There's every chance that your Sex Ed classes didn't tackle gay sex at all.
Here's some of the things that I wish had been covered in Sex Ed classes at my school.
Lube. It's pretty essential for fucking and can also be good fun for general play. Especially when you're starting out, you want everything as wet and as slippery as possible.
Mess. Sex generally involves some ass play and often includes fucking. It's inevitable that you're going to encounter some messy situations from time-to-time. Deal with it, don't make a drama out of it. Take a break, get cleaned up, and get back to business.
Feelings. You don't have to have a deep emotional attachment with everyone that you have sex with. If you realise that you really like someone, that's okay – don't try and bury your emotions.
Versatility. Deciding that you're exclusively a top or exclusively a bottom is a bit dumb. Sure, you might have a preference. You might feel a bit more confident in one position or another. But you should be aiming to be versatile. The more that you can experience, the more you'll understand about how to give pleasure.
Cum. Semen is cool. Have some fun with it.  
Porn. Porn is great to get you all juiced up or to give you some inspiration. Don't measure your sexual encounters against the porn that you watch. Porn isn't real life. You're probably not watching too much porn, but if you think that you might be then take some steps to change how you navigate porn and sex.
Explore. Don't get stuck in the kind of sex that you have. Try new things. Be adventurous.
Size. Don't worry about what size your cock size. Everyone is different.
STIs. Get tested regularly. Early detection of any STIs makes it easier to treat and prevents you from passing anything on to someone else.
Relax. Take your time with sex. It's not a race. It's not always possible to pace things so that you both cum at about the same time – but it's amazing when you can.
Friends. You don't have to have sex with every guy that you meet – friends are just as important as fuck-buddies. You can still be friends with someone after you've had sex.
Hard. Your cock is an amazing part of the body. If you don't get hard for some reason, don't stress about it. It happens sometimes, there's lots of factors that could be at play. If it's an ongoing issue, there's lots of help and options out there that you can explore. Don't be too embarrassed to search for solutions.
Noise. If you're not making porn then you don't have to make porn noises or dodgy dialogue while you're having sex. But being totally silent is a bit weird – if you're enjoying yourself then it's good to vocalise that.
Education. Stay up-to-date with the latest health developments. It's important that you understand what's happening with HIV. Do you know about U=U? Do you know about PrEP? Make sure that you've got the information you need.
Oral. Oral sex is great. Be great at sucking cock.
Articulate. Let your sex partners know what you like and what you don't like. It will save a lot of time and gets you to the good stuff quicker.
Kinks. Fetish play can be a lot of fun to explore. Don't be embarrassed by anything that you're into. Try some role-play to push your boundaries.
Shame. There's no such thing as having too much sex or not enough sex. Have the sex that's right for you. Calling someone a slut or a prude just makes you look dumb.
Consent. It's totally okay to say no. If someone says no to you, then you have to respect that. Sober sex is good – if there's drugs or alcohol involved then you might not be clear about what you have consented and what you haven't.
Competition. No one cares how many people you've had sex with. Focus on having great sex with the guy that you're with.
Foreplay. It's not an optional extra. Put the effort in. Make it count.
Kissing. Make sure that you're a really good kisser. Clean teeth and fresh breath is sexy.
Adventure. It's not easy to have sex in a car, but it's generally worth the effort. If you're in a hot-tub or a pool, it's generally better to get out of the water to have sex. Sex outdoors or somewhere where you might get caught is awesome. Being able to look in a mirror and watch yourself having sex is awesome.
Filming. Filming yourself having sex can be a lot of fun. Make sure that everyone involved is okay with being filmed. Make sure that everyone involved knows what will happen to the footage and that they're okay with that.
Connection. Eye-contact during sex is super-hot. Don't be too gentle with each other, sex is a physical, full-contact sport.
Relationships. It's hard to maintain the excitement of sex in a long-term relationship. It takes work and effort, but it's worth it.
Labels. Don't close yourself off to potential opportunities just because you think you're only attracted to certain types of guys. Everyone has got something to offer. Be open to new things.
Clubs. Parties and clubs and bathhouses can call be great fun. Know what your limits are. Sometimes it's good to go with friends or a fuck-buddy, sometimes it's good to go by yourself.
Pubes. What your pubes look like is up to you. A bit of a trim is generally sensible to keep things neat and tidy, but it's not essential.
Body. Everyone has things about their body that they wish that they could change or improve. Don't stress about it. If you're at the point where you're getting naked and getting it on, then you have nothing to worry about.
Performance. Sexual encounters don't always deliver great sex. Maybe it's you, maybe it's him, maybe it's just an off night. It's not big deal.
Cruising. Practice your in-person, face-to-face cruising skills. Eye-contact says everything.
Etiquette. Honesty is the best policy. If you want him to leave once you've had sex then it's okay to ask him to go. If you want him to stay after you've had sex, it's okay to ask him to stay. If he doesn't want to stay, that's okay – don't take it personally, he may just have things to do.
We want to hear your opinion
Meet the vegan body-builder
Alexander Kosztowny is building mass without harm.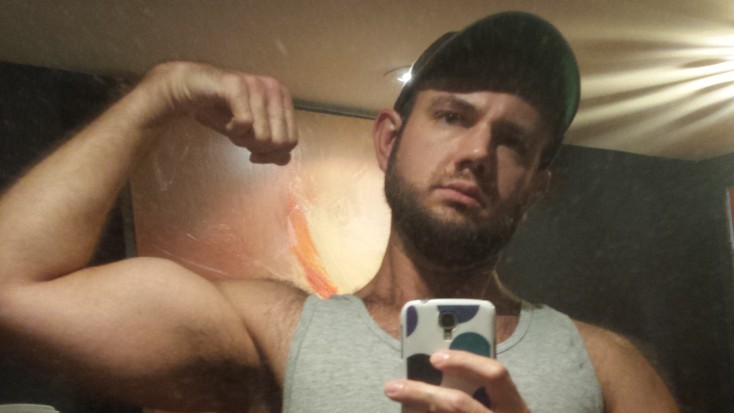 I caught up with aspiring bodybuilder Alexander Kosztowny to talk fitness, food, and life as a vegan body-builder.
Were you into sports at school?
No. Growing up, I was a heavy-set kid, and not very active at all. In school, I was very academic, and focused mainly on my studies rather than athletics. I didn't dread gym class, and always worked hard and enjoyed certain sports like tennis and volleyball, but the lack of variety of activities in gym class limited my view on the variety of types of activities out there. If I'd tried a weight lifting class, or yoga, or karate, my attitude may have changed earlier in life. My sister was always active, but I come from a family who are not very big on physical activity or sports. Of course, like most, I wish I'd started earlier, but better late than never.
Can you remember what your first experience of a gym was?
I lost a lot of weight in high school with the onset of puberty, and with the gaining knowledge of nutrition, portion control, and cardiovascular activity. When I went to college, I found myself putting a lot of the weight back on, and knew I had to prevent that. I joined a gym, and hired a personal trainer for the first time to help me get back on track.
I absolutely fell in love with pumping iron. I was able to coordinate working out into being a part of my schedule, as opposed to limiting it only to 'when I have time' and having a trainer not only motivated me and taught me technique, but also kept me accountable for my actions. He helped me with adding strength while paying attention to form, and meal planning, The excess weight fell off, and I became addicted.
Now I'm in the gym every day, pushing my body and transforming both my health, my appearance, and my outlook.
When did you decide to get serious about your fitness and bodybuilding?
About four years ago. But I've only been super-serious for about a year, and I've only been extremely strict in terms of diet for about six months. I'm still a beginner.
What's your aspiration as a bodybuilder?
To get huge. That's it.
As someone who's plant-based, I'd also like to show others what's possible on a non-traditional diet. That there are other forms of nutrition and protein, and you can build muscle, look great, and have tons of energy without harm.
What's the difference between your body as it is now and the way that you want your body to look?
I'd still call my self thick or chubby-muscular. The interesting thing about bodybuilding is that there never really is an end goal. You just lift and grow bigger and you're never quite big or strong enough. I'm just trying to push myself as far as I possibly can. It's exciting to see the changes you can make that way.
What's your work-out regime like?
I'm in the gym six or seven times a week. This seems excessive to some people, and I know others who only go three or four times a week, and that works for them. For me, the gym is therapeutic and a stress reliever, as well as a hobby.
I usually spend about one hour doing weight lifting — machines and free weights — and then I wrap up with about 35 minutes of cardio. I focus on one body part per day. It's a traditional bodybuilding split, so muscles have a chance to rest. This routine works for me — I know some people have luck doing high-intensity, full body workouts, but I like the focus of working each muscle group in isolation.
Do you have a work-out buddy?
Not currently, but I've always enjoyed it when I do. It really is vital for really heavy spotting, and the dependability is nice if they're as motivated as you. If anyone is in Los Angeles and wants to train with me, hit me up!
How important is controlling your diet?
Controlling diet is extremely important. It makes or breaks your progress in the gym. if you lift but don't eat right, you won't get anywhere. I've seen this happen both for myself and others. When I finally got on the right meal plan, the results happened in no time at all — abs are made in the kitchen, not the gym.
I eat about five times a day, and I'm plant-based, just like Tom Brady. My diet consists of lots of legumes, lentils, tofu, peas, broccoli, peanut butter, protein shakes, and other natural, nutrient-rich foods that contain protein without resorting to animal products.
Besides the ethical and environmental sides of going vegan, I find I have more energy, need less time to recover, and am less sore, as well as having clearer skin. I count my macros — calories, carbs, proteins, and fats — and eat the same foods every day to stay on track. I've pretty much eliminated bread, gluten, alcohol, refined sugars, and beverages besides water from my diet, except for special occasions. I'm super-strict, but do let myself enjoy food.
Are your friends and family supportive of your bodybuilding aspirations?
For the most part. They're always impressed at my progress and dedication, but I need a lot of willpower when I have a family who loves to cook, bake, and tempt me with treats. That's why having a partner or workout buddy who is on a similar plan is helpful, if you're lucky enough to find one. It keeps you on track.
Are you competing?
Nope, and no plans to either. But that may change as I grow bigger.
What are some of your priorities for the months ahead?
I'm currently in the best shape I've ever been in, so I want to just keep on progressing. It's a slow process, and takes a lot of time, so you have to be patient.
Follow Alexander Kosztowny on Twitter
Follow Alexander Kosztowny on Instagram