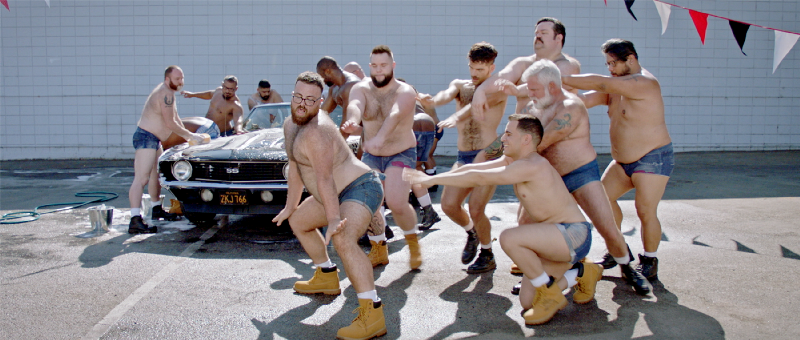 Big Dipper has us Lookin and Shookin
Big Dipper's new track is officially our summer anthem. His forthcoming album Late Bloomer, will be released later this year.
Big Dipper's new track Lookin is officially our summer anthem.
Produced by So Drove, Lookin is an upbeat slice of pop that makes you smile and gets you dancing.
Directed by Tobin Del Cuore, the video for Lookin immerses us in a sexy car-wash fantasy — with lots of beefy boys covered in suds.
Lookin is the first single from Big Dipper's forthcoming album Late Bloomer, which will be released later this year.
I caught up with Big Dipper to talk music, objectification, and a car-wash fantasy.
What was your inspiration for the song?
I was really obsessed with Jock Jams growing up. I told the producer, So Drove, that I wanted to make something that sounded like that. The lyrics kind of came naturally. Once we wrote the hook for Lookin, it became clear that the whole song would be about confidence and catching someone's attention. I also really wanted to put instructions to a dance in the lyrics of a song — so we did that as well.
A sexy car wash is one of my top fantasies. Why was the car wash the right concept for the video for this track?
It was the first idea that really popped into my head and it stuck. I became obsessed with a car-wash idea, no matter what we talked about as we were planning the video. I really wanted to flip the typical visual of girls in bikinis at a car-wash, and show off big sexy guys covered in suds and water. It felt like the perfect concept to showcase bodies and choreography and a great backdrop for a summer bop.
How did you cast the guys featured in the video?
It was a deep dive on a lot of social media — most of the cast were referrals from friends, or people I follow online. I was really focused on casting guys who weren't focused on nightlife, or being poster boys. I wanted real people who have passion and drive and confidence.
Most of the guys in the video aren't actors or dancers by trade, but they work in a diverse range of professions and felt passionate about representation in the digital video space.
This is the first track off your album Late Bloomer — is the sound of Lookin indicative of the rest of the album?
Kind of, but not really. The quality of the music and the song writing is definitely a level up on this album, but it's not all super-poppy or dancey. The album is a total journey from start to finish, and moves through a few genres — pop, trap, club. It's really dope, and I'm super proud of it as a body of work.
I set out to make this album three years ago, it's been a long time coming. I'm super-proud of the work I did on this project, and I'm so impressed with all of my collaborators.
We often forget the subliminal — and often overt — messages that we send to young guys when we constantly objectify gym-sculpted muscular physiques that are completely unobtainable for most people. What I love about your video is that it celebrates that big guys are sexy, and that confidence is sexy. Do you mind if we objectify you a bit?
I think anytime you put yourself in the public eye you need to be prepared for objectification. I love my body, and I'm happy for people to look at it if they want to. It's important to show lots of body types and all the different types of beauty that exists in the world.
What next for Big Dipper?
I've got a few more videos coming out this summer, plus the full album will be released as well. Plus, I'm constantly playing live shows.
My podcast — unBEARable with Big Dipper and Meatball — is in its second season on the Revry App, or anywhere you get podcasts. It's about being a different kind of bear. We've got great guests this season like Alaska Thunderfuck, Nicole Byer, Brad Kalvo, Ginger Minj, and more!
Dive into the world of Big Dipper
Follow Big Dipper on Instagram
Upcoming dates for Big Dipper's live shows
29 June — San Diego, CA
4 July — Asheville, NC
8 July — Burbank, CA
3–4 Aug — Bard College
10 Aug — Kanasa City, MO
12 Aug — Burbank, CA
16 Aug — Chicago, IL
17 Aug — Milwaukee, WI
18 Aug — Madison, WI
We want to hear your opinion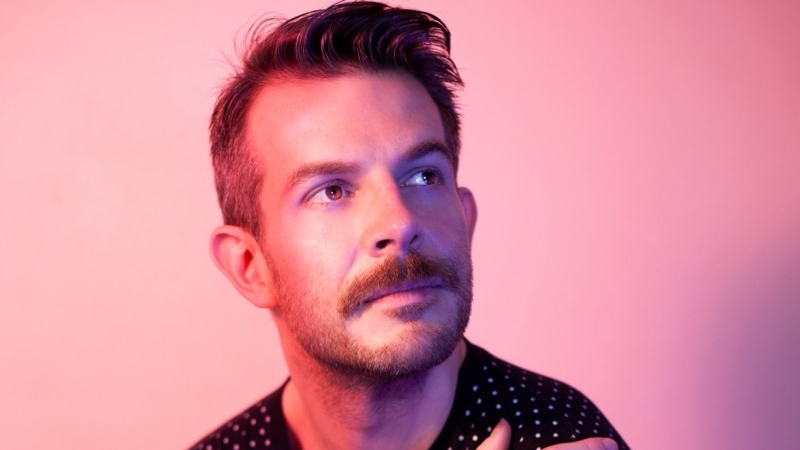 Rod Thomas aka Bright Light Bright Light is a singer song writer who has recorded and performed with Sir Elton John and Del Marquis (Scissor Sisters). His song writing is brilliant and will leave you wanting more. His influences come from the 80's and 90's, his upbeat pop style will have you dancing in your seat.
I had a chance to sit down with Rod and chat before he heads out on tour again.
Tell us a little about your childhood.
I grew up in a sleepy old coal mining valley in South Wales. My grandparents were farmers, so I grew up helping on the farm on the weekends, and spending lots of time there my family. Where I'm from isn't very diverse, or very exciting, while beautiful, so I looked to TV, film and the radio to learn about the world outside. I loved music so much since I can first remember anything. I was obsessed with Tori Amos, Björk, 90s dance music and my NES console.
Where do you get your inspiration for your music?
A lot of inspiration comes from what I see in other people, or what I overhear. I walk everywhere when I can so that I can see all the different lives around me. I'm a keen people watcher, and my favourite bit of travelling with tours is seeing how life changes from place to place. Not too much of my writing is as autobiographical as people think. So inspiration comes from a car alarm pattern I overhear in NYC, a snippet of conversation in the street, or as per my last album 'Choreography', from movie scenes and characters.
How was it to be the only unsigned artist to perform on the Graham Norton show with Sir Elton John? Can you share a little about the experience?
It was wild. Graham is one of my heroes of the UK comedy / TV world, and I never in a million years thought I'd get to perform on the show. Everyone made us feel like royalty, and the whole day was a blur and a total dream. Of course, performing with Elton was crazy too as even though we've been friends for years, it was the first time we'd performed together. It was so special, I'll forever be grateful to them all for letting that happen.
How did the collaboration and friendship manifest between Sir Elton John and yourself?
We met a long time ago through his management company, and I was obviously overwhelmed as it's HIM, but when I put out my first album, he called and said he really liked it, so we met for lunch and became friends over the next year or so. He's so generous with his time and his advice, he's just so brilliant. We make each other laugh, and he's always so excited to hear and work on new music, so I wrote some songs I thought he'd like, and he did, so he recorded vocals for them. I mean, I never ever EVER thought that would happen, but it was so fun, for both of us!
You're about to head out on the Tough Love Tour to support your forthcoming EP "Tough Love". What do you enjoy most about touring?
I love the people that you meet on the road. The people you see at shows, being able to share the songs with a room of people vs alone in your studio! Haha. Honestly the PROCESS of touring is quite hard as you don't get much time to rest, or even to see friends in each place, and it's very easy to get sick, but doing the shows is such a pleasure. I'll always love getting on stage and performing.
What can you tell us about the new EP "Tough Love" that will be released in September.
There are two songs I worked on with Rob Davis (Can't Get You Out Of My Head / Toca's Miracle / Groovejet), who is such a great guy. One of those is 'How I Feel', the lead track. Another song with Ian Masterson who I worked on 'Choreography' with. It's a little darker thematically than 'Choreography', prompted by the issues of mental health in the LGBTQIA+ community. The title track is about keeping yourself in balance, and in check. It's so easy to forget to look after yourself. And sometimes you keep toxic people, or situations, going when really you need to know when something isn't good for you and let it go. So it's a self-empowerment and self-worth track.
Are you still collaborating with the Slow Knights? Tell us a little bit about that collaboration.
Slow Knights is Del Marquis' (Scissor Sister's) project, I was a co-writer, singer and the label for it. He's put it on hold for a while, as he's focusing on other things, but it was so much fun. All the vocalists for that project are such powerhouses, I'm so thrilled I got to be part of that. I think the two albums he put together are fantastic, and really quite unique, so I'm honoured to be part of them.
What is one of your favorite songs that you wrote and why?
'In Your Care' from the 'Life Is Easy' album, as it's one of my most personal, 'Symmetry Of Two Hearts' because I remember when I finished that, I felt so full of joy that I'd get to sing that every night, and as a complete side note I wrote the theme tune for Mark Gatiss' 'Queers' monologue series for BBC4. It's an instrumental but I love it and I'm so proud of it.
You also do DJing. What do you love most, performing concerts or DJing?
That's a tough call. Both are SO rewarding in so many different ways. I love being able to do both in tandem, as there's SUCH a rush when you're Djing (especially at my Romy & Michele Tea Dances) where you play a song and you see people LIVING when it's one of their favourites, but then playing a song that I WROTE and seeing a similar reaction is so incredible. Both ways of sharing music make me very happy.
After the tour, what is next for you?
Write, record, release, tour, repeat. Always! And re-watch 'Death Becomes Her'.
Rod, thank you, it has been a pleasure. The new EP Tough Love will be out September 21st. You can pre-order it now through the link below. Also the Tough Love tour starts September 20th in Leeds at the Chapel. Check out Rod's website for more details and other tour dates.
Links:
Romy & Michele's Saturday Afternoon Tea Dance Spotify Playlist