Nothing beats a bit of Dad and Son quality time like hitting a bar and swapping stories over a few drinks.
Here's a few of our favourite bars from around the world that could be a good starting point to work through your Daddy-issues.
You'll find Hafen on Motzstraße, a short walk from Nollendorfplatz station. When the weather is mild, everyone stands outside drinking, smoking, and talking. Beer is the default choice of drinks, but they do other stuff also.
Seriously good cocktails in a luxurious setting that feels like the living room of an eccentric friend or a wealthy uncle. Order a Manhattan and they'll want a discussion about your choice of bourbon — it's that kind of place.
It's hard to resist a bar that calls itself Naked For Satan, but there's more to this boozer than just good marketing. The roof-top bar is really special — great views out across the roof-tops of Melbourne. It's a relaxed vibe where you can share a bottle of wine or three and just talk things over.
It's hard to argue with the Danish — they pretty much get everything right. Lidkoeb is the kind of bar that I could happily move into. The building used to be an old pharmacy, surrounded by herb gardens. Now it's serving up serious cocktails and tasty food. Work your way through the menu.
There's an old-world charm about La Palette that's pretty irresistible. When the sun is out, everyone is clamouring for the sidewalk tables. But I love nestling into the interior of this place, nursing a pastis or some wine and contemplating life.
You'll find this place beneath a flower shop. They do great cocktails and tasty snacks.
On a sunny day in Stockholm, there's one place that you want to be — kicking back in this bar on a floating pontoon in the waters of Lake Mälaren. Bliss.
We want to hear your opinion
Meet the winner of Mr Gay Europe 2018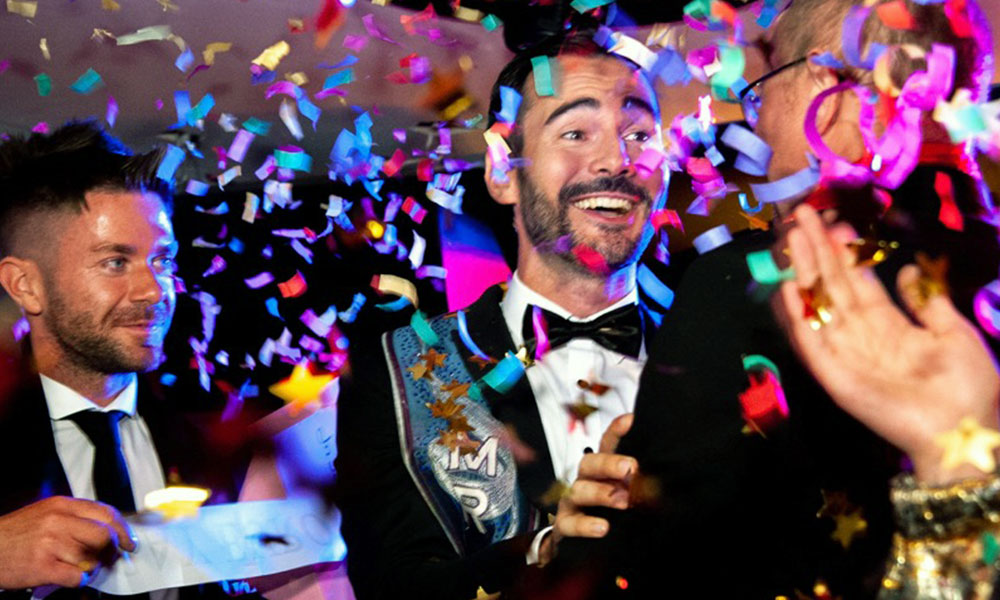 Enrique Doleschy won the 2018 competition of Mr Gay Europe.
The German contestant spoke with us about his experience in Poland, recalls his experience facing the protestors in Poznan, his charity work and his plans for the future.
What led you to participate on the competition?
Caring for others has always been a big part of my life. I cancelled my first studies to stay with my family and have sacrificed a lot for that. Still the spirit of giving back and taking care for others lives within me.
So that's why I do it – for you guys!
Can you describe to us the competition?
It consists of a set of challenges such as a photo shoot, an interview by the judges, a presentation of your campaign or project, discussions and workshops, social media appearances, a sports challenge and so on – it covers a broad spectrum of your public and personal life.
Who's Mr Gay Europe?
It is mostly a representative for you guys.
An ambassador willing to listen to the needs of our community. Someone who is responsible for raising those needs to European leaders, politicians, and other influential people.
Mr Gay Europe is your voice to the big guys – delivering a message from Marathon to Athens like one young man did back in ancient times.
Which task did you enjoy the most?
Interacting with people. I love to get my hands dirty for the nitty gritty. I'm a creator and maker. I love to speak to people and have them listen to what we as a group have to say, but I'll also be the first one in line to help build that community centre or carry signs and chant at rallies and demonstrations.
Some people in Poznan weren't excited by the competition and you had some protesters in Poznan. At any point did you think that things could escalate further?
We were scared to death.
We were shocked at first at what was happening – everything around us was moving so quickly, they got us onto the bus and away from the situation. The Pride parade hadn't even started at that point.
The situation was handled very well by Poznan police, they'd been protecting us all week.
In the end we had two thoughts – what have we done to these people to offend them? But also that this is why we do what we do and why Mr Gay Europe will never be a beauty pageant.
We are activists and fighters!
Did you feel safe during the rest of your stay in Poland?

At all times we had a police escort with us or following us around. I'm very happy that the authorities of Poznan were always by our side.
Do you feel the world is moving forward in terms of LGBTQ rights, or are we reaching a plateau phase now?
Overall, I do feel that we're still moving forward.
In cities and countries where clear majorities have been accepting us, focus has shifted to problems within our community – bi-phobia, trans-phobia, pan-phobia. We're also exploring different life choices compared to what heteronormative society has taught us about relationships – poly-amorous for some, monogamous for others, separated in sexual and romantic love for the next person. All that combined with the discussions of binary and non-binary gender roles, and the stereotypes about safer sex, can create a weird cocktail of misunderstanding and lack of information outside and within our community.
It's a long list of topics – rather than issues – that I'd like to address and work on with each and every member of our community. Let's get it on!
How did it feel to win Mr Gay Europe?

Mirror, mirror on the wall, who's the gayest of them all? Would you believe it's me?
I didn't, but now that I made it, it feels me with deep pride.
No one can take that achievement away from me – the honour of being chosen! Thank you so much to everyone for each and every vote, tweet and hashtag!
Do you think this title will help you reach a wider audience with your activism?
Indeed it already has.
I feel that there's so little time in one day to do something that sometimes I don't know where to start. The only thing that counts though is to do something!
Care for each other every day in everything you do. From the products you buy, to the people you vote for, and the ones you choose to be allies.
Strangers are friends you haven't met yet – and I'm so ready to meet each and every one!
What are your plans for this year?
Change the world!
Well, let's start with Germany and the other European countries. Then we'll move on.
I want people to be interested in their future again – give back, invest some money in projects and charities you like and help them grow, care for each other! It makes the world a nicer place for all of us.
Come out to meet me at events and work with me on my campaign Silver Rainbow to overcome generational conflicts, and to create great living spaces and educational environments for our community.
LGBTQ nursing homes, shared living spaces, and projects like these generate good vibrations – can you feel it?
Next year's competition will take place in Germany, your home-country. Any advice for next year's contestants?
Get to know the host country and region. Everyone loves being appreciated and interest being shown in them.
Stay true to yourself, but present it in the best way!
Live the spirit of the European Union – united in diversity.
Life is about making the right choices for all of us – not for each and every one of us.
Any message you would like to leave to our readers?
Recycle your trash, stop buying plastic, vote on every level you can for the common good, and care for your elders – start by calling your grandparents right now!