Part 1
I was resigned to the outcome before it was even confirmed. After the somewhat short, but now rather familiar ride to Holborn in the back of the police van and the inevitable procedure that followed, I again found myself locked away in the bleak Met Police Lock-up overnight, awaiting Saturday morning court. Again I'd been provided with a poor peoples solicitor, as I'd kicked my incredibly expensive, incredibly corrupt and incredibly ineffectual one to the curb, so would have to start the entire procedure all over again. The fellow who served me this time was a youngish looking black guy with a shock of dreadlocks, but frankly it didn't matter what he looked like, or even in fact whether he was there or not, because the advice had been the same — no comment to everything, and by now I could have handled that on my own
At this point I wasn't frightened at all about the procedure, having been through everything on numerous occasions over the past six months. I was however, petrified at the thought of prison, how I would cope with it, what they would do to me in there, and whether I would even make it out alive! One hears stories from others about what goes on, but generally those who have been inside don't like to talk too much about it, and anyway, to date, I only knew one other person who had been incarcerated before, and that was Jay, my drug dealer, and he had changed the subject whenever it had been brought up in the past, so I was completely flying blind, not knowing what to expect, and I suspected that many of the tales I had heard in the past had in fact been either bragging or old wives tales, but I guessed I was about to find out either way!
Next day in court played out exactly as I'd expected, and frankly was a complete blur, so overcome with worry was I at the prospect of years behind bars, and in fact almost the only words I managed to remember from the entire hearing was the Judge saying that as this was a second offence, committed whilst on bail, that I would be looking at years, rather than months. By 2pm I was again handcuffed and bundled into the 'sweat-box', the name they used to refer to the armoured vans used by Serco and G4S to transport prisoners to and from facilities across the country. So named because each prisoner is detained in a 60cm x 60cm square aluminium cubicle with a hard seat, and no air circulation so as I was to find out on numerous occasions throughout my ordeal, you would soon be sweating like an animal, no matter what time of year it was, on any journey over about quarter of an hour in length. Fortunately the distance to HMP Pentonville was less than five minutes around the corner from Highbury Corner Court where I was remanded, but what I was spared in travel distance, I made up for in worry and anxiety at what was to come, so by the time I arrived the result was the same.
One by one we were led into a bare, grey, gloss painted room with graffiti etched into its walls, dust and grime all over everything, and an old analogue TV mounted on a precarious bracket in the corner, which had obviously not been operable for a good many moons! I know all this because I used the time sitting there to studiously avoid the looks from any of the other inmates lined up along the wall beside me awaiting a similar fate, unsure what the protocol was, and frankly unwilling to find out. About the only person I can recall was an uber tall black guy, clad in shiny blue disco trousers and a full length fur coat, who paced endlessly up and down in front of the wall of reinforced glass windows which looked out into an equally dirty, dull and depressing hallway where we were spasmodically being called from and led down, further into the depths of the prison bowels.
Finally it was my turn to be led away down the corridor to a steel covered desk where all my personal belongings were upended from my bag and displayed for the three prison officers in attendance to see.
'Oh look! Everything matches!' one cried out in amazement. I failed to see the relevance. Obviously the police had already removed anything of interest, including the drugs I'd had packaged ready for delivery to a couple of clients on my way to lunch with friends, my mobile phones which I had expected, but I noted with alarm that my wallet was missing too, in fact all that was left were my keys, two sets, my cigarette case, and sunglasses case, all Louis Vuitton, and my SJ Du Pont Gold lighter, along with my Cartier Tank watch, so yes, I guess they did match. These of course were all prohibited items and were therefore going to be sent away to the prison storage facility, and my cigarettes were also not allowed as the packet was already open, so they disappeared as well. Next I was moved into an open fronted cubicle and asked to surrender my clothing one item at a time, which was shaken out and the pockets checked before being handed back to me
'Drop your underwear and give em a flick' one of them instructed while the rest looked on. If I was ever under any doubt that my freedom and basic civil liberties had been rescinded, after this exercise I was now under no illusions. Obviously I'd not been shy in dropping my pants in front of a crowd of similarly sexually charged boys continuously over the past twelve months at any of the countless naked, drug fuelled sex orgies I'd conducted in my flat, in my intoxicated state, but now, stone cold sober, having to do it to order was a far different kettle of fish! Humiliated doesn't even begin to describe how I felt, but I supposed I would have to get used to this treatment from now on! Next they assigned me a bundle of prison issue grey tracksuits, polyester socks and oversized cotton boxer shorts, and I was herded into another holding room, re-united with all the others who had been processed before me, and handed a microwaved box of cardboard chilli and rice — By then the clock on the wall showed that it was 4pm so I guessed this was dinner!
Double Bubble
Double Bubble is the third book in The Chemsex Trilogy — a series of books written by Cameron Yorke about his experience with Chemsex, addiction, and imprisonment in the UK.
Read our interview with the author.
We are serialising Double Bubble on Mainly Male. This is the first instalment in the serialisation. Read subsequent instalments.
We want to hear your opinion
Celebrate the New Year with some erotic gay fiction
Start 2019 with a bang!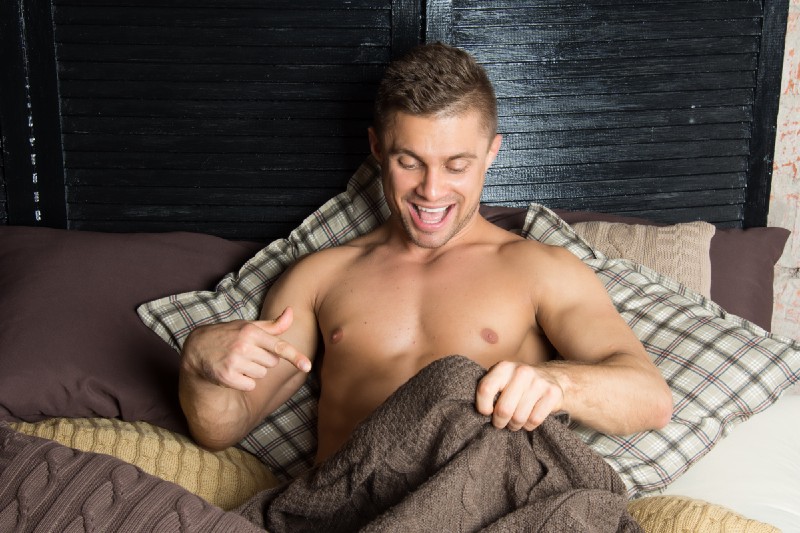 If you're looking for some fap fiction to help fuel your fantasies, you might want to take a look at the Bad Boys' Book Club series.
Volume 5 in the series kicks off with a New Year's Eve celebration which definitely gets corks popping.
Here's some samples.
"I hate New Year's Eve…" grumbled Hamish.
"Don't be so miserable!" laughed Kevin. "You're Scottish! I thought Scottish people loved New Year's Eve?"
"You're right…" acknowledged Hamish. "I hate New Year's Eve in London."
"Maybe you're just homesick?" suggested Kevin.
"It's cold but there's no snow…" explained Hamish. "Wherever you want to go is too busy. You can never find your friends. It's impossible to get home."
"Okay, I get it…" smiled Kevin. "You hate New Year's Eve in London. But, it's New Year's Eve, and we're in London. How about we make the best of it?"
"That's enough talking…" said Tegan, putting his glass down and wrapping his arms around Kevin, bringing their lips together.
There was an awkward moment as Hamish and Jerome looked at each other expectantly. Hamish decided to take charge and moved across to Jerome on the sofa, their bodies crunching as their mouths connected. Hamish immediately felt Jerome's hands on his ass, grabbing him, exploring him. The small shorts that Hamish was wearing were soon being pushed down as Jerome's strong hands kneaded Hamish's muscular butt-cheeks.
Hamish locked eyes with Kevin, confirming the connection between them. Hamish knew that it turned Kevin on to watch him with other guys. In that moment, Hamish realised that Kevin had invited Tegan and Jerome over so that he could watch Hamish being worked over by them both.
Here's the geo-specific links on how to get your hands on a copy of Volume 5 of Bad Boys' Book Club: