I caught up with Jon Jackson, owner of INNDulge resort in Palm Springs, to find out about their upcoming Body Acceptance Workshop. It's a nude workshop, at a clothing-optional resort.
What was your inspiration for the Body Acceptance Workshop?
The Body Acceptance Workshop grew organically from feedback Shungaboy received from last year's Naked Artists Weekend.
We're expecting about a dozen men to attend.
As gay men, are we guilty of perpetuating some of the body image stereotypes?
Certainly gay culture contributes — we're making it tough for each other and tougher for ourselves.
Body image issues affect each of us in different ways — including anxiety, depression, feelings of inadequacy, and low self-esteem.
But the weekend is not about placing blame, but rather finding acceptance of oneself.
If you're struggling with body-image issues, the idea of a naked workshop is going to be a bit confronting. How will you be helping participants to get comfortable with being naked in a group setting?
Shungaboy is a master at making everyone feel comfortable, which is the point. No one will be made to feel uncomfortable. Everyone is accepted at their level of comfort with their body and with nudity.
Where do guests come from at INNdulge?
All over the world. We have a very loyal following in Australia, Germany, Canada and Great Britain, but regularly have guests from many more countries. Across the US too of course, not just our friends close by in San Diego and LA, but also from New York and Chicago.
During the summer months, it's about 60 percent guests from abroad, and 40 percent guests from the US. That proportion reverses at other times of the year.
What was your first naturist or nudist experience?
Maui's Little Beach, 1988.
If someone was thinking about giving a naturist or nudist experience a try, what hints or tips would you give them?
Relax in what you're wearing, whatever that may be. Then, understand that nudity is about how it makes you feel — it's not about who might be watching, because for the most part, nobody is.
Immerse yourself in the world of INNdulge Palm Springs
Follow INNdulge Palm Springs on Twitter
We want to hear your opinion
Travel Tuesday: South West France
Should you be adding this destination to your travel wish-list?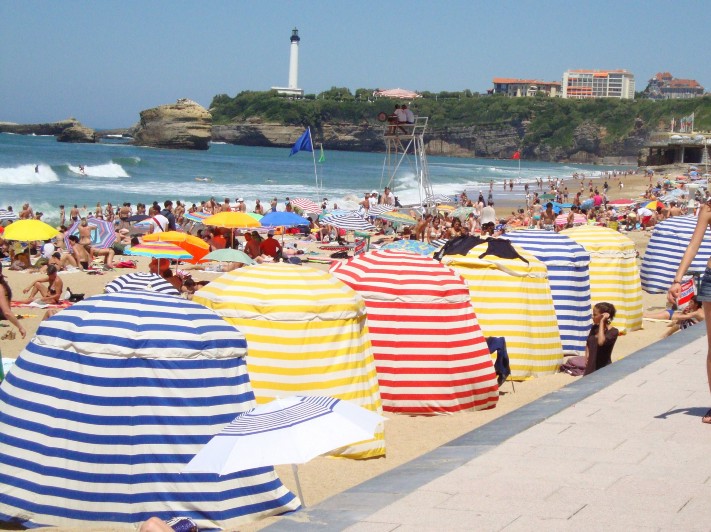 By Lionel Hierso — LH Travel Designer
In today's Travel Tuesday destination guide, we take a look at the South West region of France.
When to go
The South of France is a region where you can go all year long. From the ocean to the inland, you can really enjoy discovering this amazing part of France.
Dating
The main cities of this region are Bordeaux, Toulouse, Bayonne, Carcassone, Arcachon, Biarritz, Saint Jean de Luz, Albi, Hossegor, Pau, Anglet, and Montauban. All of these main cities are gay friendly, and you can easily find gay bars, saunas, night clubs, cruising, restaurants, and naturist beaches.
This region also has one of France's only gay hotels — Le Stelsia is a stunning resort in the Lot et Garonne area. Perfect for a romantic mini-break.
Accommodation
One of the main place to visit the south oust of France is the Lot et Garonne, not far from Bordeaux and Toulouse. I recommend to stay at the stunning gay-friendly hotel Le Stelsia. You can have a stunning double room including breakfast with access to the spa, swimming pool and two amazing restaurants including Michelin star gastronomic cuisine.
I can also recommend The Radisson and l'hotel du Palais in Biarritz, a stunning city close to the Spanish border.
All the hotels in this region are gay friendly.
Food
All over France you can find very good food, but especially in the south west region.
Here are the top 10 traditional food of the region.
Fois gras
Salade du sud oust
Le jambon de Bayonne
Le Pate de pomme de terre (potato pie)
Les truffes (very rare mushrooms)
Magert de Canard (duck speciality)
La piperade (marinated chicken with tomato sauce)
La garbure landaise (duck with potatoes and vegetables)
Axoa (mince marinated in tomato sauce and potato cake)
La lamproie a la bordelaise (local fish with jambon de Bayonne and chocolate)

You can ask for these specialities in all local restaurants
What to do
Mini cruises (standard or private)
Water sports
Wine and cheese tasting
Naturists sites (Les Manoques, Le Clos Barrat, Domaine Laborde)
Food tours and cuisine courses
Water and theme parks
Visit stunning monuments and castles
Visit the most famous vineyards
Surfing
Skiing
Bike rides
Horse rides
Contact Lionel Hierso — LH Travel Designer to start planning your next expedition or email [email protected]