We're always impressed by the work of Taofique Folarin and Kayden Gray, and the leadership that they're showing with Impulse London is really taking things to the next level.
"Impulse London presents something very fresh and original…" explains Folarin. "Consisting of a group of volunteers passionate about helping their community, but in a very relate-able and innovative way."
To mark World AIDS Day, Impulse London are presenting Momentum - a night of queer music and performance.
"This event embodies the very complexity of HIV/AIDS by drawing in different elements…" explains Gray. "It will engage our audience, encourage reflection, celebrate triumphs. It will certainly be an unapologetic celebration of our raw and powerful sexuality which is still recovering from the crippling effects of the AIDS epidemic. It will be loud in contrast with the under-representation people with HIV/AIDS have been experiencing. Of course, it will be queer as fuck."
"We're very blessed to have privileges that come with being a gay man in London…" adds Folarin. "Living in a city that cultivates creativity and individuality, it's very easy to forget - but you don't have to look very far to become aware of how lucky we are, and how far we have come. There are still over 70 countries where it's illegal to be gay, and our gay brothers are still fighting for their basic human rights. But, London presents its own problems to the gay man - many are here away from their families and places of birth, looking for connection, but in this city it's often loneliness which is found."
The focus of the Momentum event is on HIV, substance abuse, and mental health.
"Those three issues are actually at the forefront of not just this event, but all the work done Impulse London…" explains Gray. "The reason for that is because HIV, mental health and substance use are very much connected. Problems with mental health often lead to substance use, and both of those are barriers we need to overcome in preventing the spread of HIV. Similarly, an HIV diagnosis can cause or deepen existing problems with mental health and, again, lead to substance use as a form of escapism. You could say it's a vicious triangle."
Momentum from Impulse London will be held on Friday 30 November 2018 at the Hospital Club in London.
We want to hear your opinion
What happens inside a gay bathhouse?
Here's why we still need gay bathhouses.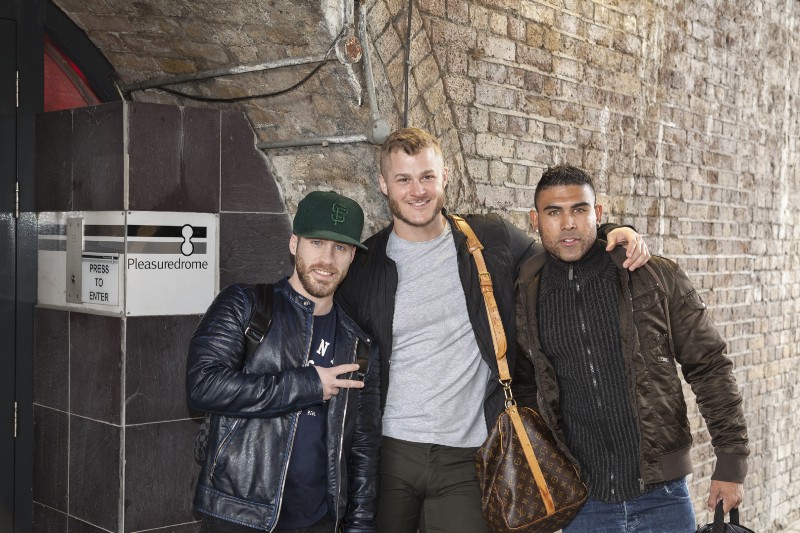 I caught up with Chris Amos, from London gay sauna Pleasuredrome, to talk about why gay bathhouses still matter.
With the rise of hook-up apps, there was a sense that the days of the gay sauna or bathhouse were finished. Why do you think that saunas like Pleasuredrome continue to have a role to play in the lives of gay men?
The rise of hook-up apps has impacted on the gay social scene - especially bars and clubs. However the sauna scene is still flourishing, perhaps even more so. A lot of people are actually using the apps inside the sauna, or to meet at Pleasuredrome as it's much safer to meet here than go to someone's flat. Also, in London, many people share their flats - if you want to hook up privately and can't take them home, Pleasuredrome offers deluxe pods which provide an alternative to expensive hotel rooms.
Men come to Pleasuredrome for all sorts of reasons. Some come after going out, on their way to or from work, some men prefer to not use apps. Lots of visitors to London come too, some men just come to relax and enjoy the facilities.
Plus, in the sauna you can see other guys in the flesh, and hook-up there and then.
Has the way that gay men use saunas like Pleasuredrome evolved in recent years?
With the rise of apps, and the credit crunch that hit the UK in 2008, there has been an erosion of the gay scene, with less venues to visit. But Pleasuredrome is an institution in the centre of London. We never close - we're open 24 hours a day, seven days a week. As venues have closed, more and more men have been trying out Pleasuredrome. Plus, we've noticed a younger crowd coming in since we've offered a discount for under-25s.
We'll soon be expanding Pleasuredrome to make the spa 50 percent bigger. This will enable us to open an additional 22 deluxe pods - with TV, power points to recharge mobiles, and controllable lighting. We're also very excited about creating Britain's first steam maze. A brand new stone spa pool with unique water features will also be added.
What sort of guys go to a sauna like Pleasuredrome?
There's a lot of diversity in London, and this is reflected in the guests that we have. We get young guys, older guys, bisexual guys, married men, guys wanting to experiment, tourists, all nationalities, jocks, slim guys. We have a very open policy and welcome all guys.
What days of the week and times of day are the busiest at Pleasuredrome?
During the week, we're busiest between 4 PM and 9 PM. On Fridays, we're packed from 4 PM to very late, and Saturdays from 4 PM all the way through to Sunday morning and Sunday afternoons. We always have guests.
Is a London sauna, like Pleasuredrome, different in any way to saunas that I might find in other cities around the world?
Pleasuredrome is different to other London saunas, as we focus on offering the best facilities - steam rooms, saunas, spa pool - and keep these clean and well-maintained. With the expansion, we really are aiming to be one of the world's great saunas. The steam maze will be an experience. The owners have visited saunas across the globe and will incorporate the best of what they've seen into the Pleasuredrome expansion.
Do you ever have any shows or performances at Pleasuredrome?
We never do special parties or theme nights - despite many requests from promoters to do so. We've found that the few times we did special events, it put off our regular clientele. Our priority is to always offer a clean, safe environment for our guests - an experience that every time that they visit, they know what to expect, no surprises. At Pleasuredrome, you always know it will be busy, you're welcome, and you know what you're going to get.
If I've never been to a sauna before, but I'm interested in trying it out, what advice or guidance would you give?
Going to a sauna can be daunting experience for first-timers, which is part of the thrill of the experience. There's a degree of freedom and relaxation that can't be found elsewhere. So many men to meet and see in the flesh, as opposed to navigating fake profiles and constant messaging on dating apps -  here, you can see for yourself. Most guys are surprised how friendly people are. There aren't too many men who only come once and never come back - that says a lot.