Part 17
I feared for my life. Not having a cell mate had given me complete freedom to monopolise the TV and in-cell computer during lock-up hours, and even during association I preferred my own company to that of the neighbours so I had been making considerable inroads into my book. I was really proud of what I had achieved so far. I had developed a routine for myself, and a reward system so that I would work for two hours at a time, and if I had made sufficient progress, I would then allow myself an hour or so break in front of telly.
Things were moving along nicely and I was in a really good place, and then, just before the beginning of the end of May bank holiday weekend, disaster struck! Suddenly the cell door was thrown open. "Mr. Yorke. You've got a new cellmate" Fuck! Just what I had been dreading, but as usual with matters such as this in here, I had little choice, and a short bald black guy was ushered in. I left him alone to unpack his belongings, of which there were precious little, and madly finished off the chapter I'd been working on, realising with dismay that I would now be foregoing the entire three days of the bank holiday — time which would have almost seen me complete the book. Instead I would be forced to spend the entire time watching television, in agreement with a stranger, and someone with whom I clearly had nothing in common, if initial conversation was anything to go by.
To make matters worse, He was a smoker who had no tobacco, in fact, by the looks of it he didn't have a pot to piss in, which ordinarily wouldn't have worried me — in fact I generally felt sorry for those who had recently arrived — we had all been there and I knew what it was like to be in unfamiliar surroundings with strangers around you, but this guy was an ignorant, aggressive arsehole!
After unpacking his clothes, and helping himself to my tobacco, he settled himself on the top bunk and proceeded to regale me with tales of his offences and the circumstances of his arrest. He lived in the Jewish quarter of Stoke Newington, and had evidently had an altercation with his, in his words, Jewish Cunt Neighbour, who had called the police. and in a spate of racial victimisation by the police, he had been arrested and locked up, in his words "For being black!" pending his court hearing which he assured me he would get off as he was completely innocent, but in reality, even in the telling of the tale I was left under no illusion whatsoever that the guy was himself racist, sexist, homophobic, anti-Semitic, and in short vile! If ever there was an example of the meaning of the word Bully, he was it, but on top of this he was selfish, nasty and threatening.
It started with the television viewing selections for the evening. His behaviour whilst the door was unlocked was positively angelic compared to what happened after bang-up! There is pretty much an unspoken law in Prison that whoever had the cell first has priority over the facilities — in particular, control of the TV remote control, choice of bunk, which shelves to use in the storage cupboard, and so on, but right from the start I had realised that I would have no chance of staking a claim on anything with this guy, in fact I was actually quite scared of him. What was worse, I would ask him what he wanted to watch and he would reply that he didn't care, and then proceed to complain about anything I selected.
When the news was showing, he would keep up a running commentary of his opinions of the presenters, with language which would make the most hardened criminal blush. Throughout the entire evening I put up with comments such as "Look at that cunt, I wanna shove my big black cock up that tight pink pussy" or "I bet that bitch never had some hard, hot, black cock up her, I'd fuck that like a bitch until it cried for mercy", and those were a couple of the milder comments. It was vile but I was stuck with it, there was nothing I could do about it.
I ate dinner in my cell and thought that we had reached an uncomfortable silence, but sure enough, as soon as the door was locked he started again, with a constant angry commentary on everyone who appeared on the television screen. It was almost demented, the language was so vehement, and so full of anger and resentment, but I was afraid to say anything in case he physically attacked me.
The following morning, I'd had enough. Not only was the constant flow of gutter language a problem, but also some of the things he had told me were extremely violent, and for perhaps the first time in my life, I was quite blatantly being bullied. He would help himself to my tobacco, coffee, sugar, and anything else that took his fancy, and there was nothing I could do about it. I had a quiet word with an officer on the wing, and he gave me a pathetic glare and told me to put up with it, as there was no-where else they could put him.
I spent the rest of the day reading a book, and trying to avoid the guy, as everything I said to him started another flow of abuse. Eventually after a torturous evening I fell asleep, unable to concentrate on reading any longer, only to be woken at 3am by the light being turned on. He had decided to make a cup of tea, so had filled the kettle and then slopped water all over the keyboard and desk, saturating some of my paperwork in the process "Oh, for fuck's sake, watch what you're doing!" I cried out, without thinking "Shut the fuck up, you fucking faggot cunt!" He replied before unplugging the kettle and throwing the now almost boiling water at me. Luckily it was not completely full and most of it landed on my duvet and the floor, but this was not the end of it. He then turned the television on, finished making his tea, and climbed back onto his bunk, and proceeded to flick through the television shows for the next three hours, during which time I could do nothing except turn towards the wall and ignore him, unable to get to sleep because of the light and the noise, and fear of what would happen, scared to say or do anything which might set him off again.
Next morning there was nothing else I could do but speak to the officers again and plead with them to remove the guy. By now I was at my wits end, but the result was no different to the day before. "You're OK, don't be so weak! You're big enough and ugly enough to fend for yourself" they answered, "And anyway there is no where else we can put him so you'll just have to deal with it. By the time I got back to the cell he was there waiting for me "I hope you had a good old snitch!" he declared. "You fucking weak cunt!" After which he got up and walked out. Thinking I finally had the cell to myself for a moment, I sat down in front of the TV and flicked it over to computer to check the CMS system for messages, and was reading something when I heard a shuffle behind me, but I wasn't quick enough. Out of nowhere came a right hook to my temple, knocking me onto the floor, where he started kicking and punching me. Curled up in foetal position I started screaming, and tried to crawl towards the door, but he had cleverly closed it prior to the attack, and had positioned himself between it and me, so there was no escape.
I've always been as weak as piss when it comes to physical fighting,and I knew I had no chance against him in this position — I tried to kick at him, but nothing seemed to connect. He started to grab my hair, trying to pull my head backwards from under my arms, but I was desperate to try and protect my face at all costs, "Ill fucking cut you, you cunt!" He yelled. "Ill dig your fucking eyes out!" By this stage I was half wedged under the bunks — there is not much room for manoeuvre in and 8' x 12' cell when you're trying to defend yourself on the floor, but I managed to crawl to the door and grasp the bottom of it, clawing it open and rolling out onto the landing, greeted by five or six other inmates who had crowded around the door to get a look at the action. One of the guys had gone to get a guard but it had been going on for a good five minutes and they evidently hadn't been in any hurry to intervene. All of the wing staff had apparently been playing cards in the office.
One of the other guys led me down the landing to his cell, and eventually the officer who had told me to man up earlier in the day came sauntering in. They led me into the office, suddenly full of concern, and rang the healthcare nurse to come and check me over. I knew I was fine, apart from a few bruises and a couple of scratches on the face from the plastic knife with which he had intended to gouge my eyes out, but apart from that, after the nurse had cleaned up my cuts and scratches, although somewhat shaken, I would live to fight another day, but things were about to get a whole lot more interesting.
Firstly I was not allowed back into my cell, obviously! They had nowhere else to place my psycho cellmate, so the only option was to lock him up in my cell on his own. Essentially he was on basic regime, pending adjudication, so they had removed his television and he would be locked up 24 hours a day until his hearing. He had told the officers that I had started the fight, but one of the other prisoners had seen everything through the observation window,and had reported it back to them.
There were a couple of inmates on the wing who were termed 'high risk' in that they either had medical problems, or a history of self harm, and so therefore had been granted single cells, so I was placed temporarily with one of them until they decided what to do with me. I vaguely knew Glen, enough to say hello to on the landing, and we settled down to the remainder of the day chain smoking and watching episodes of top gear — not really my cup of tea but I was just so happy to be away from the freak, that I didn't really care what I watched.
It wasn't until after dinner that I realised I had no toiletries, no tobacco and all my canteen items had been left in the cell. I spoke to the wing staff and they brushed me off, telling me they were too busy, and they would deal with it tomorrow. By 9pm I was exhausted, but soon realised I had no mattress. Glen had been on his own since his arrival, so there had been no need for a mattress on the top bunk. We pushed the buzzer and asked the operator, who assured us an officer would bring one shortly. Three further requests later and I was so tired that by 1am I decided to just lie down on the bare boards. Glen was getting cross as he also wanted to go to sleep. Eventually just after 2am, as I was drifting off, they arrived with the mattress and bedding!
Finally after three days they moved the psycho off the wing and informed me I could return to my cell. It took me about 10 seconds to realise that most of my canteen items were gone, along with two shirts and a jumper, and that my personal paperwork, including all my case notes had been perused. In the absence of a television and with nothing better to do, He had obviously drunk copious amounts of tea, coffee, and hot chocolate, chain smoked his way through three ounces of tobacco, whilst eating chocolate biscuits and reading through all my personal notes and all of the evidence of my case, as the notes were all strewn across the desk, when I had left them in a cardboard box under my bed. When I questioned the officers about this their response was to suggest I lodge a complaint.
Next day the safer custody officers came around to interview me, and informed me that I was under investigation. I couldn't believe it. Evidently, the psycho had gone running to the guards and complained about me, telling them that I had attacked him and that he feared for his life. The interesting part about the whole process was that the guy was in prison for racist violence, and furthermore had a history of similar charges,and even though my file clearly had me listed as gay, they had still decided it was a good idea to put him in my cell. Eventually after the interview, once they'd heard my version of events they assured me that they were amending the case and treating me as a victim, and they asked me if I wanted to press charges against him. I thought about it for about 3.5 seconds before deciding that it would do me no benefit at all. All it would succeed in doing was ensuring that he lost his court case, and ended up in prison for a longer sentence, whereupon he would in all likelihood be brought back here and assigned to the same wing as me which would land me in more trouble!
In a sense what they were doing was bullying in itself, or if not, then certainly intimidation. If they, as Safer Custody had failed to read the files properly the first time, there was no guarantee that the same situation wouldn't be replicated. At that point all I wanted was to return to my own cell, and to have my lost property and canteen items replaced. Clearly this was an issue that the prison would have to make good, having denied me access to them and left them in his custody for the past three days, despite numerous requests to go and retrieve them. I brought this up with the Safer Custody team and was told that they would send a senior officer to see me, but their main concern was to make sure that I hadn't suffered any physical damage, and more importantly that I was not going to sue them for negligence, although they didn't say so in so many words, but the inference was obvious. Had I thought about the situation for a little longer, I might in fact have decided to press charges, as with everything on court record it would be easier down the track to have everything replaced, but at the time I was worried that if I made too much of a fuss, it might be me who suffered the worst recriminations, rather than anyone else!
Double Bubble
Double Bubble is the third book in The Chemsex Trilogy — a series of books written by Cameron Yorke about his experience with Chemsex, addiction, and imprisonment in the UK.
We are serialising Double Bubble on Mainly Male. This is the 17th instalment in the serialisation.
We want to hear your opinion
Photography that embraces naked men
"Stop comparing ourselves to strangers on the internet…"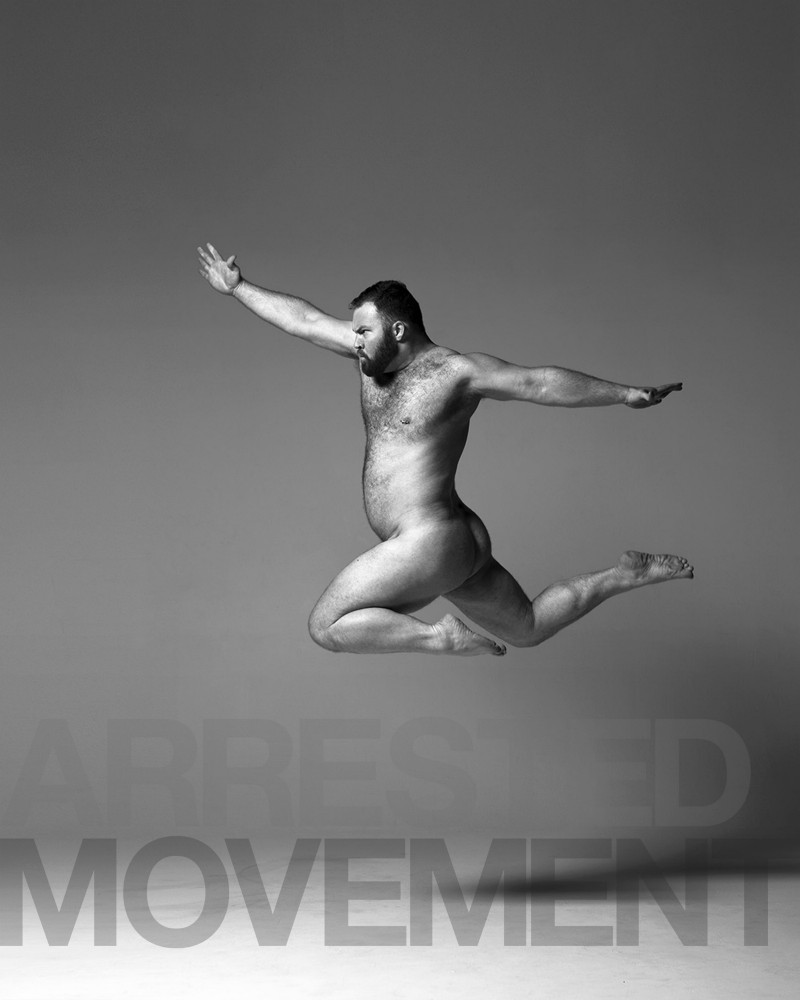 I caught up with photographer Anthony Patrick Manieri to talk about his ongoing series of work known as Arrested Movement.
Why do you think this project has captured the imagination of gay men around the world?
Because we're all the same really, except we don't all look alike. We usually just see what society deems to be the 'perfect' body types, flashed across TV and social media all the time.
This project encompasses a wide variety of men that are photographed equally and beautifully. I feel that the variety of men and body shapes being highlighted are recognisable to most men. We need to see diversity represented more in the media. That, and also the idea of male body positivity is refreshing in a world where the media seems to only push female body positivity. In this day and age, where depression and anxiety are extremely commonplace, it's nice to know that we're not alone in the struggle.
Why are men so keen to be photographed by you for this project?
Because we all want to fit in. We all want to be accepted, and here is a photographic series celebrating all men, all body types, and showcasing them artistically. I think men look at this and can relate and identify with some of the participating models, because they see themselves in the photos.
Most of the men you've photographed for this project appear to be first-time models, most likely being professionally photographed naked for the first time. Was that experience confronting for many of your models?
From what I've seen, and from what some of my assistants mentioned to me, for most of the men that participate there's a definite shift in their overall energy levels from when they first arrive at the studio to when they're done. One assistant asked me — "What is going on in the studio? Because when they arrive they're quite scared, some even shake with nerves, but when they leave they glow and have this sense of empowerment."
I make sure that the studio is private and a safe space for them to try and feel as comfortable as possible. I brief them, and coach them with suggestions of possible body movement. I also stop periodically to show the gentlemen their progression so far in the shoot.
Most men, after seeing themselves on the screen during the shoot, are delightfully impressed by how they look. They look at themselves in a positive light artistically, and not what they usually expect to see. I talk to them about how their hands are positioned, their facial expressions, pointing of their feet, and the overall lines of their bodies in the frame.
When you're not quite happy with your body, putting yourself out there is brave. I watch some men almost lose themselves in the moment and in the music. I'm grateful that I get to witness such a personal moment of self-evolution. For others, they're determined to take an amazing photo, so they push themselves so that their final image is strong and unique.
Should everyone tackle a naked photo shoot at some point in their lives?
I don't know if that's the answer. What people should do is take time to appreciate and accept themselves, to put themselves first. Fill their own cups before extinguishing their energy with others. Uniqueness is special. It's okay to look different on the outside, because we're all the same on the inside.
How is the project continuing to evolve?
I'm currently working on the design of the book — I'll be releasing a Kickstarter page this Fall. I'm also looking at gallery spaces to have the first of many shows.
Are you still actively shooting guys for this project?
I'm still actively photographing men. If it were up to me, I'd be in a different city every weekend photographing.
Since I'm funding this myself, I need to take breaks between cities. Travelling, studio costs, and hotels add up quickly. There are a few cities in the US, Canada, and Mexico that I'd like to do before heading back to Europe. Beyond that, there's talk of Australia, and possibly some cities in South America for 2019.
How can we help each other feel better about our bodies?
I think we really need to be kind to ourselves, and each other — daily. Judgement and self-judgement is such a human flaw, it's like a vibrational plague. We should be detaching ourselves from our smart-phones and social media regularly. Yoga and meditation are great ways to feel centred and grounded, to be in tune with our higher self. Eating right always makes for a happier body and mind. We need to encourage and validate each other to be the best we can be.
What do the images that you've captured through this project tell us about gay men and their relationship with their bodies?
Gay culture is meant to be inclusive, and we celebrate that inclusiveness. Though within the gay community, there's such a divide between men. We're labelled and put in categories, therefore creating almost a hierarchy of what's acceptable.
Body-image and self-esteem start in your own mind, not on Instagram. We need to literally stop comparing ourselves to strangers on the internet. We need to make mental health a priority in the gay community.
I hope that when people see this project, they know their worth, they know that they're beautiful, and that it's okay to be different.
Meet the participants
Follow Arrested Movement on Instagram