There are so many different ways to experience Paris.
If you're a first time visitor, you're going to be flat out — ticking off the major sights and experiences, climbing the iconic Eiffel Tower, marvelling at the gothic Notre Dame, and eating croissants and croque monsieur at every opportunity.
But, perhaps unsurprisingly, there's a lot more to Paris than what you see on the postcards or in the romantic movies — great restaurants and bars, a cafe culture that makes you want to smoke cigarettes and write a book, a cracking night life, and extraordinary shopping. Plus there's little gems like the Rosa Bonheur bar in the Parc des Buttes Chaumont, which every Sunday afternoon absolutely goes off — there's no other way to describe it.
Spending a weekend in Paris is one of my favourite mini-breaks. When you live in London it's surprisingly easy to do. The slick and efficient Eurostar takes you from the centre of London to the centre of Paris — equipped with a small overnight bag, you can jump on the train after work on a Friday and be in Paris in time for dinner.
There's always things in Paris to see and explore, new exhibitions to discover, entire arrondissements that I've yet to experience. But I'm not a very good tourist.
My ideal way to spend a weekend in Paris is to rent a small apartment in the Saint-Germain-des-Pres neighbourhood and just hang out, pretending that I live there.
Saint-Germain-des-Pres is in the 6th arrondissement. This a residential area, but with a real sense of life and energy.
It's just a couple of stops on the Metro from Gare du Nord (where you disembark the Eurostar), so you're still in the heart of the old city. If you can't find an apartment that suits you there are plenty of hotels in the area — Hôtel Récamier is one of my favourites, they serve a complimentary afternoon tea which is very civilised.
There are some famous cafes in Saint-Germain-des-Pres, Jean-Paul Sartre and Simone de Beauvoir used to hang out at Cafe de Flore or Les Deux Magots, and you can follow in their footsteps and giggle at the surly waiters.
The Jardin du Luxembourg is a short walk away — a great place to sit and relax, plus there's lots of hire bike stands in the area so it's easy to cycle around.
There are heaps of great, relaxed restaurants in the area. I love Le Comptoir –you sometimes have to queue at lunch but it's worth it. Simple food done brilliantly, how could go past the pâté du maison or the crème brûlée?
This is a neighbourhood where everyone always seems to be out, drinking coffee, catching up with friends. Some of the best people watching is the relaxed and friendly bars such as Au Pere Louis — a cool bar up near Jardin du Luxembourg, this place is particularly good late at night. Another favourite is La Palette on rue de Seine — the outside tables here are always busy, but it's worth being persistent and waiting for a table. This is the kind of place where you can spend the afternoon just reading the paper and watching the world go by.
If only I could spend every weekend in Paris.
We want to hear your opinion
Travel Tips: Cancún, Mexico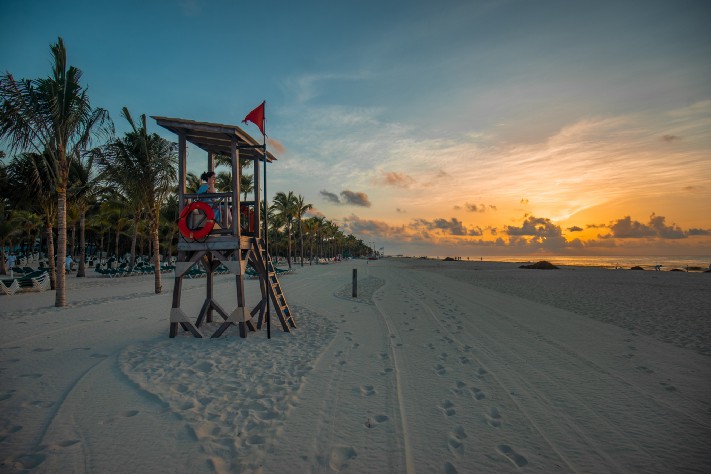 Situated on Mexico's Yucatán Peninsula, bordering the Caribbean Sea, Cancún is known for its beaches, resorts, and nightlife.
Cancún is composed of two distinct areas — El Centro which is the more traditional downtown area, and Zona Hotelera which is a long, beachfront strip of high-rise hotels, nightclubs, shops, and restaurants.
How to get there
There are direct flights to Cancún from most major airport hubs across North America.
If you're flying for Europe, you'll most likely have to change once. Prices start from around £600 per person.
British Airways does offer some direct flights from London Gatwick to Cancún.
Package holidays might be the most cost effective way to experience Cancún. Options include Club Med and Tui.

When to go
Peak season for Cancún is December to April.
Wettest months are generally September and October. It can rain at any time of the year, but rain is generally short bursts that clear quickly.
Hurricane season rarely impacts Cancun. The highest likelihood of a hurricane would be in the period between August to October.

Spring Break
Cancún is a hugely popular destination for college students during their universities' spring break period.
Peak period for Spring Break is March, although February through to April will be a popular time of year for students to vacation in Cancún.

Gay stuff
Cancún is generally more of a family-friendly vacation destination than a sizzling gay hot-spot (if you want uber-gay you should probably consider Puerto Vallarta).
Most of the gay venues are found in El Centro — the downtown area of Cancún.
Playa Mamitas and Delfines are the two major beaches. You'll probably spot some fellow gays on the beach, but they're more likely to be pool-side at the resort.
There is reportedly a nudist beach in Cancún — apparently it's a forty minute walk from the Coco resort, but we haven't been able to verify this.