In the final days of the 2018 World Cup, FIFA —the international governing body of football — held a panel discussion on diversity and anti-discrimination initiatives that had been implemented for this tournament.
The panel included Federico Addiechi — FIFA's Head of Sustainability and Diversity, Alexey Smertin — Football Union of Russia's anti-discrimination officer, Piara Powar — Executive Director of the FARE Network, and ex-player Geremi Njitap who has represented Cameroon in past World Cups.
One of FIFA's stated objectives for this tournament was that every fan would feel welcome, that every fan would be in a safe environment, that this would be a tournament free from discrimination.
Piara Powar confirmed that the FARE Network has made 10 formal reports regarding incidents inside stadiums, plus they have highlighted a number of other incidents reported by the media — these have all been referred to FIFA and adjudicated. The LGBTQ community were specifically referenced in terms of the Diversity Houses that have been facilitated by FIFA and FARE — one in Moscow and one in St Petersburg.
The panel discussed that nationalism and racism are seen as key issues that FIFA is monitoring closely, but it has been sexism that has generated most concern during this tournament — local women being harassed on the street by visiting fans, or female reporters being harassed by fans while trying to do their job.
With only the final few games still to play at the time of the panel discussion, Federico Addiechi — on behalf of FIFA — confirmed that in terms of diversity and anti-discrimination it was felt that there had been a very low level of incidents and that it had been a very successful tournament in that respect.
From an LGBTQ perspective, there have been incidents that are worth noting.
The Mexican team was fined 10,000 Swiss Francs (equivalent to about USD$10K) after its fans chanted "puta" — male prostitute — at the opposition team during their match against Germany.
It's not a new thing, the Mexican team have been warned and fined about this in previous tournaments. No one seems to take it too seriously. To put that fine into perspective, England were fined 70,000 Swiss Francs (equivalent to about USD$70K) for wearing the wrong socks at some point during the tournament. Following FIFA's logic, homophobic abuse is less damaging than wearing the wrong socks.
In the stadium of Nizhny Novgorod, stewards removed a rainbow banner put up by Di Cunningham and other members of British activist group 3LionsPride during the England-Panama match. After a call to FIFA, the stewards were instructed to put it back up.
Speaking after the incident, Cunningham felt confident that ensuring that the flag was visible could have a positive impact for LGBTQ people in Russia. What would have been more powerful is if FIFA had insisted that a rainbow flag be flown at every World Cup venue.
A gay couple from France were reportedly attacked and robbed in St Petersburg.
This incident doesn't seem to have been recognised or reported by FIFA, presumably because it happened outside of an official stadium. Their reporting and monitoring seems to have focused only on what happens during matches within an official stadium. But that makes a mockery of their objective of ensuring that every fan would feel safe and welcome at this tournament. I've asked FIFA for comment on this incident — as at the date of publication there has been no response.
Egypt used Chechnya as a training base in the lead-up to the World Cup despite the widely reported persecution of gay men by the Chechen authorities.
This was raised by journalists during the panel discussion on diversity and anti-discrimination. I've asked FIFA for a specific statement on this (no response yet), but in response to a question on this subject during the panel discussion, Federico Addiechi of FIFA seemed to suggest that it was something that was beyond FIFA's control, that it was the decision of the Egyptian team to select Chechnya from the list of training bases offered by the Football Union of Russia. That seems to be an extraordinary abrogation of duty of care by FIFA.
Activist Peter Tatchell was arrested in Moscow for protesting LGBTQ rights during the World Cup.
It seems that Russian authorities treated Tatchell with caution, he was released and able to return to the UK. What's notable is FIFA's silence. I've asked FIFA's press spokespeople for a comment on Tatchell's arrest. As at the time of publication, they haven't responded.
Following his return from Russia, I spoke with Peter Tatchell for his perspective on the World Cup.
What response have you seen to the action that you took in going to Russia to protest during the World Cup?
The Russian LGBTQ activists were delighted, and say my protest helped ensure that the international media reported the homophobic persecution in their country. It exposed this persecution to hundreds of millions of people worldwide.
Do you think that the World Cup has been an effective tool used by Russia to distract from international concerns regarding LGBTQ rights?
The Russian government wanted the football World Cup to drown out human rights issues, including LGBTQ rights. It did not work. My protest got Putin masses of negative publicity all over the world. It was a boost to the Russian opposition to see a protest against the autocratic Kremlin regime.
Has the World Cup brought any positives for LGBTQ people in Russia?
State repression has eased a bit. Putin is keen to project a more liberal image while the world's media is in Russia for the World Cup. The Russian activists report that my protest re-publicised the homophobic witch-hunt in Chechnya, which had slipped off the news agenda.
What's the most effective way for us to continue to highlight concerns regarding LGBTQ rights in Russia?
Support the Russian LGBT Network and allied LGBTQ groups. They are heroes, risking their life and liberty to defend LGBTQ human rights.
Beyond the World Cup
Assuming that the rest of the tournament plays out with any major incidents, FIFA can probably feel quite pleased with themselves — they've emerged relatively unscathed from the potential PR disaster of LGBTQ rights.
But it seems optimistic to think that the World Cup has changed anything for LGBTQ people in Russia. When the tournament ends on 15 July, and the fans and the media fly home, the World Cup won't be leaving a changed nation in its wake. The same laws "for the Purpose of Protecting Children from Information Advocating for a Denial of Traditional Family Values" will remain in force.
The Washington Post has spoken with LGBTQ activists in Russia who fear that the police and militant groups will unleash pent-up frustration on the LGBTQ community as soon as the cameras turn away.
"We need to do more…" confirmed FIFA's Addiechi, speaking at the diversity and anti-discrimination panel discussion. "Where we can, we show presence. We have supported the LGBT sports federation of Russia. We are against any form of discrimination against the LGBT community. When it comes to the future, we rely on our member — the Russian Football Union — to continue some of the projects after the World Cup."
Russia 1–0 FIFA
We want to hear your opinion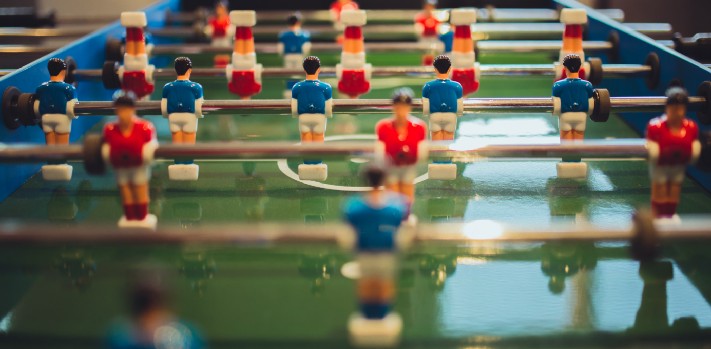 Although it's surprising that there aren't more gay guys playing football at an elite level, the reality is that sport doesn't get much gayer than soccer.
If you want to demonstrate that you're up-to-speed with the off-side rule, or if you just want to project your locker-room fantasies onto some fit guys, then this selection of some of the world's best footballers is a good place to start.
Yann Sommer, Switzerland
A sexy goal-keeper with strong hands. Known for his love of cooking. I'm dreaming of a romantic fondue date.
Heung-min Son, South Korea
He plays for UK club Tottenham, and his bromance with ex-teammate Kevin Wimmer is adorable. He could invade my demilitarised zone.
Cristiano Ronaldo, Portugal
I really want Ronaldo to take his bromance with Badr Hari to the next level.
André Silva, Portugal
That moustache. That baby-face. It's just all too cute. He plays for AC Milan, but his Instagram suggests that he really wants to model.
Mohamed Salah, Egypt
Mo Salah is one of the greatest players, so it was disappointing to see that during the recent World Cup he and his teammates from the Egyptian squad allowed themselves to be used as propaganda to bolster the image of anti-gay Chechen leader Ramzan Kadyrov. Chechnya was selected as the training base for the Egyptian squad.
Nacer Chadli, Belgium
Chadli gets bonus points for his nude photo shoot a couple of years ago. It's an example that more players should follow.
David Silva, Spain
Those eyes, those cheekbones. Silva has recently become a father. Total Xaddy.
Philippe Coutinho, Brazil
Signed to Barcelona in one of the most expensive deals in football history, it's Coutinho's tattoos that have got my attention. Every inch of him is inked. Well, maybe not every inch, but a lot of him.
Kylian Mbappé, France
He's only young, but Mbappé is already making a name for himself as an intelligent and articulate leader on and off the field.
Mats Hummels, Germany
Handsome, moody, but also has a playful side. Hummels is known for his charitable work — particularly focused on helping to bring football to under-privileged kids.
Nicolás Tagliafico, Argentina
His Insta feed is full of loved-up photos of Tagliafico and his girlfriend, but there's something about Argentine guys that's just irresistible.
James Rodríguez, Colombia
He looks young and fresh-faced, but Rodriguez has a lot going on. He's just launched his own crypto-currency. But what I like are the salsa moves he performs after a scoring a goal, and he scores a lot of goals.
Maya Yoshida, Japan
A rock-solid defender, Yoshida plays with UK club Southampton. He's surprisingly tall.
Dele Alli, England
With a fashion line already released, Dele is a stylish guy. I really like his brotherhood bond with Harry Hickford. Dele moved in with Hickford's family when he was 13, and they've been close ever since. They're still living together, but they've upgraded to a fairly massive house in Hertfordshire.
Edinson Cavani, Uruguay
One of Uruguay's top-scorers, Cavani gives good hair-ography.