A leather festival that's right up our alley
Niko Reeves reports from San Francisco's Dore Alley.
Its official name is the Up Your Alley Fair, but San Fran locals generally just refer to this event as Dore Alley.
First held in 1985, Dore Alley is an annual leather and fetish event held on the last Sunday of July. It's run by the same organisation as the Folsom Street Fair which is held annually in September.
In the services of Mainly Male, San Francisco local Niko Reeves pulled on his camouflage booty-shorts and combat boots to report from the front-line.
Dore Alley is described as Folsom Street Fair's dirty little brother — is Dore Alley more of a pig-fest than Folsom?
Yes, Dore Alley is much more of a pig-fest than Folsom. The fair is like a preview before Folsom comes along, but it's so fun. You see a lot of nudity, public sex, and of course leather.
I got there early, and stayed until it closed. This is definitely something that everyone should try at least once. It's a lot of fun.
How big of an event is Dore Alley?
I've been going to Dore Alley Fair for years, it's getting bigger every year.
There are always thousands of people there — locals as well as tourists from around the world.
Who goes to Dore Alley?
As the event gets more popular, it's attracting a lot of different types of guys — there's a lot of hot daddies, and guys in leather. It's a lot of men.
Did you go to any of the parties that happen around Dore Alley?
It's a big weekend for parties. I went to Powerhouse bar and chilled there for a while. I also went to The Eagle.
If I was planning a trip to San Fran, is it worth trying to include Dore Alley in my itinerary?
Yes — absolutely. Dore Alley is an experience of a lifetime. It's a chance to wear all of the leather that you want, and also to see all the hotties wearing their leather. It's at events like Dore Alley that you'll make great memories.
We want to hear your opinion
Travel Tales: The Gay Globetrotter
Bailey Mills: "I almost died in Mykonos…"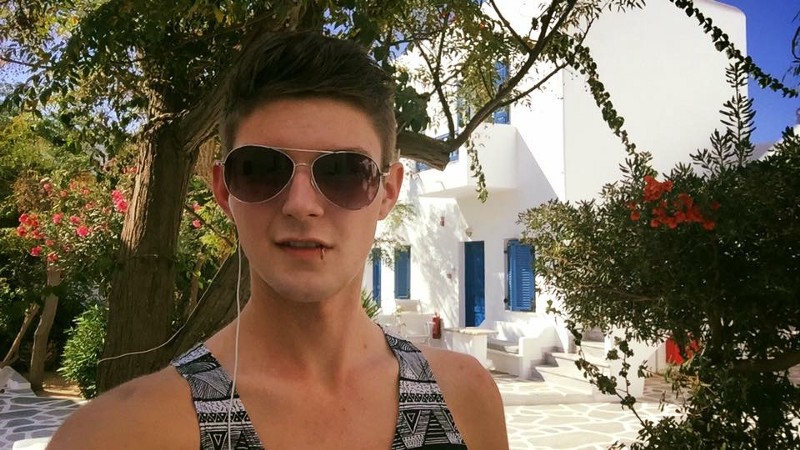 I caught up with Bailey Mills, also known as The Gay Globetrotter, to talk travel.
Where did you go on family vacation?
As a child, I didn't get to travel. We'd go camping in the summertime most years, a 3–4 hour drive away from our life in Vancouver, Canada. This is where I learned to fish, hike, and connect with nature.
When was your first grown-up vacation?
I was 18 when I left my life in Vancouver to travel for the first time. I booked a ticket to London, and flew halfway across the world on my own. A couple girlfriends from high school were on a backpacking tour through Europe, so they met me in London. We flew down to Athens, and hopped onto a ferry to Mykonos. One of the most memorable trips of my life!
Ever had any travel disasters?
I almost died in Mykonos. I remember being locked in a closet while texting my mother that if anything happens to me, I love her. Gun fire was going off outside of our hotel. I tell the whole story here.
Which have been some of your favourite destinations to visit?
Thailand was definitely my favourite trip to date. Every time I visit, I meet such amazing and genuine people and get to experience so many things I can't experience anywhere else.
Which have been some of the romantic destinations that you've visited?
Mykonos tops this list for sure. Watching the sun set over the Greek islands while sipping a pinot grigio with the classic white and blue architecture behind you is definitely a moment for the books. I wish I didn't do it alone!
Are you a good travel companion?
I like to think I am a great travel companion, but don't we all? I'm a very 'fly by the seat of my pants' type of traveller, so it makes it easy for anyone travelling with me to create their perfect itinerary. I can be pretty impulsive when I travel though. If a local recommends a spot on the other side of town, you better believe that I'll find a way to see it before I leave.
I think travelling with one other person is the perfect mix. You can compromise and see everything you both want to see, without it getting too overwhelming to try and cram everything in. That being said, I'm more than happy travelling solo, and have done so many times.
Do you pack light, or do you take everything?
I do my best to pack light, but that is an uphill battle for me. I actually had to buy a smaller backpack so I wouldn't be tempted to over-pack. If I'm going somewhere like London or Los Angeles and staying in a hotel, I'll take a suitcase and pack every article of clothing I own. If I'm backpacking in Southeast Asia or Africa, I do my best to keep it light.
Which destinations are on your wish-list in the months ahead?
South America, for sure. I'm planning a solo backpacking trip through countries like Colombia, Argentina, Brazil, Bolivia, and Chile. I've heard good things about gay men being accepted in South America, and I'm so excited to see what that part of the world is like.