There's not many gay resorts in Australia.
There are lots of gay and lesbian friendly places — on the whole Australia is a pretty liberal country and most accommodation providers are keen for your business, whatever your sexuality.
Turtle Cove is exclusively gay. No straights allowed.
I'm not sure how they screen for that, if you wanted to try and smuggle a straight guy in I don't think it would be too hard, but in principle it is gay only.
My stay at Turtle Cove was the first time that I'd stayed at a gay-only resort or hotel of any kind. I'd never even done a gay cruise. I was travelling by myself, staying for a couple of days to do some thorough research.
The best way to access this region is to fly in to Cairns, on the northeast coast of Australia. There are shuttle services that operate from the airport, but it's much more convenient to hire a car. I picked up my hire car from the airport and headed north.
Discreetly sign-posted, Turtle Cove is just off the picturesque Captain Cook Highway that runs along the coast between Cairns and Port Douglas.
As you drive in, first impressions are a little underwhelming, but as I walked through into the reception area I could already begin to glimpse the clear blue ocean that the resort looks out upon.
It's a unique setting, right on the beach. They don't really do private beaches in Queensland, so technically anyone can come and use the beach. But, protected by rocks at either end, Turtle Cove is effectively blessed with its own beautiful stretch of sand.
The room was modern and functional. Not over-the-top luxurious, but very comfortable. Free, non-stop gay porn on channel one — extra points for that.
I'd arrived in the early afternoon and everything seemed pretty quiet. I quickly got changed into a pair of shorts and a tank-top and headed down to the beach. It was clearly sign-posted as clothing optional.
Perhaps emboldened by the fact that I couldn't see anyone else on the beach, with only a moment's hesitation I stripped off and made myself comfortable on the sand. It will sound naff, but there's something incredibly liberating about sunbathing naked.
Stupidly I didn't bring any sunblock with me, so I couldn't stay out too long — there were parts of my body that hadn't seen the sun in a long time. No one wants a sun-burnt butt.
While the beaches along this coast are spectacular, and the water a magical clear blue, I'm always a bit apprehensive about jumping into the waves in this part of the world — there are big signs everywhere warning about the dangers of jellyfish and crocodiles.
The coastal forest runs right down to the beach in most places, and I guess there must be a few crocodiles around, though I haven't really heard of any floating around out in the sea — but no one wants to be that swimmer.
The jellyfish around here are a bit more ubiquitous. There are two types of jellyfish to watch out for — the Irukandji Jellyfish are really small at about 2cm in diameter, but their sting packs a real punch and will cause severe pain, nausea, and vomiting. The other one to watch out for is the Box Jellyfish. These are quite enormous — a small bucket-like body that trails incredibly long stingers. If you get stung it's extremely painful and will scar.
I was visiting in mid-July, which technically is not jellyfish season, however I didn't venture any further into the water than my ankles. I was already feeling a bit vulnerable being naked, I didn't want to get stung or bitten on any of my more sensitive areas.
Of course, one of the reasons to come to this part of the world is to explore the Great Barrier Reef. Once you're out on the reef you can swim safely and without fear of attack from anything too life-threatening. Even the reef sharks won't try and take a bite out of you.
Having topped up my all-over tan, I headed back up to the resort buildings and took a swim in the pool. This was all clothing optional too, I was really getting into the swing of this.
I grabbed a drink in the bar and chatted with the resort's manager Bert Gerbrands. It was Bert who first established Turtle Cove. The current owners purchased the property in 2009 — one of the first things that they did was track Bert down in Thailand and bring him back to manage the resort.
Turtle Cove is not a five star, luxurious, eco-friendly lodge. It's clear that in its recent past, the resort has been through a relatively dark period of under-investment.
However, the new owners are enthusiastic about the future of Turtle Cove as a gay-only vacation destination, and are keen to restore it to its former glories.
You don't have to be staying at the resort to enjoy access to the beach, the pool, and the bar. Bert and the team are very welcoming to anyone staying in the area who fancies calling in for a bit of clothing optional tanning, swimming, and socializing.
Dinner that evening was a BBQ, most people chose to sit around the communal tables — a mixture of couples and people traveling by themselves, it was a really social and friendly atmosphere, everyone chatting, laughing, and trading stories.
I'd been a bit apprehensive that an exclusively gay, clothing optional resort would somehow be a bit sleazy. It really wasn't. If you were looking for sex with other guys then that was clearly an option. However, there were also plenty of guys there who just wanted to enjoy the spectacular surroundings and hang out in a friendly resort where you can just relax and be yourself.
Maybe this is what gay heaven will be like. I hope so.
We want to hear your opinion
Which are the gay travel hot spots?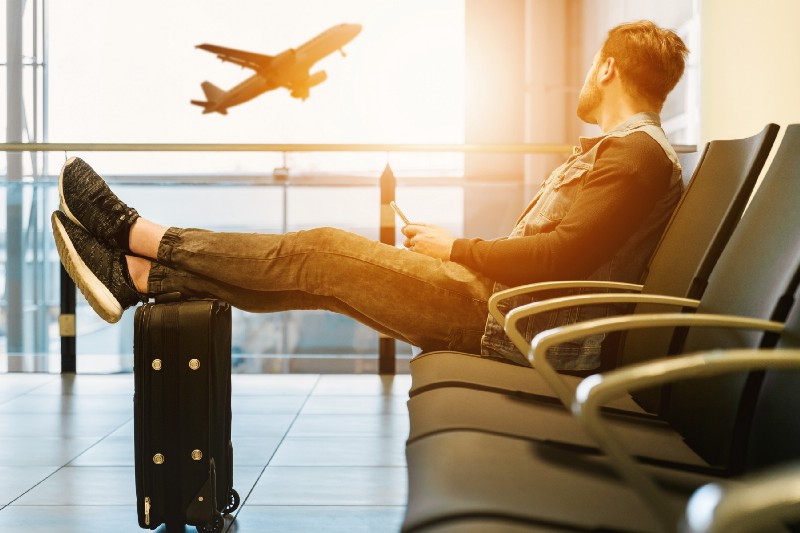 Need some inspiration for your travel plans?
We ran a survey of Mainly Male readers to ask gay men about their expeditions and adventures.
108 guys responded to our survey.
Here's what they told us.
When you go on vacation, who do you generally travel with?
By myself: 23%
With a partner: 49%
With friends: 14%
With family: 11%
I don't travel: 3%
Which is your favourite type of vacation?
Beach: 23%
Somewhere warm: 15%
Winter sports: 3%
City-break: 12%
Something active or outdoorsy: 9%
Something cultural: 16%
Something relaxing: 22%
"Some holidays that have been the best of times start with staying at a B&B and being able to go sky diving, canoeing, and a range of outdoor activities, then relaxing at night in a warm house and great dinner and bed." — anonymous survey respondent
"Combination of someplace warm where we can explore and then have a few down days to relax on the beach." — anonymous survey respondent
"Tend to do a mix — city to party, relax, somewhere warm, cultural, and active. Our trip this year is San Francisco to party, relax on boat travelling up the west coast, Napa, hike in the red wood forest, and Palm Springs." — anonymous survey respondent
"Cruise!" — anonymous survey respondent
When you're on vacation, are you interested in checking out gay bars, venues, or events?
Yes: 62%
No: 14%
It depends who I'm with: 24%
When you're on vacation, are you interested in staying in a gay-friendly hotel or accommodation?
Yes: 58%
No: 19%
It depends who I'm with: 23%
Which destinations are at the top of your travel wish-list?
Responses to this question weren't particularly cut and dried, as people listed both countries and specific cities in their answers — in some cases respondents listed entire continents. We've manually reviewed the answers to draw together the common themes.
Spain featured prominently on the wish-list of a lot of our respondents. When we include beach-side destinations such as Sitges, Ibiza, and Gran Canaria, 8% of respondents had Spain on their wish-list
Italy polled strongly, with 4% of respondents reporting that Italy was on their wish-list. As did Australia, and Germany — both of these destinations also appeared on the travel wish-list of 4% of respondents.
An additional 4% of respondents simply nominated Europe as being on their wish-list, which would translate to further interest in destinations such as Spain, Italy, and Germany.
Iceland polled strongly — featuring on the travel wish-list of 3% of survey respondents.
Other destinations that respondents had high on their wish-list included New York City, Greece, Mexico, London, South America, France, Chicago, Japan, New Zealand, and San Francisco.
Key take-out: Australia, Iceland, and European destinations are at the top of mind for gay travellers. When it comes to the US, gay travellers tend to focus on the specific cities that they want to visit, such as New York City and San Francisco.
Which destination will you be going to for your next vacation?
Looking at the specific destinations that respondents reported, the big winner was Paris — however it's clear that this was influenced by the timing of the survey. Respondents were completing the survey just ahead of the Gay Games hosted by Paris.
When we look at the results at a country level, somewhere in the United States was where a large proportion (21%) of respondents were spending their next vacation — most of this seemed to be fuelled by domestic travel. Australia (9%)is a popular destination for gay travellers, as is Spain (12%) and Italy (8%).
Key take-out: Like all travel, there are seasonal factors that influence the choices of gay travellers — for example, the beach resorts of Spain are popular in Summer. What we'd perhaps underestimated is how event-driven travel is a big factor in the choices being made by gay men.
Where do you get your travel inspirations?
Friends and family: 29%
Personal research: 49%
Travel articles or features: 19%
Advertising: 3%
"A lot of it depends on price as well, I use Skyscanner and see what cheap flights are available so if there's a cheap flight to be taken advantage of, then why not?" — anonymous survey respondent
"I also love to read about history, so that too give me ideas about travelling." — anonymous survey respondent
Key take-outs
Gay travellers are influenced by seasonal and event-driven considerations when planning their vacation destinations. Although winter sports options seem to be fairly low on the priority list.
European destinations are popular with gay travellers, as well as destinations such as Australia, Iceland, and North American cities such as San Francisco and New York City.
We were surprised by the number of gay men who reported that they generally travel by themselves — 23% of respondents.
Gay travellers are interested in staying in accommodation that demonstrates that it is gay-friendly.
On vacation, gay travellers are interested in experiencing the local gay nightlife of bars, clubs, and venues.
The most effective way to draw a gay traveller's attention to a specific destination is to help them feel that it's their idea. In sci-fi terms, it's inception — supporting the initial 'discovery' with positive reinforcement from friends and family, travel articles, and advertising.
Travel Tuesday
Every Tuesday we take a look at a destination or experience that you might want to consider adding to your travel wish-list. Here's some of our recent Travel Tuesday features:
An airstream adventure across California
Travel Tips: Cancún, Mexico
Travel Tuesday: Faro and Algarve
Travel Tuesday: South West France
Survey Methodology
The survey was conducted across a four-week period in July 2018.
Respondents were recruited via Twitter, Facebook, and LinkedIn. No incentives were offered for respondents to complete the survey.
We used Survey Monkey to collect the survey responses, and then analysed the results manually
Comments from respondents were captured during the survey process.