It's slightly surreal to think that the Berlin Wall has now been down longer than it was up. The wall divided the city from 1961 to 1989, but it symbolises a period of history that in many ways still defines Berlin today.
While there are numerous memorials, museums, and monuments to help educate and remind us all of the dangers of extremism and division, most of the physical scars of that period are beginning to fade.
On this visit, I was returning to the city with my boyfriend — Liviu. It was his first visit to Berlin. It struck me, as I saw things through his eyes, that for visitors today it would be possible to enjoy a city-break to Berlin without really having any understanding of or exposure to the broken history of Germany.
Where to stay
Schöneberg is Berlin's gay district, and on this trip we stayed at Tom's Hotel — a men-only hotel right on Motzstraße. In Berlin terms, it doesn't get much gayer than that. We were in one of the self-contained apartments that Tom's Hotel has available — it was perfect. Modern, spacious, and a kitchen equipped with the essentials.
Previous trips I've rented Airbnb apartments, which always seems to work well and be reasonably priced.
I've also stayed at Lux 11 — a cool hotel in the central Mitte district of Berlin. Very nice rooms that aren't too expensive, the hotel also has a small but quite cool bar where the cocktails are good. Good transport links to get you all around town, but the best thing about the hotel is that the surrounding area is great just to hang out in — really good shopping, cafes and restaurants.
Things to do
Visit The Memorial to the Murdered Jews of Europe, also known as the Holocaust Memorial.
Walk along Zimmerstraße, and follow the route of the wall that divided the city.
Checkpoint Charlie is one of the key historical markers when trying to understand the history of the Berlin Wall and the post-war division of the city.
Topography of Terror — A place of remembrance on the site of the SS central command. You'll find this on Niederkirchnerstraße, close to Checkpoint Charlie.
Schwules Museum showcases art and photography that reflects the LGTBQ experience. If you're staying in the Schöneberg neighbourhood, then the museum is right on your doorstep, and definitely worth a visit.
Things to eat
It's hard to go past the giant pretzels that you see vendors selling at the tourist spots. They're a pretty good option if you're hungry.
Currywurst has somehow become an iconic Berlin street-food. It's a hot-dog in a tomato sauce with curry powder. Surprisingly delicious.
Where to drink
Heile Welt — a relaxed cocktail bar on Motzstraße in the gay district of Schöneberg.
Hafen — popular bar on Motzstraße in the gay district of Schöneberg. Everyone stands outside drinking beer.
Woof — a bear bar in the gay district of Schöneberg, you'll find it on Fuggerstraße.
Where to eat
Romeo und Romeo cafe — popular cafe on Motzstraße in the gay district of Schöneberg.
Sissi — an Austrian restaurant on Motzstraße in the gay district of Schöneberg.
We want to hear your opinion
Travel Tips: Cancún, Mexico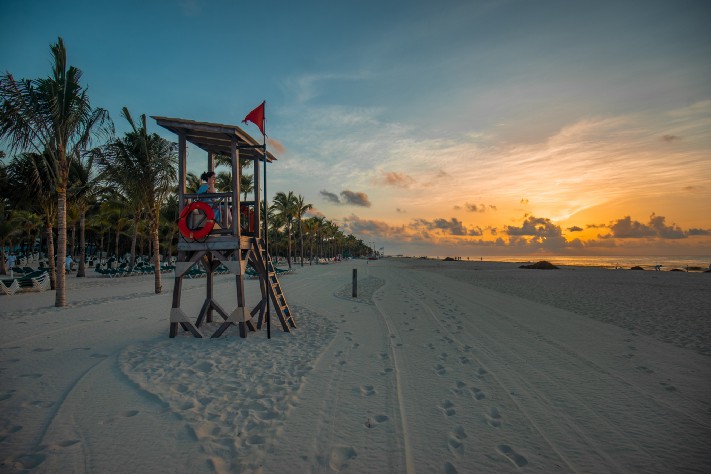 Situated on Mexico's Yucatán Peninsula, bordering the Caribbean Sea, Cancún is known for its beaches, resorts, and nightlife.
Cancún is composed of two distinct areas — El Centro which is the more traditional downtown area, and Zona Hotelera which is a long, beachfront strip of high-rise hotels, nightclubs, shops, and restaurants.
How to get there
There are direct flights to Cancún from most major airport hubs across North America.
If you're flying for Europe, you'll most likely have to change once. Prices start from around £600 per person.
British Airways does offer some direct flights from London Gatwick to Cancún.
Package holidays might be the most cost effective way to experience Cancún. Options include Club Med and Tui.

When to go
Peak season for Cancún is December to April.
Wettest months are generally September and October. It can rain at any time of the year, but rain is generally short bursts that clear quickly.
Hurricane season rarely impacts Cancun. The highest likelihood of a hurricane would be in the period between August to October.

Spring Break
Cancún is a hugely popular destination for college students during their universities' spring break period.
Peak period for Spring Break is March, although February through to April will be a popular time of year for students to vacation in Cancún.

Gay stuff
Cancún is generally more of a family-friendly vacation destination than a sizzling gay hot-spot (if you want uber-gay you should probably consider Puerto Vallarta).
Most of the gay venues are found in El Centro — the downtown area of Cancún.
Playa Mamitas and Delfines are the two major beaches. You'll probably spot some fellow gays on the beach, but they're more likely to be pool-side at the resort.
There is reportedly a nudist beach in Cancún — apparently it's a forty minute walk from the Coco resort, but we haven't been able to verify this.