Being fashionable is a must for a gay man, and any fashion mistake that he makes is perceived as the biggest mistake in the world. This means that you can't really allow yourself to make such mistakes if you want to be respected as a gay person. Now, perhaps you're not that kind of a person and you don't really care about fashion and what people are saying or thinking about you, but when first dates are concerned, you need to keep up with your fashion game. These are the five things you CANNOT wear on a date. Take a look.
1. Wrinkle-free
Just like it's the case with your face, having wrinkles on your clothes is a tremendous no-no. Instead of letting your date see where and how your clothes were folded, always think in advance and iron the clothes if needed. Even if it seems that your clothes are not wrinkled a lot, you should still iron them for just in case. This is especially important with shirts – having a shirt that's wrinkled should be punishable by law.
2. Talking of suits…
Since we're talking about shirts, the most logical thing that comes to our mind is wearing a suit on your date. Even though it might seem as too much to some, there definitely are people who wear suits on their first dates, especially if both of them are working men who work in certain companies that ask for such a dress code. If this is the case with you, make sure to have one that's well-fitted. Having suits that are too big, too baggy or even too small for you might make you seem funny and not attractive. Australians are immaculate in this matter, so looking for good men's suits in Sydney and other big cities is the perfect step as you will get one that's fitted just for you. Not only does it look better, but it accentuates your figure in the best possible way.
3. Dress according to your age
Even though this is not an actual piece of clothing, it's an important matter. Unless you're in your early twenties, you shouldn't be coming to any date (let alone your first one) wearing a cap or something that's not appropriate for your age. Choosing jeans and a tee is always the safest option – everyone can wear these and they indeed look perfect on any guy.
4. Sleeveless tees
First of all, let's quickly go through the basic rules of wearing a sleeveless tee. If you're a gay guy, you should definitely wear a sleeveless tee but only if you have good arms and good biceps. If you're not one of them, you might want to work on your arm muscles a bit before opting for such a step, only because otherwise it might seem ridiculous. Secondly, even if you have good arms and you like wearing sleeveless t-shirts at gay parties and such (which is a great thing, so keep it up!), the first date is definitely not a place for that. You want to show your new date that you're a serious person which can be quite difficult if you show up in a t-shirt which shows your armpits. It can be sexy to some guys, but you still don't know that about your date, do you?
5. Don't overdo it
The final piece of advice is – don't overdo it. There is a plethora of bold pieces of clothing that are extremely popular, and it's also very advisable for one to wear that on his first date. However, if you're choosing such an item, make sure that everything else is minimalistic and simple. Simplicity can definitely be something that's attractive, and if you make it more interesting with a statement bold piece – great job. This also means that you need to pay attention to the accessories you'll be choosing as well, and the best impression will be made by a good watch only.
Not very difficult, is it? Of course, you can always ask for help if you think you need any. Try talking to a gay friend or a person that you like and whose style you appreciate. Asking for help is never a bad thing, it can only help you do great things (and as you can see, it might help you get the guy).
We want to hear your opinion
Insta influencers in their underwear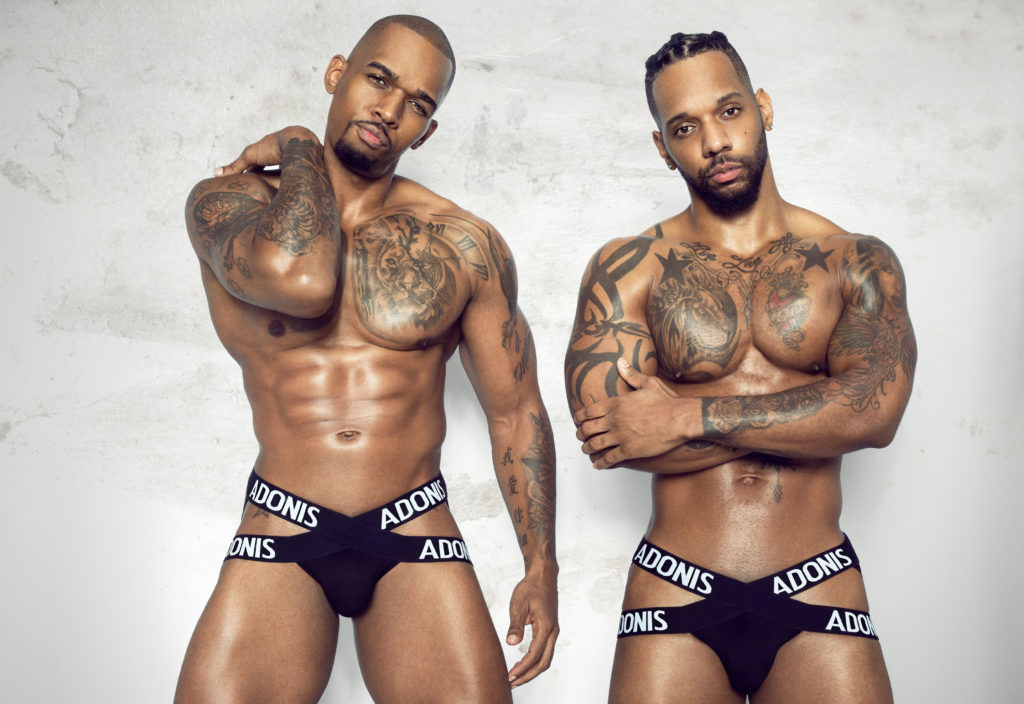 In the world of Instagram, Johnnell Terrell and Tyrone Wells are a big deal. They're a real-life couple with a combined Insta following of over 360K.
In their first photo-shoot together, they're showcasing the latest range from Adonis underwear. The campaign has been shot by Elvis Piedra.
"I feel there are not enough black men who are able to express their art in the underwear industry as white men are usually given the majority of opportunities…" said Terrell, speaking about the campaign. "I feel, as gay black men, we can really push limits on the freedom of expressing that art while using a platform to be recognised for. We believe in this new wave of social media, it creates more outlets of diversity."
"It's always great working alongside my partner…" added Terrell. "Doing the photo shoot together has opened our minds to be able to work creatively and feed off each other's energy."
Adonis Underwear was founded in 2015 by Kyhry Taylor.
"I choose Johnnell and Tyrone to be models for this campaign because I wanted to show two guys that are comfortable with embracing each other…" explained Taylor. "It's important to show a positive representation of gay men and gay love."