You still have one quarter of this year to make it count, and if you really want to do this in the best possible way, then a gaycation is definitely the thing you need. When it comes to gaycation, you can practically take all your entourage with you and arrange either a weekend in a cottage in the woods or go to a nearby city and spend a couple of days doing whatever you please, but what we recommend is to check out one of these amazing gay destinations, and spend all your rainbow money there:
Paris
Even though the Gay Games in Paris finished (make sure to include the next ones on your bucket list), Paris is always a great city to visit, with your gay friends or without. The gay scene in Paris, however, is amazing, as there are numerous gay clubs you can hit — it's also considered one of the most gay-friendly cities in Europe. Apart from the touristic sights that you should see if you haven't already, such as the Eiffel Tower or the Champs Elysses, make sure to drink a morning coffee in the Latin Quarter, sunbathe at Paris Plage or spend a steamy night in the Marais. And how can you get away without going to a wine and cheese tasting while you're there? This is an excellent location not only for the ones who long for endless parties, but for the gays who want a bit classier vacation as well.
Hong Kong
If you're up to something totally unique and different with a myriad of things to do there, then booking a ticket to Hong Kong might be the next logical step. First of all, this unforgettable city is the home of the most interesting restaurants out there, and you can try any cuisine you want. This means that visiting a Californian restaurant in Central on a day when you simply want to eat Californian cuisine is totally doable, and highly advisable. For those who want some gay fun, there are some gay clubs that are extremely popular, such as the Zoo, where you can, as the title suggests, unleash your inner animal (which is also great since you're far away from home). T:me Bar is, on the other hand, an excellent gay club for the gays who want a quiet night somewhere with two drinks max.
Seoul
I think we can all agree that watching K Pop music videos results in a high gay fever, so just imagine what going to Seoul might result in. Seoul hosted its first Korea Queer Culture Festival in 2000 with only 50 attendees, while the same festival had more than 50,000 visitors last year, which means that the gay scene is constantly growing. There are also separate clubs for gays, lesbians and trans people, so you can hit whatever you feel like hitting. If you happen to go there, don't miss on some of the excellent hoods like the Jongro-3, Itaewon (also known as Homo Hill) and the Hongdae which is reserved for lesbians (just to know if you have a girlfriend who's into girls in your entourage).
Venice, Italy
If we're being totally honest, there's no way that you've seen Call Me By Your Name and didn't want to visit Italy this summer, fall or the next spring. And if you want to cross this off your bucket list in 2018, you can always go to Venice and have the time of your life. So, you can go to Milan and enjoy everything gay this great city has to offer, or if you're for something more historic, go to Venice, "the floating" city on the north. We're already booking our tickets!
Salt Lake City
Even though it was not perceived as "the gay city to be" a couple of years ago, Salt Lake City has been trending as a queer city for quite some time now. It is one of the top 10 gayest cities in the USA (as far as the population is concerned), so it wouldn't be crazy to go there and see what it offers. You can enjoy a drink in one of the dozen gay bars that you can find there or hit one of the largest gay skin weeks in the country, the Pride and Elevation Utah.
The gay scene is growing stronger in probably all the cities in the world, so you won't make a mistake no matter where you go. However, if you want something special and totally unforgettable, choosing one of these 5 will do the job. Pack your bags, get your tickets and bon voyage!
We want to hear your opinion
Travel Tips: Cancún, Mexico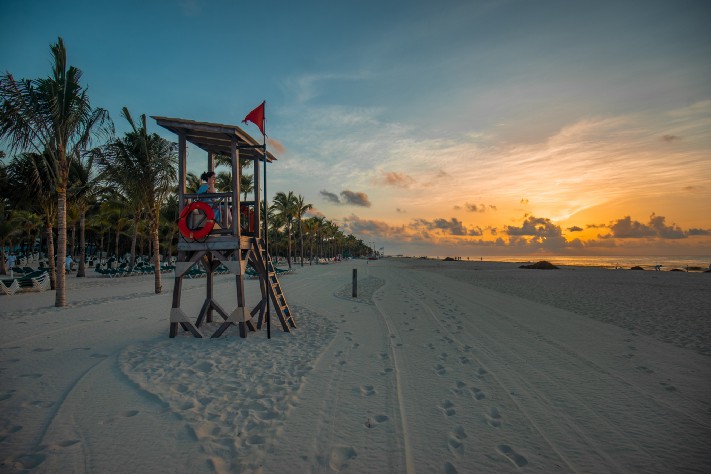 Situated on Mexico's Yucatán Peninsula, bordering the Caribbean Sea, Cancún is known for its beaches, resorts, and nightlife.
Cancún is composed of two distinct areas — El Centro which is the more traditional downtown area, and Zona Hotelera which is a long, beachfront strip of high-rise hotels, nightclubs, shops, and restaurants.
How to get there
There are direct flights to Cancún from most major airport hubs across North America.
If you're flying for Europe, you'll most likely have to change once. Prices start from around £600 per person.
British Airways does offer some direct flights from London Gatwick to Cancún.
Package holidays might be the most cost effective way to experience Cancún. Options include Club Med and Tui.

When to go
Peak season for Cancún is December to April.
Wettest months are generally September and October. It can rain at any time of the year, but rain is generally short bursts that clear quickly.
Hurricane season rarely impacts Cancun. The highest likelihood of a hurricane would be in the period between August to October.

Spring Break
Cancún is a hugely popular destination for college students during their universities' spring break period.
Peak period for Spring Break is March, although February through to April will be a popular time of year for students to vacation in Cancún.

Gay stuff
Cancún is generally more of a family-friendly vacation destination than a sizzling gay hot-spot (if you want uber-gay you should probably consider Puerto Vallarta).
Most of the gay venues are found in El Centro — the downtown area of Cancún.
Playa Mamitas and Delfines are the two major beaches. You'll probably spot some fellow gays on the beach, but they're more likely to be pool-side at the resort.
There is reportedly a nudist beach in Cancún — apparently it's a forty minute walk from the Coco resort, but we haven't been able to verify this.